Posted on
Sat, Nov 3, 2012 : 1:31 a.m.
Stellar defensive effort leads Grass Lake to 27-7 district championship over Manchester
By AnnArbor.com Staff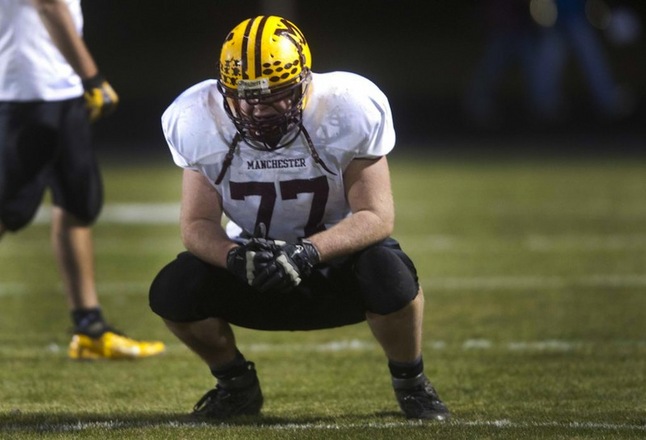 J. Scott Park | MLive.com
GRASS LAKE, MI — With five district championships in the last six years, Grass Lake is used to adding to its trophy case. But following his team's 27-7 win over Manchester Friday night, Grass Lake coach Randy Cole said the 2012 Division 6 district championship had a certain sweetness due to how the Warriors won it: With wins over Cascades Conference rivals Michigan Center and Manchester.
"In the never-ending Cascades Conference battle, that was a pretty intense way to get to a district championship," Cole said. "We played two great teams from our conference and had to fight real hard both times. Give credit to both teams, I thought Michigan Center and Manchester played real well."
Grass Lake, Michigan Center and Manchester shared the Cascades Conference championship after each going 6-1 in league play and 1-1 against one another. But with Grass Lake's postseason victories over its conference foes, junior receiver/running back Caleb Sabo believes the Warriors made a statement to their rivals.
"We came out and beat MC and finished them off and we beat Manchester again. You can call us outright (conference champions), I guess," Sabo said.
With the victory over Manchester, Grass Lake (10-1 overall) will play host yet again next week as the Warriors face Monroe St. Mary Catholic Central (9-2) after the Falcons defeated Detroit Consortium 35-12.
After controlling both sides of the ball in the first half, Grass Lake took a 13-point lead into halftime and added to its lead in the third quarter.
From his own 43-yard line, Grass Lake senior running back Frank Vuocolo added another highlight to a reel full of them. Vuocolo ran off the left tackle, broke into the Manchester secondary where he made a fantastic juke to make one tackler miss then tore down the Manchester sideline. A defensive back made one last attempt to prevent Vuocolo from the endzone by knocking him off balance from behind. Vuocolo maintained his balance long enough to dive with the ball breaking the plane of the goalline before he fell to the ground.
The 57-yard touchdown gave Grass Lake a 20-0 lead with 4 minutes, 47 seconds to play in the third quarter. Vuocolo finished the night with 148 yards on 22 carries.
"That kid is a special player," Cole said. "We think he's an all-state player. But with him missing some games early, we don't know that he'll get fair consideration. He's a gamer and he makes plays and he refuses to quit."
Manchester got on the board with a little over nine minutes to play when a nice second effort by running back Jimmy Kurasz scored to bring the Dutchmen back to a 13-point deficit. Kurasz's touchdown capped Manchester's best drive of the night. Manchester marched 90 yards, aided by two Grass Lake 15-yard penalties, on 10 plays.
Kurasz led Manchester with 95 yards on 18 carries. As a team, Manchester rushed for just 83 yards and totaled 119 yards of offense.
"We didn't sustain blocking on the offensive line and you just can't have them in your backfield," said Manchester coach Wes Gall. "We just couldn't get that machine going and the consistency in our plays."
The Grass Lake defense swarmed all night, keeping Manchester quarterback Ryan Stiles under constant pressure. The Warriors sacked Stiles three times, had two more tackles for loss and consistently flushed Stiles from the pocket. Stiles finished 4-of-14 passing for 36 yards.
"Once our defense gets heated up, nothing is going to stop us," said linebacker Seth Radabaugh. "Our ends shut the outside down and the big guys in the middle and the little, fast linebackers got to the inside. Our DBs also made plays. That's what we do."
Grass Lake's offense quickly answered Manchester's touchdown. Despite a 15-yard penalty which negated a touchdown, the Warriors put the game out of reach when Vuocolo scored his third touchdown of the night on a 4-yard run to seal the championship.
"Manchester is a great team, they always bring their best," said Konopka who finished 4-for-9 passing with 95 yards and two touchdowns. "You always have to give them your best as well as we didn't leave anything out there on the field."
Grass Lake softened the Manchester defense with the run and then connected through the air for its first-half touchdowns.
Manchester fumbled in Grass Lake territory on its second possession of the game and the Warriors wasted no time in making the Dutchmen pay.
On the second play of the ensuing series, Konopka found Vuocolo on a slant over the middle. Vuocolo pulled away from the Manchester secondary for a 55-yard touchdown with 1:21 to play in the first quarter.
Grass Lake's defense responded by forcing a Manchester three-and-out, giving the ball back to the offense at Manchester's 46-yard line. Nine plays later, Konopka completed a swing pass to Caleb Sabo who found running room along the Manchester sideline and scored from 18-yards out. The extra point was blocked and Grass Lake took its 13-0 lead into halftime.
Manchester was fortunate to only be down 13 at the break as Grass Lake dominated the first half. The Warrior defense limited Manchester to just 43 yards of offense in the first half, while Grass Lake's offense totaled 148. Grass Lake's average starting field position was at the 50, while Manchester averaged its own 24-yard line. Grass Lake also controlled time of possession, holding the ball more than three minutes more than the Flying Dutchmen.
"Every year is different, you have to work so hard for (a district championship) and the kids just did a great job," Cole said. "We appreciate every one, believe me, it will never get routine."