Posted on
Sat, Nov 10, 2012 : 5:45 p.m.
Stevie Tracy has career day as Gabriel Richard advances to state semifinals
By Matt Durr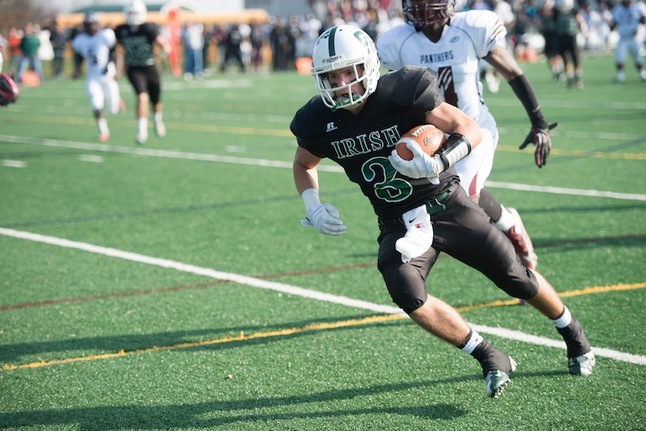 Courtney Sacco | AnnArbor.com
Moments after the Father Gabriel Richard High School football team secured it's first regional championship in program history, the team gathered at midfield to hoist the trophy for the first time.
In the back of the pile, away from the action in the middle of the huddle was senior Stevie Tracy. It was an odd scene, watching a player who was at the center of nearly every big play all day for the Irish, stand in the background as his team celebrated.
For Tracy it wasn't about him, it was about the team.
"I'm just coming out and doing my thing. You know, if the stats happen, and the ball comes to me, I'm going to do my best to get in the end zone or pick the ball when it's in the air. I did what I could today."
Doing what he could meant intercepting two passes on defense, while scoring both Irish touchdown on receptions of 22 and 11 yards and kicking the team's only field goal of the day, as the Irish defeated River Rouge 16-6 Saturday afternoon to advance to the Division 5 semifinals next week.
It was quite the day for a guy who never thought he would have a performance like that in his team's biggest game.
"No not really," Tracy said when asked if he thought he would play that well. "This was probably one of the best games I've had in a long time. It was nice to come out and help my team like that."
Quarterback Joe Kendzicky said Tracy's impact on the team goes beyond just his performance on the field.
"He had a huge game today on both sides of the ball," Kendzicky said. "He's a great leader, a great captain and the guys really love him. He's a hell of an athlete."
Head coach Brian Lemons agreed with Kendzicky.
"Steve's a great athlete man. There is a lot of team's that would love to have him and we're lucky to have him. He's a special kid," Lemons said.
The two touchdown receptions were the only two passes Tracy caught all day, thanks in large part to a tough River Rouge defense.
"They're a good team, I was expecting a pretty big fight at the line to get off, but hard work throughout the week helped me to get off the line today," Tracy said.
The motivation to work hard came from knowing his team had a chance to do something special for the program and with a state semifinal match up against Portland on the horizon, Tracy says there is still work to be done.
"It's huge, you know we've been talking about this would be the best team in school history if we were able to win it and it was huge motivation coming in.," Tracy said. "All year we've been saying we want to make the state championship, that's our goal. We really have an opportunity to do it and next week is just another step."
Matt Durr covers sports for AnnArbor.com