Posted on
Sat, Jan 19, 2013 : 6:30 p.m.
Strong special teams send Pioneer hockey past Huron, 4-1
By Kyle Austin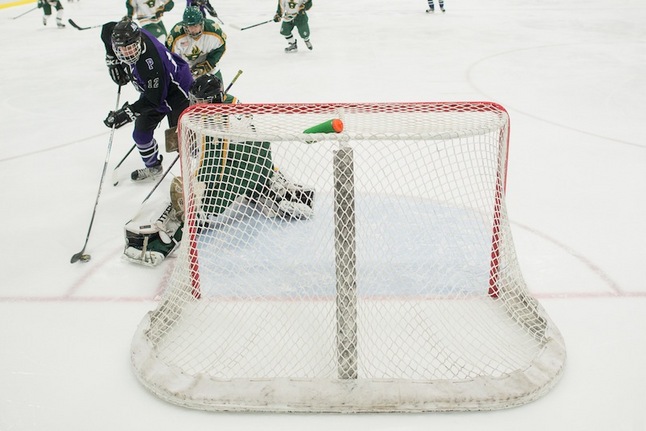 Courtney Sacco | AnnArbor.com
It took Pioneer just a few seconds to prove its strength with a man advantage, and seven minutes to prove its strength with a man disadvantage.
The Pioneers got an early power play goal and killed off an extended penalty in the second period, as their special teams continued to lead the way in a 4-1 win over Huron Saturday afternoon at the Ann Arbor Ice Cube.
More Coverage: Boxscore | Photo Gallery
"We've been living and dying all year on the special teams, that's sort of our bread and butter," Pioneer coach Paul Fassbender said.
The win propelled the Pioneers to a 11-5 overall record and a 6-1 league record, good enough for first place in the SEC Red. Huron fell to 4-10 overall.
The win finished off a regular-season rivalry sweep for Pioneer, which took the first game in the series, 9-1 on Dec. 8.
Anthony Moran and Louis Marr each had two goals for Pioneer, while Moran and Niko Michos had two assists apiece.
That the Pioneer top line produced all four of its goals was nothing new. Marr and Moran have combined for 26 goals in 16 games this year.
"Our top line, I'd put them against anybody when they're on," Fassbender said. "They've all played at the higher levels, they can play as well as anyone."
Pioneer got on the board five minutes into the game, when Moran picked up a rebound in front and snuck it around the oustretched skate of Huron goalie Bobby Coulter.
After a scoreless rest of the period, Pioneer's power play got the scoring going again. Twenty seconds into its first power play chance of the game, four minutes into the second period, Marr scored his first goal of the game to put the Pioneers up by two.
"When our power play's clicking, there's not many guys that are going to stop it at the high school level," Fassbender said. 'We have enough changes where we can adjust on the fly."
Moran scored his second goal of the game less than two minutes later, when he threaded a shot through Coulter's legs.
In the second half of the period, it was the Pioneer penalty kill that shined. After Pioneer picked up a major and a minor penalty, it had to kill off nearly seven minutes of power play time. Huron got six shots on goal, but couldn't get on the scoreboard.
"We've practiced it so hard and we take pride in our PK, we do an exceptional job at it usually," Fassbender said.
Marr added his second goal late in the second on a wrist shot to round off the Pioneer scoring.
The River Rats kept Pioneer off the board for the third period, including killing off a 1:16 long 5-on-3 chance. It got on the scoreboard with 26 seconds left in the game, when Michael Ficaro picked up a rebound and scored on a backhand.
The goal spoiled a shutout effort for Pioneer's Karl Gage, who finished with 20 saves. Coulter made 32 saves on 36 Pioneer shots.
Huron was kept off the scoreboard for most of the game, but wasn't without its chances. In the final minute of the first period, the River Rats created a back-door chance that was stymied by a sprawling save from Gage. And six minutes into the second period Ross Evoy sent a shot off the bottom of the crossbar that nearly bounced in.
Kyle Austin covers sports for AnnArbor.com. He can be reached at kyleaustin@annarbor.com or 734-623-2535. Follow him on Twitter @KAustin_AA.