Posted on
Sun, Aug 25, 2013 : 5:25 a.m.
Team-by-team glance at Washtenaw County's other football teams in 2013
By Kyle Austin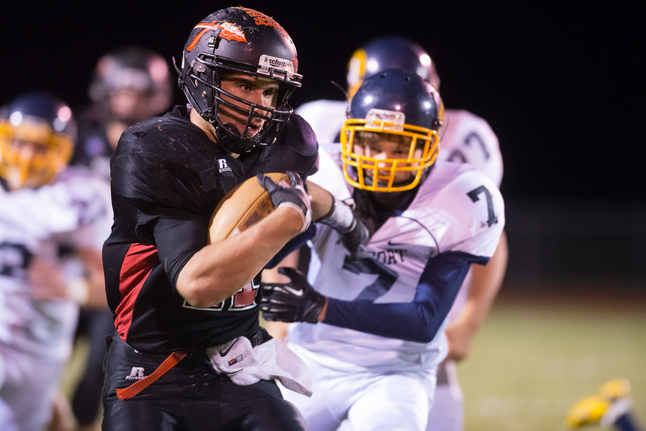 Courtney Sacco | AnnArbor.com file
Related:
Following the Ypsilanti-Willow Run merger this summer, there are now four Washtenaw County football programs that compete outside of the Southeastern Conference.
Two of those teams won their respective leagues last year, Father Gabriel Richard in the Catholic League AA and Milan in the Huron League. A third, Manchester, made its fifth straight playoff trip. The fourth, Whitmore Lake, will begin a new chapter this year under a new head coach.
It's a tough act to follow, but Washtenaw County will look to have winners in the Catholic League, Huron League, Cascades Conference and Tri-County Conference in 2013.
OTHER WASHTENAW COUNTY TEAMS
FGR FIGHTING IRISH AT A GLANCE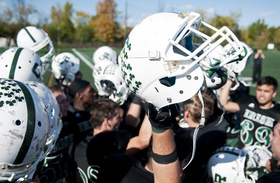 2012 Record:
11-2
Coach: Brian Lemons (6th year, 43-13)

Key Players: WR/DB Evan Fosha, QB Kevin Masini, RB/LB D.J. Newlin, RB/DB Hayden Staub.

2012 Review: The Fighting Irish came within a game of Ford Field last year, the farthest the program has ever gone in the playoffs, after winning the Prep Bowl for the Catholic League AA title.

2013 Outlook: Twenty-two players graduated from last year's squad, including 11 that went on to the college ranks. What remains is a smaller group and 4-5 returning starters on both sides of the ball.

Schedule
Aug. 29: Lake Fenton, 5 p.m.
Sept. 7: Whitmore Lake, 1 p.m.
Sept. 14: Tawas Area, 1 p.m.
Sept. 21: Detroit Loyola, 1 p.m.
Sept. 27: at Macomb Lutheran North, 7 p.m.
Oct. 4: at Pontiac Notre Dame Prep, 1 p.m.
Oct. 11: at Dearborn Divine Child, 1 p.m.
Oct. 18: at Romulus Summit Academy, 7 p.m.
Oct. 26: TBD, 7 p.m.

FATHER GABRIEL RICHARD FIGHTING IRISH
Coach Brian Lemons is urging this year's team to forge its own identity, and not try to compare itself to the team that won the school's first regional title last fall.
"You can't be the team we had last year," Lemons said. "You guys have got to find your own identity, you guys have to fulfill your own destiny at this point. It's your team. Last year it was their team that you guys were on, now it's your team."
Notable newcomers include Kevin Masini, who will take over under center after transferring from Huron last winter, and 6-foot-4 FGR basketball player Evan Fosha, who will return to football to suit up at receiver and free safety. D.J. Newlin and Hayden Staub will both see time in the backfield as the team replaces Ashton Hundley.
The group will also be buoyed by a strong senior class.
"I could probably have every one of these seniors be captains if I wanted to," Lemons said.
MANCHESTER FLYING DUTCHMEN AT A GLANCE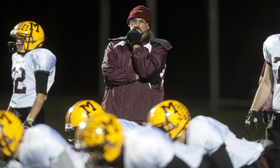 2012 Record:
7-4
Coach: Wes Gall (26th year 189-66-1)

Key Players: OL/DL Henry Arbergast, DB Eric Coval, OL Michael Golding, WR Nathan Heisey, RB Jimmy Kurasz, LB/FB Ian Neff, OL Cody Paul, RB/WR/DB Austin Rathburn, QB Ryan Stiles.

2012 Review: The Flying Dutchmen made their fifth straight playoff appearance and ninth in the last 10 years. They reached the district finals before losing to Cascades Conference foe Grass Lake, 27-7.

2013 Outlook: Manchester ran more than usual last year behind a 1-2 punch of Jimmy Kurasz at running back and Nick Cozart at fullback. Cozart has graduated, but Kurasz is back after averaging 118 yards per game last year. Ryan Stiles returns at quarterback, and Gall said he should have an improved receiving corps to target, including 6-foot-3 Dearborn transfer Nathan Heisey.
Schedule
Aug. 29: Clinton, 7 p.m.
Sept. 6: at Napoleon, 7 p.m.
Sept. 13: Vandercook Lake, 7 p.m.
Sept. 20: Addison, 7 p.m.
Sept. 27: at Hanover-Horton, 7 p.m.
Oct. 4: Grass Lake, 7 p.m.
Oct. 11: at East Jackson, 7 p.m.
Oct. 18: at Michigan Center, 7 p.m.
Oct. 24/25: TBD, 7 p.m.
MANCHESTER FLYING DUTCHMEN
The biggest challenge for Manchester will be replacing four starting offensive linemen.
"We have some guys with some experience who (were) backups, but I feel comfortable that by the time the first game comes they will be ready to go," coach Wes Gall said.
But in the skill positions, Manchester returns a core of players that could help the team make its 10th playoff appearance in the past 11 years.
Running back Jimmy Kurasz leads that group after a strong finish to the season. And even though Nick Cozart has graduated, Gall said he has two fullback options that should help fill in the gaps.
And in the passing game, quarterback Ryan Stiles is back for another year with an improved group of receivers.
"I wasn't very big last year, so just getting stronger, being able to zip the ball in there harder," Stiles said of his offseason work. "Just working on my footwork and agility."
Gall said he sees Manchester, Michigan Center and Grass Lake as the top three teams in the Cascades Conference this year, giving Grass Lake the edge because it has the most returners.
MILAN BIG REDS AT A GLANCE
2012 Record:
10-1
Coach: Jesse Hoskins (11-9, third year)

Key Players: DB C.J. Duffiney, OL/DL Jake Friese, DE Chad Hall, TE/LB/K Austin Hoover, QB/DB Robert Kanitz, WR/LB Devin Miller, WR/DB Gage Smith.

2012 Review: Milan executed the area's best turnaround last year, going from 1-8 to a perfect 9-0 regular season and Huron League title. The Big Reds' season ended in a district title game loss to Tecumseh.

2013 Outlook: The Big Reds will look for another strong season with a returning quarterback in Robert Kanitz, who split time with Justin Aceves last year. He'll be expected to throw more often this season, something he said he's ready for. The biggest challenge, though, will be replacing most of the offensive and defensive lines, including Blaine LeClair, a first-team all-league pick who went on to play at Ashland.
Schedule
Aug. 30: at Ypsilanti, 7 p.m.
Sept. 6: at Riverview, 7 p.m.
Sept. 13: Monroe Jefferson, 7 p.m.
Sept. 20: New Boston Huron, 7 p.m.
Sept. 27: at Grosse Ile, 7 p.m.
Oct. 4: Monroe St Mary Catholic Central, 7 p.m.
Oct. 11: Flat Rock, 7 p.m.
Oct. 18: at Carleton Airport, 7 p.m.
Oct. 25: Ypsilanti Lincoln, 7 p.m.
MILAN BIG REDS
No matter if the Big Reds are coming off a 1-8 regular season or a 9-0 regular season, Milan veterans say the expectation is to always get to the playoffs.
"I think at Milan they're always high," senior Austin Hoover said of expectations. "Before we were 1-8 we were in the playoffs consistently. So we want to really make that the norm, to be contending for a championship every year."
If Milan wants to repeat the success of last year, it will have to do it without six of last year's offensive starters and seven of last year's defensive starters. The heaviest losses were on the offensive and defensive lines.
"The issue right now is we're still thinking a lot, and we need to get to the point very soon where we can execute based on muscle memory and based on feel rather than thinking through every play," coach Jesse Hoskins said during the first week of practice.
Robert Kanitz was listed as a quarterback last year and lined up at the position. But as Hoskins put it, he played the position like a linebacker.
Hoskins hopes he will still take the same approach to running, but take on more of a throwing role too this year.
"That's the type of kid that we would like to represent us," Hoskins said. "A tough, hard-working kid that plays hard, plays physical. I think that's too what we'd like to see with our program."
WHITMORE LAKE TROJANS AT A GLANCE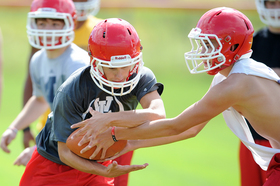 2012 Record:
2-7
Coach: Todd Pennycuff (1st year)

Key Players: RB/DB Rory Judge, TE/DL Evan Maulbetsch, QB/DB Sam Panicacci, DB/RB Jacob Zagor.

2012 Review: The Trojans put together their second straight two-win season, going 1-6 in the Tri-County league. They gave up 305 total points in nine games, their highest total since 1995.

2013 Outlook: Todd Pennycuff moves to Whitmore Lake from Novi, and is looking forward to building a small-school football program.

Schedule
Aug. 30: Stockbridge, 7 p.m.
Sept. 7: at Ann Arbor Gabriel Richard, 1 p.m.
Sept. 13: at Britton-Deerfield, 7 p.m.
Sept. 20: Sand Creek, 7 p.m.
Sept. 27: at Clinton, 7 p.m.
Oct. 4: Ottawa Lake-Whiteford, 7 p.m.
Oct. 11: Adrian Madison, 7 p.m.
Oct. 18: at Petersburg Summerfield, 7 p.m.
Oct. 25: Morenci, 7 p.m.
WHITMORE LAKE TROJANS
South Lyon native Todd Pennycuff will take over a team with four wins in the last three years, but one that has larger numbers this year.
"I always wanted to be in a small school," said Pennycuff, who coached at Novi High School for three years before coming to Whitmore Lake. "I always wanted to have that small town community feel versus the bigger schools, or the towns with two schools. I miss this type of small town atmosphere."
Sam Panicacci is back for his fourth year on varsity and will be under center after playing running back and wide receiver in previous years. He's been the Trojans' best athlete for the majority of his career, but now will need to be a leader as well.
Players and coaches think added depth this year will help prevent injuries.
Kyle Austin covers sports for AnnArbor.com. He can be reached at kyleaustin@annarbor.com or 734-623-2535. Follow him on Twitter @KAustin_AA.