Posted on
Fri, Apr 19, 2013 : 5:24 a.m.
Rich tradition provides motivation for Pioneer girls tennis
By Kyle Austin
The Pioneer High School girls tennis team won the SEC Red title last year, was the regional runner-up and finished in fourth place at the state meet.
But what may be a banner year for most programs in the state goes down as an off year when you're the Pioneer girls tennis team, our AnnArbor.com Team of the Week.
Before last year, the Pioneer girls had finished as either the team state champion or the runner-up for eight straight years, as it established itself as one of the most storied programs in the state.
THE INSIDE SCOOP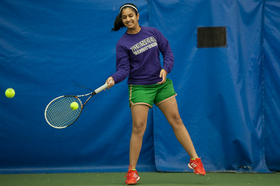 Record:
1-0
Upcoming competions: Saturday, April 20, Pioneer Invitational, 8 a.m.; Monday, April 22, vs. Skyline, 4:30 p.m.; Wednesday, April 24, vs. Temperance Bedford, 4:30 p.m.

Rankings: Pioneer is ranked No. 6 in Division 1 in this week's Michigan High School Tennis Association rankings. Huron is ranked No. 4 and Saline is ranked No. 10.

Top Players: The Pioneers have a pair of doubles teams returning from state and regional titles last year: Anna Borowicz/Sarah Court and Alyssa Roopas/Evie Van DeWege. Senior Azba Gurm will move into the No. 1 singles position, the only singles spot vacated from last year's lineup.

Traditions: If you're in downtown Ann Arbor in late May see high school girls leaning out of cars and yelling "Pioneer girls tennis," don't be alarmed. That's one of the team's traditions leading up to the state tournament, along with toilet-papering Pullen's house and hosting a brunch when every team member dresses in all purple and white.

Pullen Courts: For the first season, Pullen is coaching on courts that bear his name. The Ann Arbor Public Schools Board of Education voted in the fall to rename the courts at Pioneer High School after Pullen, who has coached the boys team for 23 years and the girls team for 22.
"This was never work for me," Pullen said at the time. "It was all fun, all passion. It was never, never work.
Tennis warehouse: This year has been yet another reminder that coaching a spring sport, can prove difficult, but Pullen has been doing this long enough to find a solution. Pullen bought a warehouse in Ann Arbor a few years back where he can hold practices and teach lessons. It's been getting used plenty this spring.
Quote: "He works with everyone and he puts in so much time and effort, so it adds a lot of motivation for us. We want to do well for him." -- Senior Azba Gurm on Pullen
And while the expectations may be higher than any other area team year-in and year-out, that's something team members welcome when they sign up to play for coach Tom "Brick Pullen, who has won five state championships with the girls and 10 with Pioneer's boys team in more than 20 years of coaching.
"He motivates us because we know he's been coaching so long that we feel like we have to continue this tradition," senior Azba Gurm said. "So it's extra motivation."
Like many spring sports teams, Pioneer's early season schedule has been limited by rain and cold temperatures. It's only competition so far this season was Monday, an 8-0 win over Adrian. The Pioneers were scheduled to take on Saline Wednesday in what promised to be a close match, but thunderstorms caused a postponement.
Pullen said the lack of early season competition has made it tough to judge this year's squad in the earlygoing.
"It's a nice team, I just don't know what's going to happen when we get into strong competition," Pullen said.
"We've worked pretty hard this spring, and we'll see just how hard we worked."
This year's Pioneer lineup will have plenty of returning faces from last year's squad. Three of the Pioneers' four singles players are back, as are five of eight doubles players.
And four of those doubles players were state champions last year: Anna Borowicz and Sarah Court are playing No. 1 doubles this year after winning states at No. 3 last year, and Alyssa Roopas and Evie Van DeWege are moving from No. 4 doubles to No. 3.
Last year, doubles was a strength of Pioneer's team, as the group swept all four regional flights. This year could be more of the same.
"Our doubles are going to be very solid," Pullen said. "They're nice players."
Of last year's singles players, none won a regional title or made it past the quarterfinal round at the state meet against, with tough local competition from Huron and Saline. But returning three of those players with another year of experience could change that.
"I think we have a strong lineup, both in doubles and singles," Gurm said. "Compared to what we have our singles isn't as strong but all people playing have worked hard in the offseason."
Last year, three of the top six tennis teams in the state were in the Southeastern Conference Red Division. Pioneer won the league title, and Huron won the regional title, with Saline finishing a close third in both events. At the state finals, Pioneer finished fourth, Huron fifth and Saline sixth.
Pullen said Huron should field another strong singles lineup this year, Saline returns the area's top player in Mary Hanna, and all three teams should once again be close.
"I expect it to be the same as it was last year," Pullen said.
And with Pullen at the helm, Pioneer will be in the thick of things as always.
"He's just amazing, he's improved my game so much," Borowicz said. "I honestly don't think I would have won the state tournaments without him mentoring me."
Kyle Austin covers sports for AnnArbor.com. He can be reached at kyleaustin@annarbor.com or 734-623-2535. Follow him on Twitter @KAustin_AA.