beat pete:

Teams' last chance to make playoffs, your last chance to 'Beat Pete' with high school football picks

Posted on Thu, Oct 18, 2012 : 5:45 a.m.
Can you believe it's the last week of the high school football regular season and therefore the last chance to "Beat Pete" with your high school football picks this year?
I know, it's very sad. But don't cry because it's over, smile because it happened.
I am determined to write a story about high school football this week without mentioning the brawl that took place following last week's game between Huron and Pioneer.
Oops. There I go again. Oh well, it was a valiant effort.
A much more civil rivalry has existed between the readers and I this season and we've yet to come to blows. I must admit, though, when the amount of people beating me was in the triple digits I was tempted to challenge a few of you to a duel.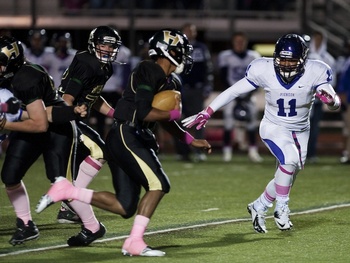 Daniel Brenner | AnnArbor.com
That wasn't the case this week as I was tough to beat with an 8-1 record, but four people - Jeff Olson, Brian Woodruff, Lee Petropolous and Jeff Armbrustmacher - were perfect in their picks and defeated me.
To those four: Pistols at dawn at the water tower. Bring your A-game.
Admittedly, the final week of the season is a bit of a crap-shoot for picks because most conference seasons have wrapped up and teams from the area face a random assortment of opponents. For example, Manchester plays Fowler on a Thursday.
A Thursday? Fowler?
Regardless of the randomness, many of the games have playoff implications. Chelsea, Pioneer and Lincoln all sit at five wins, one win away from an automatic playoff berth.
Luckily for the Pioneers, their roster is likely deep enough to get past a Livonia Franklin team which is far from strong. Even with a depleted roster and without coach Paul Test on the sideline on Friday, the Pioneers should be playoff bound.
The road isn't as easy for Lincoln or Chelsea, both playing quality opponents. It will be interesting to see how the elite of the Huron League team matches up against an above average Southeastern Conference team when Lincoln faces Milan in the AnnArbor.com "Game of the Week."
Lincoln needs to somehow regain the defensive form that was its calling card in the first half of the season to have a chance against Milan's formidable rushing attack. Led by Washtenaw County's leading rusher, Arthur Dukes, the Big Reds have run all over every opponent, but Lincoln's linebacking corps may be the best they've seen.
And in Chelsea, the Bulldogs may have caught a break when Haslett suffered its fourth loss of the season last week. Though the Vikings are likely plenty motivated to play spoiler and try to sneak into the playoffs with five wins, losing the chance at an automatic berth had to take some wind out of the sails.
And with that, so begins this week's picks.
Beat Pete Winners
The following people "Beat Pete" last week:
Jeff Olson
Brian Woodruff
Lee Petropolous
Jeff Armbrustmacher

People who have "Beat Pete" so far: This week: 4; Overall: 376.
Pete's overall picks record: 67-21 (.761); Last week: 8-1 (.888).