Posted on
Mon, Mar 11, 2013 : 11:24 a.m.
Dexter girls get pregame brain stimulation from mints routine in state tournament run
By Kyle Austin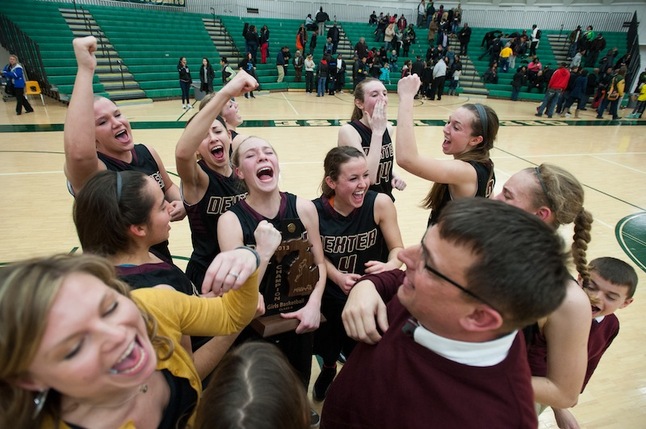 Courtney Sacco | AnnArbor.com
Maybe it's the mints.
The Dexter girls basketball team continued its run through the state tournament Thursday, winning its first regional title since 1998 with a 37-34 overtime win over Farmington Hills Harrison.
And while extended periods of defensive shutdown were at the heart of the Dreadnaughts' two regional wins, the players may have also gotten a pregame boost in brainpower.
Watch coach Mike Bavineau closely during warmups, and a few minutes before tipoff you'll see him give each one of his backcourt players a handshake while they stand in a circle. The only exception is senior point guard Makenzie Svirha, who gets handshakes from Bavineau's son, Cal, the team's eight-year-old assistant coach.
Inside his hand for each handshake is a white wintergreen mint, which he hands off to his players. With the second handshake, he collects the wrappers, after the players pop the mints in soon before tipoff.
"Sometimes they say mints help your brain and stimulate your brain," Bavineau said. "So any gimmick I can do."
The Dreadnaughts, who start five seniors, have gotten by with some smart play, including forcing 27 turnovers Thursday while having only 16 themselves.
And when they tip off Tuesday against Saginaw Heritage with a spot in the state semifinals on the line, they'll be getting another pregame boost in brainpower.
"It's just kind of been a tradition that we've done," Bavineau said. "We've done it for a long time."