Posted on
Tue, Nov 15, 2011 : 11:15 p.m.
Huron sends three to state finals and more from diving regionals
By Matt Durr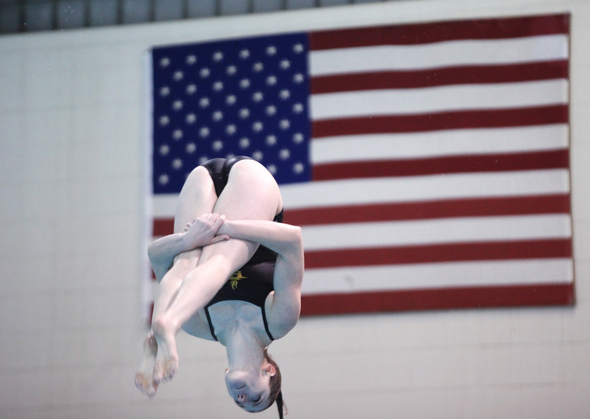 Jeff Sainlar | AnnArbor.com
With a total score of 431.50, Huron High School senior diver Elena Ghormley captured the a Division 1 regional diving title Tuesday night at Pioneer High School.
Ghormley and both of her teammates that competed at the regional -- junior Molly Gelb and sophomore Madeline Woods, who placed sixth and eighth respectively - qualified for this weekend's Division 1 swimming and diving state finals which will be held Friday and Saturday at Eastern Michigan University.
More coverage: Photo Gallery
By sending its entire trio to the state finals, the River Rats increased their chances at being able to contribute to the team total this weekend.
"We definitely have a chance to help the team out," said Huron coach Brad Heeringa. "We have a realistic shot at getting all three of them to Saturday."
Jeff Sainlar | AnnArbor.com
The top 12 finishers of the 35 divers competing on Tuesday qualified for states. Making the cut was a major goal for Woods, who last year just missed qualification by finishing 15th.
Now that she has reached that goal, Heeringa has a new focus for her.
"We have to get her to Saturday," he said, in reference to the second day of the state finals, when competitors score points toward the team total.
Pioneer freshman Christina Lu also qualified for the state meet after finishing in second place with a score of 403.60. Lu had a shot at winning the meet, but faulted on her eighth dive, putting her in a deficit too great to overcome.
Saline's Jordan Toor finished in 14th place, a mere 1.8 points away from the cut.
MORE REGIONAL DIVING
Division 2
Milan's Haley Feeman and Paige Steffan qualified for the Division 2 state championships at the regional meet on Tuesday in Fenton.
Feeman rose as high as second place during the competition and ended up in fourth place. Love said he expects her to be in the top 12 at the state meet.
After just missing the state meet last year by finishing 13th, Steffan was 12th. Love said "there wasn't a dry eye" when 13th was announced and it wasn't her.
"A class bunch of kids, just a great group of girls," Love said of his team.
It was Dexter freshman Taylor Sloan whose name was called just before Steffan's. Dexter will send one diver to this weekend's state championship at the Holland Aquatics Center as Katie Callaghan finished eighth.
Dexter coach Alex Gauvin called Callaghan's performance "not the best she's dived," but said she was consistent enough to qualify.
Love said the "story of the day" was a diver that didn't qualify for the state meet, heaping praise on freshman Danielle Osborne, who made the final cut (top 20) and finished 16th.
"I didn't expect that," Love said of Osborne making the final cut. "She showed me a lot of heart."
Division 3
Chelsea High School junior Sarah Carrara and sophomore Kayla Whipple both qualified for Saturday's Division 3 championship at Oakland University after placing in the top 12 at Haslett High School on Tuesday.
- Jason Idalski contributed to this report.
Matt Durr covers sports for AnnArbor.com. He can be reached at mattdurr@annarbor.com.