Posted on
Thu, Nov 1, 2012 : 5:59 a.m.
Throw the regular season out the window for 'Beat Pete' Week 2 playoff edition
By Pete Cunningham
Five Washtenaw County high school football teams won last week and only one, Chelsea, lost. As evidence by my going 3-3 in 'Beat Pete' predictions, I certainly didn't see that one coming.
Apparently the readers did see it coming because 97 of you 'Beat Pete' with your predictions. In my defense, exactly zero times had more than four teams advanced out of Washtenaw County in the football playoffs since the expanded format started in 1999.
Congrats to those teams and for those of you who Beat Pete. Another added bonus to all the winning, there's plenty of games to write about. So let's get to it.
Pioneer (7-3) at Saline (9-1)
What: Division 1 District championship.
When: Friday, 7 p.m.
Where: Saline High School.
Winner plays: Dearborn vs. Cass Tech winner.
Lessons learned in Round 1: Pioneer's defense is back and Saline's is better than advertised.

Pioneer did not play particularly well in its regular season finale with several players out due to suspensions from the team's on-field brawl following the Huron game. All the suspended players returned last week and their impact was palpable, particularly on defense, in Pioneer's 34-0 win over Monroe, a team that beat Pioneer 19-12 during the regular season.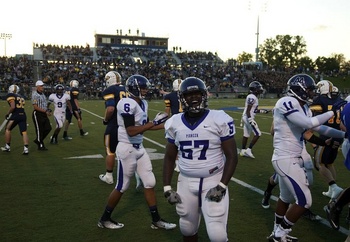 Dewan Olive-Abinojar was his usual shutdown corner self, recording an interception. Tyrone Miller returned an interception for a touchdown and Darius Sanderford scored on a fumble recovery for a touchdown. All three missed the previous week.
That defense will be on the field on Friday and no doubt be looking to wreak havoc on Saline quarterback Tyler Palka as they did in a 7-6 win in Week 4.
Palka and the Hornets offense had its toughest night since the Pioneer game in a 16-14 win over Temperance Bedford in Round 1, but the oft-overlooked defense came up big, holding the Kicking Mules more than three touchdowns under their regular season scoring average.
This has all the makings of a defensive battle, but Palka will do everything in his power to prevent that. After both teams wrapped up a share of the Southeastern Conference Red title in Week 8, Palka said he wanted a rematch because Week 4 left a sour taste in his mouth.
"We want Pioneer again. That game they beat us, good for them, but that one doesn't sit well with me," Palka said, vowing that the offense would play better than it did the first time around. "We'll score more than six points, I can promise you that."
Pete's Pick: Pioneer, 20-10.
Tecumseh (8-2) at Milan (10-0)
What: Division 3 District championship.
When: Friday, 7 p.m.
Where: Milan High School.
Winner plays: Battle Creek Harper Creek vs. Plainwell winner.
Lessons learned in Round 1: Tecumseh can come back (and fall behind) in a hurry and Milan doesn't necessarily need to score big to win.

The Indians fell behind 17-0 in the first quarter against Chelsea, then outscored the Bulldogs 27-3 from that point forward.
The comeback speaks volumes to Tecumseh's offensive power under quarterback Ben Dreslinski and the defense's ability to hold Chelsea to just 165 yards of total offense can't be overlooked.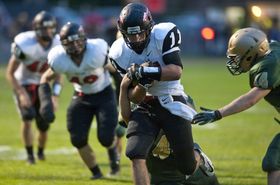 But neither can three turnovers on the first five possessions of the game. After winning in the first six weeks with relative ease, Tecumseh has shown a tendency to turn the ball over and fall behind early against quality opponents in the four weeks since, but also an ability to pull the bootstraps up and roar back.
Falling behind against the Milan defense isn't the wisest of plans. Milan's offense struggled mightily last week against Airport, but the defense came through and allowed Airport just 173 yards of offense in a 14-7 win. That defense will face its toughest challenge of the season so far against Dreslinski and the Indians.
The Huron League is not a passing league. It's three yards and a cloud of dust football. Milan's defense, while strong, has not faced an aerial attack like Tecumseh's all year.
After an offensive hiccup last week, Milan's offense should get rolling again this week, but this game will be won or lost by the Big Reds pass defense.
Pete's Pick: Tecumseh, 35-32.
Manchester (7-3) at Grass Lake (9-1)
What: Division 6 District championship
When: Friday, 7 p.m.
Where: Grass Lake High School.
Winner plays: Detroit Consortium vs. Monroe St. Mary Catholic Central winner.
Lessons learned in Round 1: Throw the regular season out the window.

Manchester lost to Clinton 32-14 in the regular season opener and beat the Redskins last week, 37-36. Grass Lake lost to Michigan Center 26-21 in Week 3 and beat the Cardinals 35-14 last week.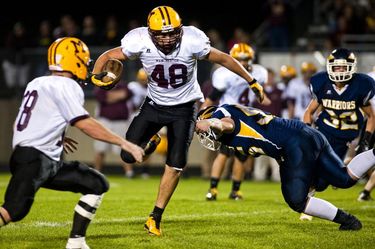 I could talk about how Grass Lake beat Manchester 38-13 in Week 6, but if the opening round of the playoffs taught me anything, it's that the regular season and the postseason are completely different beasts. Five of the six Washtenaw County playoff games last week were rematches and in three of them, the team that lost the regular season matchup won the playoff game. In one of the two where the results matched, Milan over Airport, the margin of victory went from 41 points to seven.
Manchester rushed for 334 yards against previously undefeated Clinton last week and was similarly productive on the ground, 295 yards, the first time it passed Grass Lake. What killed the Flying Dutchmen last time around were three fumbles, two of which Grass Lake recovered.
This matchup between Cascades Conference co-champions will not disappoint.
Pete's Pick: Grass Lake, 31-28.
Lake Fenton (8-2) at Father Gabriel Richard (9-1)
What: Division 5 District championship.
When: Saturday, 1 p.m.
Where: Father Gabriel Richard High School.
Winner plays: River Rouge vs. Almont winner.
Lessons learned in Round 1: Father Gabriel Richard may have quarterback Joe Kendzicky back and Lake Fenton running back Nick VanDuser is really, really good.

Kendzicky did not start, but played from the second quarter on in Richard's 49-0 win over Dundee despite a cast on his non-throwing arm and enough tape to make a mummy jealous on his throwing arm to protect his broken thumb.
Kendzicky completed 7-of-8 passes for 115 yards and three touchdowns and improved his "games played without breaking an arm" record to 1-of-3.
Richard coach Brian Lemons said Kendzicky is still day-to-day.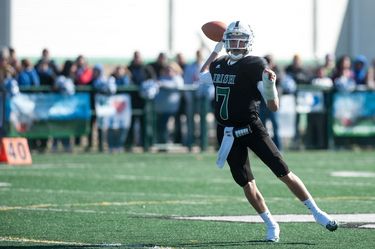 "The difference between being in a cast and being in tape with the thumb on his throwing hand is there is constant pressure and it increases every time he takes a snap, so he's dealing with a lot of soreness and evaluating day-to-day," Lemons said. "If he's healthy he'll get the start. All of our quarterback are on the same page with that."
Richard beat Lake Fenton 42-39 when the teams played in the season opener and Richard gave up 11 points more than it did in any other game this season, 27 more than the second most it gave up all year.
Look no further than the 210-pound VanDuser, whom the Blue Devils fans affectionately refer to as "Van-Dozer", as a big reason why. VanDuser rushed for 208 yards and two touchdowns the first time the teams played and 200 yards and two touchdowns in Lake Fenton's win over Lumen Christi last week. Many had Lumen Christi pegged as a favorite to go all the way.
"Their running game has been tough, so I don't think they'll get too far away from that or that big running back of theirs," Lemons said.
Pete's Pick: Richard, 41-35.
Beat Pete Winners
The following people "Beat Pete" last week:
Magnum Stead
Donna Milauckas
Tony Wisniewski
Glenn Vanneste
Larry Hieber
Josh Tropea
Jack Byrne
Bill MacInnes
Karen Smith
Bruce Szcodronski
Brenda Darwin
Karl Brown
Matt Faunce
Jenica Abinojar
Steve Harvey
Sean Michaels
Josh McCaman
Randy Smith
Benjamin Swayze
Michael Walsh
Shane Derossett
Matt Hall
Paul Oshanski
Robert Pacheco
Tony Bertoia
Lillie Rob
Tim Blackburn
Jeff Olson
Alan Augustine
Matt Durr
Jeff Armbrustmacher
Jason Stidham
Nick Bertoia
Bobby Tull
Jim Kessler
Craig Hoeft
Doug Kreager
Ken Kowalski
Duane Keahl
Kristine Dreffs
Josh Zincke
Chris Tilton
Jason Idalski
Josh Winn
Zack Bollstetter
Jeff Frank
Greg Irwin
Thomas R. Smith
James Hunt
Sami Shalabi
Jerry Prus
John Yocum
David Smith
Doug Pichlik
Hal Dotson
Steve Karr
Beth Hunt
Shane Rodriguez
Chuck Fuller
Raymond Schlaff
Chuck Maynard
Chris Pope
Joe Heath
Mike McCarthy
Brian Hogg
William Chrysan
Rick Radloff
Tim Giard
Nick Laten
Jim Carlisle
Jarred Scheese
Artie Dukes
Arvin Gammo
George Rolfe
Lisa Petersmark
Rob White
Craig Smith
Lee Petropoulos
Dillon Supica
Pam Miller
Darrel Littleworth
Shelby Hawk
Brad Kokmeye
r Willy Clark
Jason Anderson
John Korican
Sean Porte
Jay Miles
Al Fellhauer
Thomas Porter
Tim Protske
Mike Hession
Owen Ballow
Michael Lange
Charles Johnson
Darrel Stinson
Dave Campbell


People who have "Beat Pete": Playoffs: 97; Overall: 523.
Pete's overall picks record: 79-27 (.745); Playoffs: 3-3 (.500).
Pete Cunningham covers sports for AnnArbor.com. He can be reached at petercunningham@annarborcom. follow him on Twitter @petcunningham.