Posted on
Fri, May 24, 2013 : 5:47 a.m.
Seniors play key roles from opposite sides of field for Skyline soccer
By Kyle Austin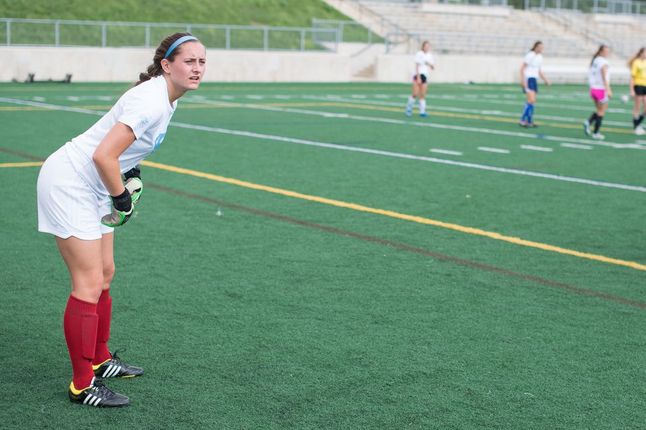 Courtney Sacco I AnnArbor.com
One's up top, the other's in back. Both are often in solitary positions on the soccer field.
But no matter which end of the field they occupy, Tori Norris and Margo Apostoleris have both played key roles in key positions for the Skyline girls soccer team this season.
Norris, the team's senior goalkeeper, is in her fourth year manning the Eagles' net. She's the last line of defense for a unit that's only given up four goals all year.
Eagles coach Chris Morgan said the biggest change he's seen in Norris since her freshman year is in maturity and leadership. And that leadership style comes with an edge.
"Tori has no qualms, no problems with getting into your business," Morgan said. "You do what you're supposed to do, it's all good. That leadership, that's really helped us out quite a bit. Her attitude has been spectacular this year. It's just been a win-win with her."
Yet while her coach said she leads the defense, Norris isn't about to take much of the credit.
"We lose and we win as a team," Norris said. "Everyone has their good games, everyone has their bad games. When someone's down someone else is there to pick them back up. We definitely work well together, we communicate well."
Courtney Sacco I AnnArbor.com
The farthest player away from Norris on the field is often Apostoleris, the senior forward who leads the team in goals with 13.
The Eagles play a 4-5-1 system, and Apostoleris is typically the one up top. But once she receives the ball, she's often holding it and looking for passes to streaking midfielders on the outside. Apostoleris also has six assists on the year.
"I am alone up top, but we also have three in the center," Apostoleris said. "So I look to them to pass to them, we look out wide a lot. I am up top by myself sometimes, but it helps because our centers get up top a lot."
Morgan said Apostoleris being able to play her position the way she does is one of the biggest reasons the Eagles can play the system they do.
"She can do a lot with the ball at her feet, she makes great runs," Morgan said. "We couldn't just put that system into play without Margo. Margo helps us make our system go."
But when she's not passing, Apostoleris can score too, including what Morgan called a "beautiful goal" against Monroe Tuesday.
"She can finish," Morgan said. "But she's also very smart and she holds the ball well."
Kyle Austin covers sports for AnnArbor.com. He can be reached at kyleaustin@annarbor.com or 734-623-2535. Follow him on Twitter @KAustin_AA.