Posted on
Wed, Jan 18, 2012 : 6:31 a.m.
Try to 'Beat Pete' on basketball picks during rivalry week
By Pete Cunningham
Rivalry week isn't limited to the Michigan and Michigan State basketball teams. High school basketball rivals across Washtenaw County will square off in gymnasiums across the area on Friday night.
Before we get into the games, though, we have to recap a much less contentious affair: last week's Beat Pete winners.
I was 6-2 in my picks, good enough to beat all but three readers (listed below). I'm starting to notice that a large number of readers who "Beat Pete" are from Saline, making Saline readers my official rivals during this rivalry week edition.
Good luck (not really) in beating me again this week.
Speaking of Saline, congratulations to Bill Smutny of Saline, this week's winner of the $20 Domino's Pizza gift card. Every week we will continue to pick one "Beat Pete" participant at random for the Domino's gift card and every month AnnArbor.com will pick another participant at random and donate $150 to the school of their choice. (Official contest rules.)
Pete's picks
Friday's slate of games is filled with cross-town rivalries that will have bragging rights on the line, and league title implications. The best bang for your buck in all the rivalry options will be the Huron versus Pioneer boys game and the Dexter versus Chelsea girls game.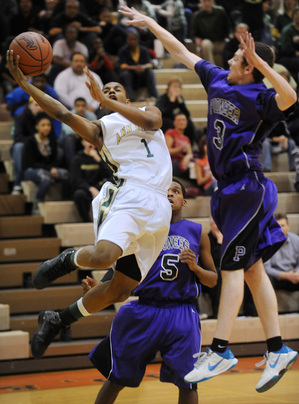 AnnArbor.com file photo
Normally this entire space would be dedicated to Pioneer and Huron, but those traditionally strong programs will have to take a backseat for a moment to discuss the only matchup in the area between two undefeated squads.
Dexter needed overtime last Friday to keep it record perfect for the rivalry game, but as soon as the scare was gone, the Bulldogs were on the Dreadnaughts' mind.
"They want to beat us just as bad as we want to beat them. We're pretty amped up," said Dexter center Olivia Cares. "We're both going in perfect and someone's not going to be when we walk away."
With the boys game to immediately follow, the loudest student section in the SEC (sorry Saline) should be out in force by the fourth quarter, adding to the atmosphere of this game.
Though the Riverdome of Huron High School doesn't lend itself to as loud of a crowd, the week-long preparations should make for an intriguing game nonetheless.
Neither Huron or Pioneer played Tuesday, giving each a week to prepare for one another.
Pioneer coach Rex Stanczak is glad to have the extra practice time to prepare for Huron's full-court press.
"It's good having a week to prepare for Huron because they're so unconventional you have to get away from what you normally do offensively, so it's nice to have extra days," Stanczak said. "Plus, that extra time gives you some time, not just to prepare for your opponent, but to work on you."
Huron senior guard Andre Bond had mixed feelings about the extra time.
"Going into that game with a win (on Tuesday) would probably be the best thing for us, get us hyped up, you know," Bond said. "But I think we're more mentally prepared for this game (because of the extra time) and will come out ready."
Bond also added that he's looking forward to squaring off with AAU teammate Jibreel Hussein. Who will have the edge in the matchup leads off this week's picks.

Beat Pete Winners
Terry Breneman

Tom Weeks

Sean Williams

Pete's picks record: 26-10.
People who have "Beat Pete" so far: 23.
Contact Pete Cunningham at petercunningham@annarbor.com or by phone at 734-623-2561. Follow him on Twitter @petcunningham.