Posted on
Thu, Oct 20, 2011 : 5:59 a.m.
Try to 'Beat Pete' by picking winners for week 9 of high school football season
By Pete Cunningham
Two weeks ago, I was embarrassed at how many people "Beat Pete" in our high school football pick 'em contest. The beatdown brought me new-found humility.
With that in mind, I am limiting how much I brag about my perfect record last week to one short sentence (this one doesn't count).
I am awesome.
There, it's out of my system. Part of me wants to congratulate the 21 people who also went 9-0, but the other part of me is disappointed those people didn't give themselves a chance to "Beat Pete" by differing on at least one pick. As a motivational poster in my 10th grade history class taught me: You miss 100 percent of the shots you don't take.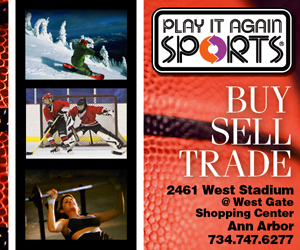 Congratulations are definitely in order for
Jeff Gillow
of Saline, who won our random drawing for a $20 gift card to
Play It Again Sports
. Along with the gift card, Play it Again Sports will also donate $100 to the Saline High School Athletic Boosters Club in Gillow's name.
It's the last week of the regular season, so you have one more chance to try to "Beat Pete" by picking this week's games in the form below. Your record doesn't have to beat mine to be included in the drawing and there's no purchase necessary. Click here to read the official sweepstakes rules.
We're hoping to have a similar contest for the upcoming football playoffs and for basketball season, so if you haven't "Beat Pete" yet, don't worry, there should be plenty more opportunities.

Pete's Picks
With conference schedules concluded for most teams in the area and state, Week 9 can often be uncharted territory against unfamiliar opponents.
Not true for Father Gabriel Richard. While most teams dream about playing at Ford Field for a state championship on Thanksgiving weekend, the Fighting Irish get to do so on Saturday, taking on their arch rival Pontiac Notre Dame Prep in the Detroit Catholic High School League Prep Bowl.
Gabriel Richard has won two straight Prep Bowl championships and last year was able to avenge its lone loss of the regular season by defeating Dearborn Divine Child at Ford Field.
Coach Brian Lemons' squad will get another chance at redemption when it plays 8-0 Notre Dame Prep, which handed the Fighting Irish their only loss of the season back in Week 3. The rematch leads off this week's picks:

Beat Pete Winners
Though 21 people tied Pete last week with perfect 9-0 records, no one "Beat Pete." Better luck this week!
People who have "Beat Pete" so far: 78.
Contact Pete Cunningham at petercunningham@annarbor.com or by phone at 734-623-2561. Follow him on Twitter @petcunningham.