Posted on
Thu, Jan 26, 2012 : 5:56 a.m.
Try to 'Beat Pete' on basketball picks as conference races heat up
By Pete Cunningham
I had rivalry week pretty well pegged last week, going 6-2 on picks.
Unfortunately, the all-knowing readers once again showed that it takes more than an above-average performance to come out shining as 10 people beat me, including my AnnArbor.com colleague, Matt Durr, and my wife, Katie Cunningham.
I won't live either of those down anytime soon.
The winner of the $20 Domino's Pizza gift card is none other than Rex Stanczak of Ann Arbor, aka the Pioneer boys basketball coach. I picked Stanczak's Pioneers to beat Huron last week and they ended up losing a 42-41 heartbreaker in the final seconds.
Had Stanczak's team pulled out the win, I could still say that I had the best picks of anyone in my own home or work, both of which I can no longer claim. Him winning the pizza, if nothing else, proves I have no influence over who wins the drawing and that it is totally random.
Every week we will continue to pick one "Beat Pete" participant at random for the Domino's gift card and every month AnnArbor.com will pick another participant at random and donate $150 to the school of their choice. (Official contest rules.)
Pete's Picks
The last time the Skyline and Huron basketball teams met, it was in a Class A district final and Huron embarrassed the Eagles, 71-32.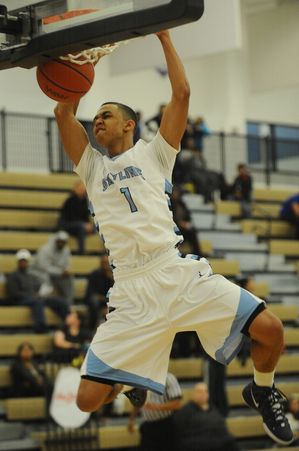 AnnArbor.com file photo
As crazy as it might seem, there was really no shame in that Skyline team -- void of seniors -- losing by that much to that Huron team, which was the top-ranked team in the state for most of the season. Huron had eight seniors, including
Dante Williams
and
A.J. Mathew
, who are now playing at the Division I college level at Oakland and Toledo, respectively, and was a fine-tuned machine.
But this is the year that the "no seniors" excuse has finally expired for Skyline.
Now Skyline not only has seniors, it's packed with them, including Division I prospect Theron Wilson, Purdue football commit Jordan Woods, 6-foot-5 center Jarius "Big" Mann and Sakthi Sambandan, who, if left open from 3-point range, is deadly.
Skyline is no longer happy just to be at the party.
"It's a lot different that we have a target on our back this year," Wilson said during a summer tournament in June. "Usually we were going for the top teams like Huron. This year we're expected to be up there with them."
Wilson's average is down from 18.3 to 14.2 points per game this season, but he's getting much more help from his teammates. Huron will have to do more than just shut down Wilson if it hopes to dominate Skyline as it has in the past.
"We're supposed to be one of the better schools in the area, so we have to defend that," Mann said over the summer. "Now that we are seniors we just have to go out there and prove it."
Skyline will have a chance to do exactly that on Friday, and we'll lead off this week's picks with the matchup:

Beat Pete Winners
Beth Starkey
Sean Williams
Melanie Robinson
Dave Schrotenboer
Aaron Ward
Matt Durr
Katie Cunningham
Terry Breneman
Daniel Hugan
Bill Smutny

Pete's picks record: 26-10.
People who have "Beat Pete" so far: 33.
Contact Pete Cunningham at petercunningham@annarbor.com or by phone at 734-623-2561. Follow him on Twitter @petcunningham.