Posted on
Thu, Jan 17, 2013 : 5:25 a.m.
Try your hand in this week's high school hoops picks competition
By Kyle Austin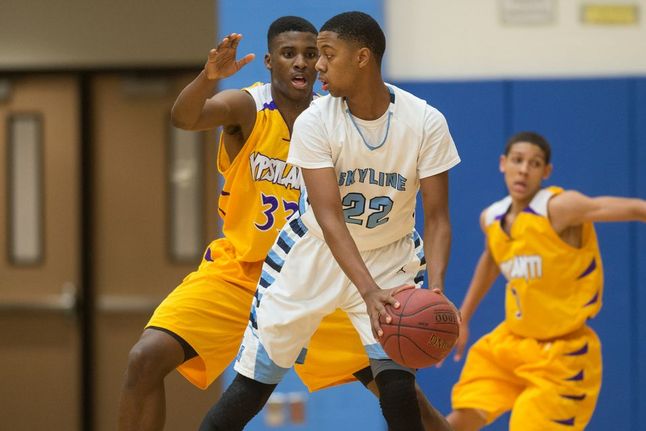 Courtney Sacco | AnnArbor.com
So it turns out my full-court press was a bit porous.
BEAT THE PRESS WINNERS
Luai Alzoubi
Paul Baetz
Nick Bertoia
Zack Bollstetter
Terry Breneman
Mark Briggs
Gabe Burdette
Jack Clark
Pete Cunningham
Brenda Darwin
Greg Diedrich
Seth Dodson
Kora Dreffs
Arthur Dukes III
Matt Durr
David Evanski
Matt Faunce
Ben Freed
Chuck Fuller
Shelby Hawk
Larry Hieber
Cheryl Hieber
David Holden
Nidal Hussein
Jason Idalski
Tom Kaas
David Kaiser
Brad Kokmeyer
Myles Lockridge
Tony Love
Debbi Lund
Bekah Makarewich
Tim Mammel
Ian Marshall
Josh McCaman
Bayete Mitchell
Kelly Mosley
Jim Pryce
Zoe Rezler
Thomas Roberts
Tevis Robinson
Dave Rodriguez
Matthew Seidl
Sami Shalabi
Chris Slater
Randy Smith
Mike Spencer
Beth Starkey
Scott Stine
Josh Tropea
Alicia Tropea
Adam Trumpour
Bobby Tull
Jeff Usher
Aaron Ward
Tom Weeks
Chris Westfall
Sean Williams

As in 58 of you found a way to beat it, as I went 2-3 in my debut as the picker.
Hey, I get some sort of learning curve, right?
As I look to shore up this week, I could take some pointers from the Huron boys, who used a strong press to cruise past Saline and spoil one of my picks Saturday night, forcing me to finish under .500.
For most teams, not having two leading scorers in the lineup (as Huron did) would be a serious detriment, hence my pick. But the program depth at Huron means the next player in can get the job done. I learned that the hard way.
The Chelsea girls against Tecumseh made me look silly, too, easily winning a game I picked against them in. Apparently I neglected to make note of that three-game win streak coming in.
My other miss, Skyline boys against Temperance Bedford, I can live with. The Eagles, my pick, were up three in the final minute before giving up a game-tying 3-pointer and losing in overtime to a team with a much better record. Tough break.
This week's schedule is littered with rivalry games -- not an ideal scenario for a young picker. Rivalry games tend to produce close games
The highlight on this one will be Friday's Huron vs. Pioneer boys game at Pioneer High School, which also happens to be the AnnArbor.com Game of the Week. Pioneer has won seven straight, the longest win streak of any Washtenaw County boys team, and has knocked off some good opponents in the process. So I'm picking them over Huron, despite the fact that the River Rats looked darn strong on Saturday.
Maybe that means I haven't learned my lesson, picking against Huron again. Like I said: learning curve.
Beat the Press Winners
People who have "Beat the Press" so far: 58
Kyle's overall record: 2-3 (.400)