Posted on
Tue, Dec 6, 2011 : 9 p.m.
Pioneer doubles up Father Gabriel Richard in season opener and more Tuesday results
By AnnArbor.com Staff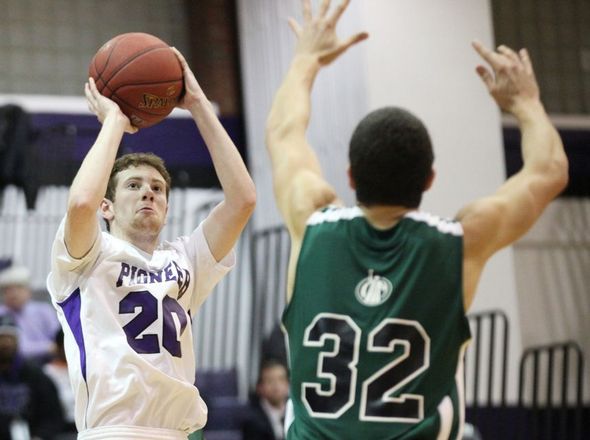 Jeff Sainlar | AnnArbor.com
What Pioneer High School boys basketball coach Rex Stanczak thought would be a test for his young team against his alma mater turned into a 70-34 boys basketball blowout on Tuesday night.
Gabriel Richard coach Pete Schoch didn't mince words in speaking of his team's season opening performance.
"There was a lot of issues for us. ... Defensively, we broke down. We were bad, really bad," Schoch said. "We shot the ball absolutely abysmally. We shot poorly on 2-pointers, 3-pointers and from the free-throw line. We missed everything."
Stanczak, naturally, had a different perspective.
A comfortable margin throughout the game afforded him the opportunity to get reserve players quality minutes. Eleven players scored for the Pioneers in the season opening win and not a single starter played past the 3-minute mark of the third quarter.
"It was great to get those guys in the game," Stanczak said. "They've been working their butts off for three weeks."
More coverage: Boxscore | Photo gallery
Senior Jimmy Holman led Pioneer with 14 points. The three-year starting point guard also had eight assists.
"It makes such a difference to have that experience out there," Stanczak said of Holman.
Pioneer led 17-7 after the first quarter and 36-17 at halftime. Stanczak said the Pioneers (1-0) were able to continue to stretch their lead due to their constant defensive pressure.
"They have some really good guards and our guys stayed in front of them and forced turnovers," Stanczak said.
Kamari Davis led the Fighting Irish (0-1) with 14 points and was 9 of 13 from the free-throw line. Jibreel Hussein had 10 points for Pioneer.
"I believe we're a much better team than we showed tonight," Schoch said.

CHELSEA 68, STOCKBRIDGE 58
Both teams spread the scoring around, with each team having nine players score, but it was the Bulldogs' 35-23 stretch that proved the difference in both teams' season opener.
More coverage at MLive.com: Boxscore
"Every time Stockbridge made a run we had an answer for them. I thought we responded well for playing the first game on the road," said Chelsea coach Robin Raymond. "Our ball distribution is good and we had good balance."
Jake Fischhabber led Chelsea (1-0) with 17 points while Jake Steinhauer had 11 and Truman Hadley 10.
Chelsea led 36-29 at half and stretched its lead with a 14-7 third quarter. The fourth quarter was the only one in which Stockbridge outscored Chelsea, 22-18.
Kaleb Grammer led Stockbridge with 18 points, including four 3-pointers.

OAK PARK 71, WILLOW RUN 53
Willow Run trailed 31-20 at halftime and couldn't recover.
"Oak Park attacked us early, attacked the interior, and we didn't respond," said Willow Run coach George Woods, who also lamented his team's turnovers and missed free throws.
More coverage at MLive.com: Boxscore
Jamal Poplar, a transfer student playing in his first game at Willow Run, finished with 13 points, 10 rebounds and four blocks in the team's opener.
"I'm very happy Jamal Poplar is at Willow Run," Woods said.

OTTAWA LAKE WHITEFORD 82, GREENHILLS 41
Andrew Khouri led the Gryphons with 27 points in a losing effort while teammate Reed Wilborn had eight points 10 rebounds and eight blocks.
More coverage at MLive.com: Boxscore
Greenhills (0-1) couldn't keep up with Whiteford's pace and by the fourth quarter, the players were spent, scoring just two points to Ottawa Lake's 20.
"They did a geat job running the floor and it was tough for us to adjust to that," said Greenhills coach Andrew Wright. "We got tired out and in the fourth quarter just fell apart."

PLYMOUTH CHRISTIAN 67, CENTRAL ACADEMY 53
Omar Hasan's 24 points and Luay Shalabi's 20 points were not enough for Central Academy, which was outscored 14-3 in the fourth quarter. Hasan had to sit for a few minutes at the start of the quarter with foul trouble.
More coverage at MLive.com: Boxscore
"We played hard," Central coach Rushdi Issa said. "We were in it the whole game."
Central had a hard time containing Plymouth Christian center Eric Jipping, who scored 33 points.
"He has great fundamental skills," Issa said of Jipping.
Compiled by Matt Durr, Jason Idalski and Pete Cunningham.