Posted on
Tue, Jan 29, 2013 : 11:10 p.m.
Tyler Hinton's buzzer beater gives Lincoln a 48-46 win over Dexter
By Pete Cunningham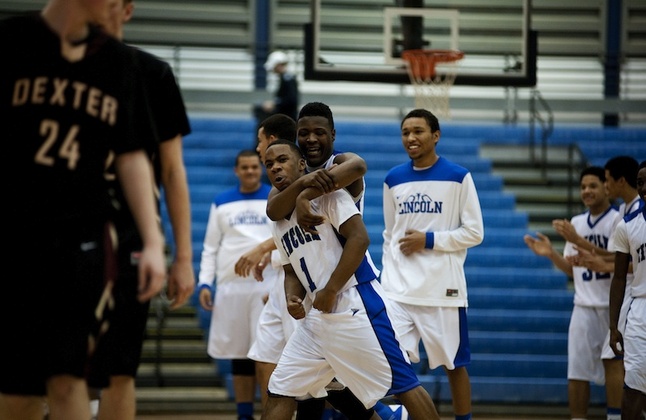 Daniel Brenner | AnnArbor.com
Tied 46-46 against Dexter,
Lincoln High School
boys basketball coach
Rich Marion
used his final timeout to discuss exactly what play to run to try to win the game.
His team had the length of the court to travel, less than 5.8 seconds to do it and had made just a single field goal in the last three-and-a-half minutes.
Marion wanted to get the ball to senior guard Tyler Hinton, but eventually decided he'd rather have Javin Etchison bring the ball down the court.
Hinton pleaded with his coach to reconsider.
Marion obliged and Hinton did not disappoint. Hinton received the inbound pass, put his head down, drove the length of the court and put in the game winning layup with less than a second left.
By the time the ball hit the bottom of the net, the buzzer had sounded. It was the only noise louder than Hinton's celebratory scream as the scoreboard read 48-46 with no time remaining.
More coverage: Boxscore | Photo Gallery | Tuesday night roundup
"I said, 'come on coach, I gotta take this coach, I gotta. I know I'm gonna make this shot. I gotta take this coach,'" Hinton said. "My first thought was to get close to the rim and just score."
"For about a five-second stretch in that huddle, I was wrong and he was right and I'm glad I listened to him," Marion said. "Tyler Hinton was right and I was wrong because when Tyler Hinton puts his head down and goes, like he did early in the game, he's a tough guy to keep the ball in front of."
Hinton's pleading may seem excessive for a player who had to that point of the game scored just two points all night, but that's exactly why he insisted on having the ball in his hands.
After committing some costly turnovers that helped Dexter (5-6, 2-2 SEC White) erase a nine-point deficit in the last four minutes, Hinton felt he owed it to his team to come through.
"I felt like I let the team down on that turnover down there, so I just wanted to get it back for us," Hinton said.
Fueling Dexter's fourth quarter comeback effort was Derek Seidl, who scored 11 of his game-high 27 points in the final frame. But when Lincoln's defense clamped down on Seidl with the Dreadnaughts down three, Brandon Bellottie came open and hit a 3-pointer to tie the game with eight seconds remaining for his only points of the night.
"Bellottie's a pretty good stationary shooter and made it," said Dexter coach Randy Swoverland.
Swoverland wasn't pleased with his team's defensive execution on the final play, but was much more upset about his team's play in the second quarter.
After not turning the ball over at all in the first 12 minutes of the game, Dexter turned the ball over six times in the final half of the second quarter and was outscored 13-6 in the frame. It was the only quarter in which the Lincoln (6-6, 3-2 SEC White) outscored Dexter.
"We had the lead, I thought we were running our offense very well, in the second quarter we start throwing the ball all over. We had six turnovers in the second quarter and I think that was the key to the game," Swoverland said. "We got a little careless and it kind of snowballed a little bit."
Lazon Hicks led Lincoln with 17 points on the night.
Pete Cunningham covers sports for AnnArbor.com. He can be reached at petercunningham@annarbor.com. Follow him on Twitter @petcunningham.