Posted on
Mon, Oct 29, 2012 : 11:23 a.m.
What to watch for at girls volleyball districts this week; Huron, Manchester head in with 40 wins apiece
By Matt Durr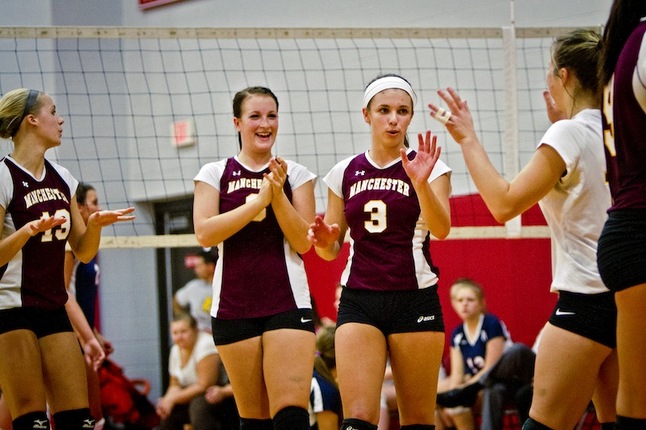 Mike Mulholland | Mlive.com
As the Michigan High School Athletic Association volleyball district playoffs start today, a pair of Washtenaw County teams are not only expected to win their districts, but contend for state championships.
At Huron High School, head coach Toney Cummer led the Rats to 41 regular-season wins, the most in program history.
The Rats enter the tournament on a roll, having won the Gold Division of River Rats' Invitational Tournament Saturday where they beat two ranked teams.
"It was probably our strongest day of the season," Cummer told Mlive.com. "We handled (state-ranked) Midland and Plymouth while sticking to what we do the best. I'm happy for our seniors that they went unbeaten in their last game at home."
A strong defensive team, Huron is led by seniors Erica Hotchkiss and Alyssa Miller. Miller posted some of the area's top statistics in assists and service aces, finishing in the top five in both categories.
Despite winning five tournaments and beating a handful of ranked teams, Huron was not ranked in this season's top-ten rankings. Cummer doesn't see this as a problem.
"We don't talk about it," Cummer said. "We stress to the players that we have our own set of goals. We're a family and we don't care what others think. We're just a group of players trying to accomplish our goals and prove that we can play at the state level.
"We've done all we can and our record speaks for itself."
Manchester High School , on the other hand, has received plenty of love from the rankings as the Flying Dutch are currently ranked No. 3 in the Class C rankings after compiling a 47-2-3 record on the season.
Led by seniors McKenna Erkfritz and Jessica Coltre, the Dutch are looking to build on last season's district championship. Erkfritz is one of the state's most dangerous strikers recording 584 kills on the season. The Dutch were unbeaten in the Cascades Conference and won their second consecutive conference title en route to the 47-win season.
Standing in the way of the Dutch will be the No.1 ranked Monroe St. Mary Catholic Central, which was the state runner-up last year.
Manchester opens up play tonight against Britton Deerfeild at 7 p.m. at Hudson High School.
Huron won't hit the court until Wednesday when they face the winner of today's Pionner and Pinckney matchup. The Rats will play Wednesday at 5 p.m. at Skyline High School.
Washtenaw County high school volleyball district schedule
(All semifinals and finals at tournament host site)
DIVISION 1
AT SALINE HIGH SCHOOL (Bracket)
Monday: Lincoln vs. Monroe, 7 p.m.
Wednesday: Bedford vs. Milan, 6 p.m.; Lincoln/Monroe vs. Saline, 8 p.m.
Saturday: Final, 7 p.m.
Breakdown: Saline should have no problem with this district. Aside from being on their home court throughout, the Hornets finished with the second-best record in the SEC going 35-14-3.
AT SKYLINE HIGH SCHOOL (Bracket)
Monday: Pioneer vs. Pinckney, 5 p.m.; Dexter vs. Ypsilanti, 7 p.m,
Wednesday: Huron vs. Pioneer/Pinckney, 5 p.m.; Skyline vs. Dexter/Ypsilanti, 7 p.m.
Friday: Final, 7 p.m.
Breakdown: Huron enters as the favorite to win the district, but the road won't be easy for the River Rats, who will most likely have to contend with Dexter or Skyline in the final. The Rats went 41-5-4 on the year.
DIVISION 2
AT NAPOLEON HIGH SCHOOL (Bracket)
Tuesday: Chelsea vs. Stockbridge, 5:30 p.m.; Onstead vs. Jackson Lumen Christi, 7 p.m.
Thursday: Chelsea/Stockbridge vs. Brooklyn Columbia Central, 5:30 p.m.; Napoleon vs. Onsted/Jackson Lumen Christi, 7 p.m.
Saturday: Final, 1 p.m.
Breakdown: Chelsea is no doubt a battle-tested team, having played in the tough SEC all season long. If the Bulldogs play up to their potential, they could win the district. Jackson Lumen Christi will be a tough test should the teams meet in the final.
AT SOUTH LYON EAST HIGH SCHOOL (Bracket)
Tuesday: South Lyon East vs. Detroit CMA, 4 p.m.; Father Gabriel Richard vs. Detroit Community, 6 p.m.
Thursday: South Lyon East/Detroit CMA vs. Livonia Ladywood, 4 p.m.; Father Gabriel Richard/Detroit Community vs. Livonia Clarenceville, 6 p.m.
Friday: Final, 6 p.m.
Breakdown: Gabriel Richard will have a tough time getting out of this district. Both Livonia Clarenceville and Livonia Ladywood were won their respective districts last season.
DIVISION 3
AT HUDSON HIGH SCHOOL (Bracket)
Monday: Adrian Madison vs. Sand Creek, 5:30 p.m.; Manchester vs. Britton Deerfield, 7 p.m.
Wednesday: Adrian Madison/Sand Creek vs. Hudson, 5:30 p.m.; Manchester/Britton Deerfield vs. Clinton, 7 p.m.
Thursday: Final, 7 p.m.
Breakdown: It would come as a shock if Manchester didn't win its district for the second consecutive season. Last season, Manchester and Clinton squared off in the district final and could meet again this year. Still, the Dutch should cruise into the regional.
AT WHITMORE LAKE HIGH SCHOOL (Bracket)
Monday: Greenhills vs. West Bloomfield Frankel Jewish Academy, 5 p.m.; Whitmore Lake vs. Wixom St. Catherine, 6:30 p.m.
Wednesday: West Bloomfield FJA/Greenhills vs. Ypsilanti Arbor, 5 p.m.; Whitmore Lake/Wixom St. Catherine vs. Willow Run, 6:30 p.m.
Friday: Final, 7 p.m.
Breakdown: Greenhills won a district championship last year before falling in the regional semifinal. The Gryphons can certainly do it again.
DIVISION 4
AT SALINE WASHTENAW CHRISTIAN (Bracket)
Tuesday: Rudolf Steiner vs. Ypsilanti Calvary Christian, 7p.m.
Thursday: Pinckney Livingston vs. Ypsilanti Calvary Christian/Rudolf Steiner, 5 p.m.; Saline Washtenaw Christian vs. Plymouth Christian, 7 p.m.
Friday: Final, 7 p.m.
Breakdown: Rudolf Steiner is the team to beat in this district. After going 33-9-5 during the regular season, the Storm are currently the No. 7 Class D team in the state. But beware, Plymouth Christian made it to the state quarterfinals last season.
Matt Durr covers sports for AnnArbor.com