Posted on
Fri, Sep 14, 2012 : 3:51 p.m.
Vote for AnnArbor.com's Week 5 'Game of the Week'
By Pete Cunningham
As of right now, we are exactly one third of the way through the high school football season. As of late next Friday night, we'll be more than half way through the season.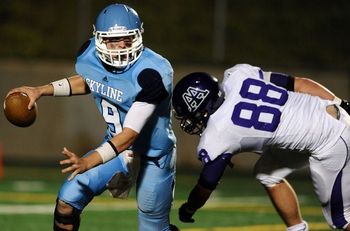 The question is, what game will be the AnnArbor.com "Game of the Week" for the regular season equivalent of "hump day"?
That's up to you.
There is the Pioneer vs. Skyline game which last year was 52-49 shootout, in Pioneer's favor. That game featured Skyline quarterback Andrew Copp throwing for a state-record 557 yards and seven touchdowns and Pioneer running back Drake Johnson rushing for 394 yards and six touchdowns. Both are now on athletic scholarships at Michigan -- Copp for hockey, Johnson for football -- but the cross-town rivalry still promises to be a good one.
Other options for Game of the Week include a Southeastern Conference Red Division showdown between Saline and Temperance Bedford at Bedford Community Stadium. Also in SEC Red action, Monroe -- ranked No. 6 in Division 6 -- rolls into town to take on Ann Arbor Huron at Riverbank stadium.
In non-SEC action, Milan will head to Monroe to take on perennial Huron League and Division 6 power St. Mary Catholic Central. Both teams are looking to prove last year's respective hiccup seasons were flukes.
Meanwhile, Hanover Horton will travel to Manchester to take on the Flying Dutchmen.
The Game of the Week could be as far away as Temperance or Monroe, or as close as Huron or Pioneer High School. It's up to you.
Voting is open until 6 p.m. on Tuesday and you're not limited to one vote, so vote early and vote often.
Game of the Week coverage:
AnnArbor.com will give the Game of the Week winner its Super Bowl treatment, which will include two reporters covering the game, a live chat that you can follow from your iPhone or Android device, and a photo gallery as well.
Pete Cunningham covers sports for AnnArbor.com.