Posted on
Fri, Oct 12, 2012 : 6:56 p.m.
Chelsea one win away from playoff berth and more Friday night results
By AnnArbor.com Staff
This file will be updated
AnnArbor.com Washtenaw County Scoreboard:
Chelsea 34, Dexter 14
Story | Boxscore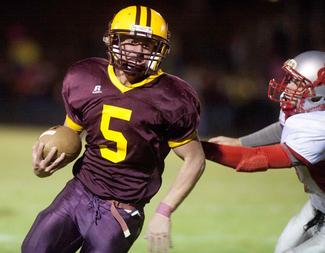 J. Scott Park | MLive.com
After an 0-3 start, Chelsea won five consecutive games to clinch the Southeastern Conference White Division title.
"We didn't play as well as we could have early on," Chelsea coach Brad Bush said, reflecting on the season. "Our expectations coming in were high.
"But we really turned things around, and I'm proud of the way we did. It was a great home win for the title."
Chelsea's Berkley Edwards had 118 yards rushing on 13 carries to lead the Bulldog offense.
Manchester 21, Michigan Center 12
Story | Boxscore | Big INT for Kurasz
Through seven games this season, the Michigan Center offense rolled over opposing defenses.
The Cardinals had averaged 43 points a night and often played its reserves for much of the second half.
Friday night the Manchester Flying Dutchmen changed all that.
The Dutchmen defenders shut out the Cardinal offense in the second half of a 21-12 victory, sealing the deal for a share of the Cascades Conference championship and a berth in the playoffs.
Detroit Consortium 52, Willow Run 3
Story | Boxscore
Martez Freeman and Devere Pipkins ran for 145 combined yards on 14 carries to lead Ypsilanti Willow Run. Quarterback Marquis Smith was 2 of 7 for 67 yards passing and added 42 yards rushing.
"This particular week we were able to rush the way we haven't been able to earlier in the season," Willow Run coach Rufus Pipkins said. "Freeman and (Devere) Pipkins moved the chains well."
Whitmore Lake 28, Adrian Madison 13
Story
Whitmore Lake claimed victory despite trailing at halftime, scoring three touchdowns in the second half.
"We were moving the ball pretty well with our quarterback moving outside the pocket and getting it to our wide receiver, Jake," Whitmore Lake coach Andrew Crumb said. "We've had a consistency of our first half coming out dead...then in the second half, we come out with a little more spark it seems."
Lincoln 26, Ypsilanti 14
Details not available

AnnArbor.com coverage:
Pioneer 35, Huron 6
Story | Boxscore | Gallery | Post game fight sends one person to the hospital
Saline 53, Skyline 13
Story | Boxscore
Milan 41, Carleton Airport 0
Story | Boxscore | Gallery | Milan offense explodes
Vote for next week's Game of the Week. Fans can vote once per hour until the poll closes at 6 p.m. Tuesday.