Posted on
Thu, Apr 25, 2013 : 8 a.m.
Washtenaw County Softball teams off to strong start after rough finish to 2012
By Kyle Austin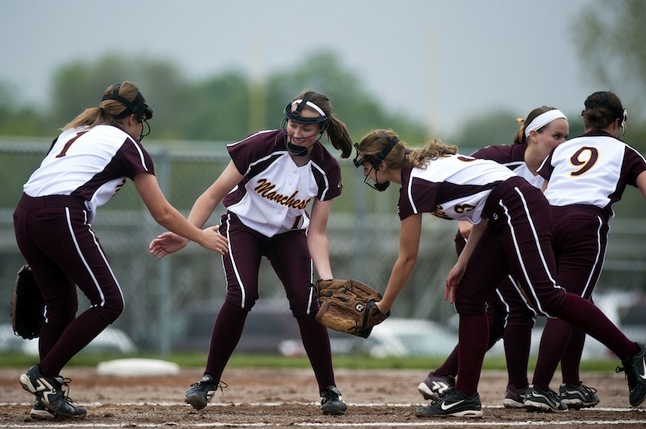 Mlive Media Group file
Last spring, Washtenaw County had a rough go of it in the state softball tournament. Only one area team took home a district title -- Milan -- while the other 15 were sent home packing in the first three rounds of the tournament.
While it's only late April, early results suggest that the results may be different in 2013.
Three area teams are unbeaten so far this season, and all three are ranked in this week's AnnArbor.com spring sports rankings.
Chelsea, Saline and Manchester are all unbeaten on the year, with a combined 15-0 record. They come in at No. 1, 2, and 4 in this week's rankings, respectively. Our No. 3 team, Lincoln, is 5-1 on the year.
It won't be long before those teams start playing one another, so blemishes are coming soon. But for the time being, things are looking up on the area softball scene.
Softball
1. Chelsea: Still unbeaten at 5-0, the Bulldogs improved their record with a 9-2 win over Temperance Bedford on Tuesday.
2. Saline: Twenty-eight runs in two games against Ypsilanti Tuesday ran the Hornets' record to 6-0.
3. Lincoln: A 14-strikeout game from Emily Eickhoff in Game 1 helped Lincoln sweep Huron and move to 5-1 this week.
4. Manchester: The Lady Dutch are perfect in the Cascades Conference at 4-0, and have big wins over Whitmore Lake and Vandercook Lake.
5. Dexter: The Dreadnaughts are 4-2 heading into a big matchup against Lincoln on Thursday.
Baseball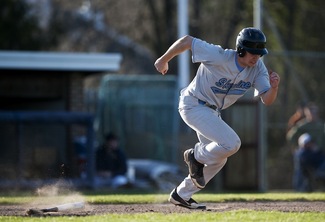 Daniel Brenner | AnnArbor.com
1. Saline: The Hornets continue to roll, they're now 8-1 on the season.
2. Huron: A sweep of Lincoln this week moved the River Rats to 7-2 on the year.
3. Skyline: Our Team of the Week got two big wins at Chelsea Monday to run its record to 6-1 on the year and move into the No. 3 spot.
4. Father Gabriel Richard: The Irish are 4-4 in their last eight after moving into a tough Catholic League slate.
5. Chelsea: The Bulldogs have struggled early after a state quarterfinal appearance last year.
Boys Track
1. Saline: The Hornets had a strong second-place showing at Saturday's April Showers relays and are now 3-0 in the Southeastern Conference.
2. Chelsea: Chelsea lost its home relays by just one point Saturday, but kept its unbeaten dual meet streak alive against Lincoln on Tuesday.
3. Pioneer: The Pioneers doubled up previously unbeaten Temperance Bedford Tuesday, and has turned in impressive 400- and 3,200-meter relay times.
4. Lincoln: Tyree Waller has already turned in an 11.37 100-meter dash and 22-foot, 9-inch long jump, and the Railsplitters gave Chelsea a close meet on Tuesday.
5. Ypsilanti: The Phoenix are solid up top, especially in sprints, but lack the depth to win many SEC dual meets.
Girls Track
1. Saline: The Hornets' 400 relay team has turned in the fastest time in the state this year so far, according to Athletic.net.
2. Chelsea: The Chelsea girls won its home relay meet on Saturday and followed it up with a dual win over Lincoln on Tuesday.
3. Pioneer: The Pioneers move up a spot after back-to-back wins over Skyline and Temperance Bedford; they have top-10 hurdlers in both the 100 and 300 events.
4. Huron: Kennedy Beazley has put up strong 800 and 1,600 times for the River Rats, who beat Skyline by one point on Tuesday.
5. Dexter: The Dreadnaughts enter this week's rankings after overtaking Lincoln in a dual meet and beating Temperance Bedford.
Girls Soccer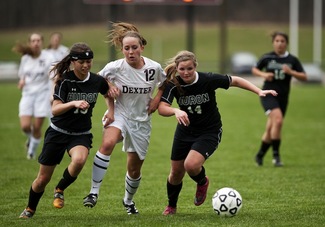 Daniel Brenner | AnnArbor.com
1. Dexter: The Dreadnaught aren't winning of late, but they aren't losing much, either. Dexer is 0-1-3 since a 4-0 start, and tied Huron on Tuesday night.
2. Skyline: The Eagles have won three straight, the last two of which have been by a combined 14 goals.
3. Saline: Saline continues to tread water: a close loss to Plymouth on Saturday followed by a big win over Ypsilanti.
4. Father Gabriel Richard: Back-to-back one-goal losses have made for a tough week.
5. Huron: The River Rats rallied late to tie Dexter on Tuesday and stay at .500 with a 3-3-1 record.
Kyle Austin covers sports for AnnArbor.com. He can be reached at kyleaustin@annarbor.com or 734-623-2535. Follow him on Twitter @KAustin_AA.