Posted on
Thu, Dec 8, 2011 : 2:38 p.m.
Local players sidelined, but still relishing Wayne State football team's run to Division II semifinals
By Pete Cunningham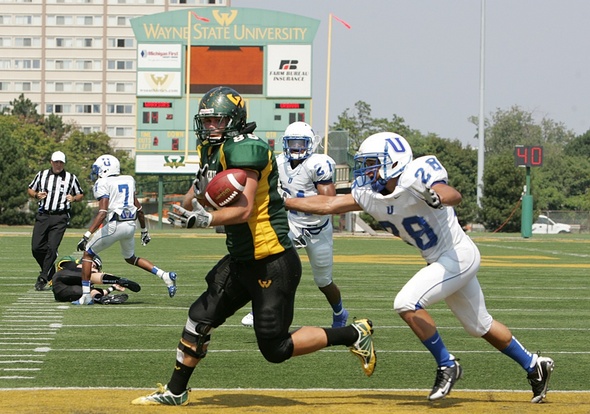 Photo courtesy of Wayne State University
While the country clamors about how broken, corrupt or unfair college football's bowl system is, the Wayne State University football team isn't concerning itself with such debates.
Down the road in Detroit, the Warriors are too busy preparing for a semifinal game in the Division II playoff.
When Wayne State plays Winston-Salem State University with a berth in the championship game on the line on Saturday (2 p.m., ESPN3), it will be for Whitmore Lake High School graduate Greg Oberstaedt.
Oberstaedt, a senior tight end, won't get to play after tearing his anterior cruciate ligament in Wayne State's 31-25 quarterfinal victory over defending champs Minnesota-Duluth.
DIVISION II PLAYOFFS
Semifinals
Saturday
Wayne State (11-3) at Winston-Salem (13-0), 2 p.m.
Delta State (11-2) at Pittsburg State (11-1), 7:05 p.m.

Championship
Saturday, Dec. 17
At Braly Municipal Stadium
Florence, Ala.
Semifinal winners, 11 a.m.
Because there are limited spots on the travel roster, Oberstaedt will drive to the game with his father,
Ken
, and brother,
Corey
-- a sophomore offensive lineman on the team.
Other Washtenaw County players on the team include offensive lineman Thom Box (Milan), backup quarterback Nick Moeller (Saline) and backup defensive ends Justice Akuezue (Huron) and Mike Komor (Whitmore Lake)
Oberstaedt has played in every contest for the 11-3 Warriors this season as part of a two-man rotation at tight end. He was used primarily as a blocker and also caught five passes for 63 yards and a touchdown. Early in the first quarter against Duluth, Oberstaedt felt a pop in his left knee.
Oberstaedt's career will end how it started at Wayne State -- he tore his right ACL as a freshman -- but he hopes there's one drastic difference.
"Winning (the national championship) would mean everything to me, even if I can't play in the game," Oberstaedt said. "When I got here in 2007, that was the goal and it's hard to fathom that it's almost a reality now."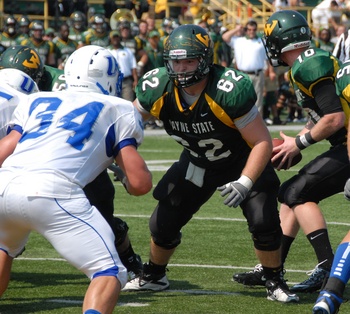 Photo courtesy of Wayne State University
When Wayne State concluded its regular season with a 43-42 in overtime loss to Findlay, it didn't look like any sort of playoff run would be possible. With the loss, the Warriors missed out on an automatic bid into the playoffs as the Great Lakes Intercollegiate Athletic Conference champion.
The Warriors were given second life with an at-large bid into the 24-team tournament. It is the school's first-ever playoff berth.
Though he describes losing the conference championship as "devastating," Oberstaedt thinks the late-season stumble may have been a blessing in disguise.
"Going on the road playing these top seeds, the pressure was off our shoulders. We had nothing to lose and everything to prove," Oberstaedt said.
Box, a 2010 Milan High School graduate, felt the same way.
"When we saw that we got a bid, everyone was like, 'Alright, here's our second chance," Box said. "Now we're trying to make the most of it."
After starting 10 of 11 regular season games at center, Box injured his medial collateral ligament during Wayne State's opening-round playoff win against St. Cloud. Like Oberstaedt, he won't play against Winston-Salem, but expects to play if Wayne State advances to the championship game.
Delta State (11-2) faces Pittsburg State (11-1) in the other semifinal, with the title game set for Dec. 17 in Florence, Ala.
"It's hurt a lot (not being able to play), but I couldn't be more proud of my team," Box said.
Pete Cunningham covers sports for AnnArbor.com. He can be reached at petercunningham@annarbor.com or by phone at 734-623-2561. Follow him on Twitter @petcunningham.