Posted on
Tue, Sep 3, 2013 : noon
Saline's pair of thriving QBs, Week 1 players of the week and statistical leaders
By Pete Cunningham
Saline's quarterback competition is getting interesting.
FOOTBALL TOP PERFORMERS, AUG. 29-30
PASSING YARDS
187 - Josh Jackson, Huron (8-of-17, 1 TD, 1 INT)
160 - Eugene Smith, Lincoln (13-of-22, 2 TD, 1 INT)
153 - Kyle Koenig, Dexter (11-of-21, 1 TD, 0 INT)
143 - Scott Crews, Chelsea (16-of-30, 1 TD, 0 INT)
111 - Askaree Crawford, Skyline (5-of-15, 1 TD, 0 INT)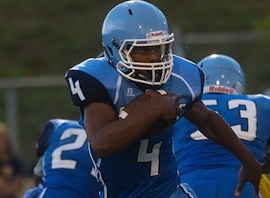 RUSHING YARDS
135 - Askaree Crawford, Skyline (16 carries, 2 TD)
112 - Terry Jackson, Skyline (9 carries, 1 TD)
96 - Trace Lindeman, Milan (22 carries, 0 TD)
88 - Jaavid Love, Huron (4 carries, 2 TD)
85 - Nate Spencer, Skyline (11 carries, 0 TD)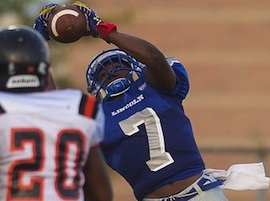 RECEIVING YARDS
87 - Marcus Edmonson, Huron (3 receptions, 0 TD)
81 - Kornelius Saxton, Skyline (2 receptions, 1 TD)
69 - K.J. Osborn, Lincoln (5 receptions, 1 TD)
65 - Adam Haas, Dexter (3 receptions, 0 TD)
60 - Griffin Wooley, Saline (3 receptions, 1 TD)
Saline High School football coach Joe Palka has said throughout the pre-season that he would let his quarterback competition go into the season. With both of his junior quarterbacks, Trent Theisen and Travis Brown, performing well in practice, he wanted to compare how they play in conditions.
Presumably this was done in an effort to make Palka's decision easier. With the way the quarterbacks played in Saline's 42-0 win over A.B. Lucas, a Canadian team. Palka's job doesn't look to be getting any easier anytime soon.
Theisen and Brown combined to throw for 187 yards, which made Saline tied with Huron - which also played a Canadian team - for the most passing yards of the 12 high school football teams in Washtenaw County. Brown completed 6-of-6 passes for 106 yards and a touchdown and Theisen completed 5-of-8 for 86 yards and a score.
Brown's perfect completion percentage was not only the highest of any other area quarterback, but the teammates' combined completion percentage of 78.6 was higher than any of the other passing attacks in the county. Theisen's completion percentage of 62.5 was the second highest among county quarterbacks and he also ran for a pair of scores.
Six-headed rushing monster
The Father Gabriel Richard football team had a potent rushing attack in its season opening win against Lake Fenton on Thursday, but that's not to say any backs had standout rushing performances.
None of the Father Gabriel Richard running backs had great games, but several played very well. The Fighting Irish rushed 47 times for 187 yards while utilizing six rushers. No running back had more than 51 yards, while four backs had 9-14 carries and at least 36 yards.
The rusher with the least amount of carries and yardage was actually a wide receiver, Evan Fosha, who had just one carry for six yards. That one run proved very valuable as Fosha scored a touchdown on the play in the fourth quarter and gave Gabriel Richard its final touchdown of the tightly contested 25-13 win.
Offensive Player of the Week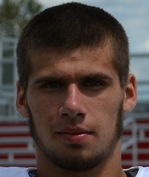 Robert Kanitz, Milan:
The senior quarterback was knocked out of Milan's opener against Ypsilanti Community on the very first play from scrimmage on Friday with an injury. The game was delayed due to lightning and the final 16 minutes were played on Saturday afternoon. Kanitz returned on Saturday and completed 4-of-8 passes for 40 yards and touchdown in
Milan's 13-6 victory.
Defensive Player of the Week
Skyline: As a unit, the Eagles gave up just 10 points against Hartland in their 28-10 win on Thursday, an all-time program low. It snapped a seven game streak in which Skyline had given up at least 34 points and against an offense that last year averaged 32.1 points per game. Leading tacklers were Kornelius Saxton (5.5), Trevon Tucker (4.5) and Michael Kyle (4.5)
Special teams Player of the Week
Kevin Masini, Father Gabriel Richard: The senior kicker converted his only extra point attempt and made field goals of 39 and 41 yards. Masini was also the decoy on two successful onside kicks in Father Gabriel Richard's 25-13 win over Lake Fenton, with both he and Mike Wolf running up to the ball and Wolf kicking it both times. Masini also plays quarterback for the Fighting Irish and completed 7-of-14 passes for 89 yards and a touchdown and was the team's second leading rusher with 14 carries for 43 yards.
By the numbers:
2: First-year coaches who started their careers with wins in Week 1, Huron's Craig Jobe and Whitmore Lake's Todd Pennycuff.
3: First-year coaches who started their career with losses in Week 1, Pioneer's Jari Brown, Dexter's Ken Koenig and Ypsilanti Community's Rufus Pipkins.
10: Amount of Points given up by Skyline Football team in it's win over Hartland on Friday, the lowest ever given up by Skyline in a game in its four-year history.
20: Hours between touchdown receptions for Milan's Devin Miller, who caught a first quarter touchdown pass on Friday night and scored in the fourth quarter on Saturday afternoon of Milan's 13-6 win over Ypsilanti.
170: Minutes between snaps in Chelsea's 21-14 loss to Lansing Sexton, which was delayed nearly three hours due to lightning. The game ended after midnight.
719: Days between wins for the Huron football team, which snapped a 15-game losing streak that dated back to September 9, 2011 with its 41-10 win over Windsor Massey on Friday.
Potent quotable
"It's probably one of the proudest moments I've had coaching at the high school level."
-- Todd Pennycuff, Whitmore Lake first-year head coach Todd Pennycuff after the Trojans' season opening 32-22 win over Stockbridge.
Pete Cunningham covers sports for AnnArbor.com. He can be reached at petercunningham@annarbor.com. Follow him on Twitter @petcunningham.