Posted on
Tue, Oct 18, 2011 : 12:49 p.m.
Ypsilanti football numbers keep falling, week 8 leaderboard and more notes
By Pete Cunningham
The Ypsilanti High School football team has experienced some attrition through its 1-7 season. That attrition led to even lower numbers on Friday night in a 27-12 loss to crosstown rival Lincoln.
With just 19 players dressed, almost all of them had to play both ways and on special teams for the Phoenix, even the quarterback. Despite the signal caller being arguably the most valuable position on the field, Ypsilanti senior Darryl Tipton was playing on special teams coverage. On the opening kick of the second half, Tipton injured his right leg and did not play the rest of the game.
FOOTBALL TOP PERFORMERS, OCT. 14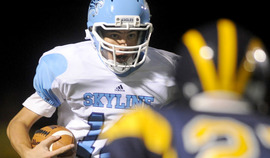 PASSING YARDS
334 - Nelson Hansen, Skyline (17 of 37, 3 TDs, 3 INTs)
214 - Jarred Scheese, Chelsea (16 of 24 , 2 TDs, 1 INT)
171 - Michael Mioduszewski, Dexter (12 of 26, 1 TD, 1 INT)
168 - Nate Bossory, Manchester (12 of 28 , 1 TD, 2 INTs)
163 - Justin Aceves, Milan (15 of 27, 1 TD, 1 INT)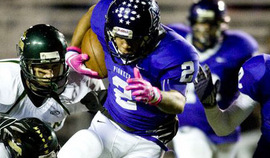 RUSHING YARDS
256 - Drake Johnson, Pioneer (23 carries, 3 TDs)
226 - Justin Barnes, Saline (34 carries, 6 TDs)
172 - Jimmy Kurasz, Manchester (14 carries, 2 TDs)
147 - NyShaun Marks, Willow Run (11 carries, 0 TDs)
132 - Michael Mioduszewski, Dexter (24 carries, 1 TD)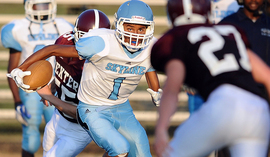 RECEIVING YARDS
242 - Jordan Woods, Skyline (9 receptions, 2 TDs)
102 - Devin Jose, Manchester (6 receptions, 0 TDs)
102 - Deshawn Gohl, Willow Run (6 receptions, 1 TDs)
87 - Rare Williams, Lincoln (3 receptions, 1 TD)
78 - Tory Martinsen, Milan (8 receptions)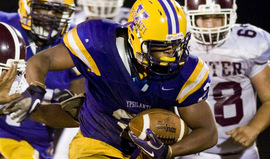 TACKLES
15 - Johnny Brown, Willow Run
13 - Wade Raddatz, Milan
13 - Dante' Barnett, Ypsilanti
12 - Brandon Jordan, Ypsilanti
9 - Chase Rieberger, Milan

-- Compiled by Bob Gross and Matt Durr

Rather than be discouraged by the low numbers, Ypsilanti coach
Jason Malloy
has been encouraged by the attitude of those sticking it out through a trying season.
"The guys that are in the program we're trying to build off of," Malloy said. "We want guys that want to do things the Ypsi way, having to do the right things all the time.
"I think we continue to struggle with that as a program. When you don't do things right way Monday through Thursday, it's tough for you to expect to win on Friday."
Malloy even found a silver lining in losing his starting quarterback
"With Darryl going down, it hurt, with him being one of our good rushers. But I think it gave somebody else the opportunity to step in," Malloy said.
The player that stepped in was Luke Edwards. The freshman had competed with Tipton and former starting quarterback Kevin Clark in the preseason, but was kept on the junior varsity until later in the season. In the fourth quarter on Friday, he led Ypsilanti on two scoring drives and finished the night 4-of-6 passing for 95 yards and a touchdown and had five rushes for 39 yards and another score.
"I'm very pleased with the progress he's shown at the varsity level," Malloy said of Edwards.

Winless to playoffs
Lincoln qualified for the playoffs for the first time in school history on Friday, just a year after being one of 48 teams in the state of Michigan to go winless.
Though a unique accomplishment, the Railsplitters were not alone. Plainwell accomplished the same feat, beating Richland Gull Lake 41-20 to improve to 6-2 and qualify for the playoffs one year after going 0-9.
Formerly winless Lutheran Westland has the opportunity to join Plainwell and Lincoln on Friday. The 5-3 Warriors will play Dearborn Height Star International Academy. Star Academy hasn't won since the season opener of 2009.

Still streaking
Whitmore Lake ended a 20-game losing streak with a 20-14 win over Adrian Madison on Friday. Before the win, the Trojans had the tenth longest streak in the state.
Whitmore Lake was the only of the "not-so top 10" to end its losing streak on Friday. Here are the longest active streaks:
24: New Haven, Dearborn Heights International and Grand Rapids Creston
26: East Jordan, Imlay City 28: Galesburg Augusta 36: Martin 51: Lincoln Park

Washtenaw County Power Rankings

No major shifts in the Washtenaw County football power rankings this week, except for a switch between Willow Run and Milan. It is, after all, the final week of the regular season, so most teams are preforming as expected by now. As former Arizona Cardinals head coach Dennis Green once said, "They are who we thought they were."
Rank, School (Record), Latest result (Previous week's rank)
1. Chelsea (7-1), def. Dexter, 31-15 (1)
2. Pioneer (6-2), def. Huron, 50-7 (2)
3. Saline (4-4), def. Skyline, 42-21 (3)
4. Lincoln (6-2), def. Ypsilanti, 27-12 (4)
5. Father Gabriel Richard (7-1), def. Standish-Sterling, 35-25 (5)
6. Skyline (3-5), lost to Saline, 42-21 (6)
7. Manchester (7-1), def. Michigan Center, 37-19 (7)
8. Dexter (3-5), lost to Chelsea, 31-15 (8)
9. Huron (1-7), lost to Pioneer, 50-7 (9)
10. Willow Run (4-4), def. Detroit Allen Academy, 27-8 (11)
11. Milan (1-7), lost to Riverview, 35-14 (10)
12. Ypsilanti (1-7), lost to Lincoln, 27-12 (12)
13. Whitmore Lake (1-7), def. Adrian Madison, 20-14 (13)