Posted on
Tue, Oct 16, 2012 : 5:59 a.m.
SEC Red co-champ Saline an innocent bystander in Huron-Pioneer brawl plus Week 8 notes, rankings and leaders
By Pete Cunningham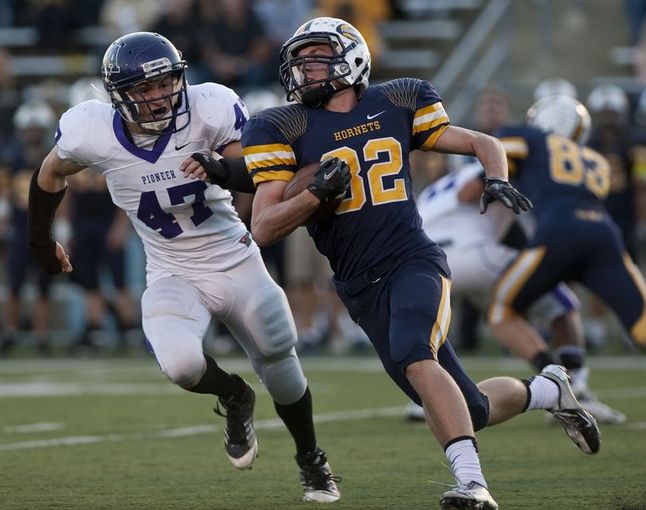 Overshadowed by the post-brawl craziness of Friday night was the fact that down the street at
Skyline High School
another share of the Southeastern Conference Red Division championship was being won.
The accomplishment of the Saline football team became an innocent bystander to the post-game craziness between Pioneer and Huron.
With a 53-13 win over Skyline, the Hornets finished with a 5-1 league record identical to that of Pioneer's, and the teams finished as co-champs.
FOOTBALL TOP PERFORMERS, OCT. 12, 13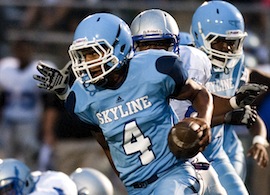 PASSING YARDS
236 - Tyler Palka, Saline (15-of-23, 3 TD, 2 INT)
224 - Askaree Crawford, Skyline (12-of-30, 1 TD, 2 INT)
180 - Justin Aceves, Milan (11-of-15, 2 TD, 0 INT)
132 - Josh Jackson, Huron (16-of-20, 1 TD, 0 INT)
123 - Ryan Stiles, Manchester (8-of-15, 0 TD, 0 INT)
RUSHING YARDS
163 - Marquise Thomas, Pioneer (26 rushes, 3 TD)
146 - Robert Kanitz, Milan (12 rushes, 2 TD)
118 - Berkley Edwards, Chelsea (13 rushes, 4 TD)
115 - Arthur Dukes, Milan (17 rushes, 1 TD)
99 - Hayden Staub, Gabriel Richard (18 rushes, 1 TD)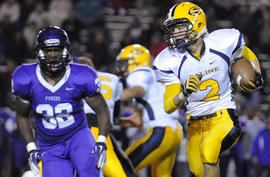 RECEIVING YARDS
140 - Percell Franklin, Skyline (7 receptions, 1 TD)
135 - Gage Hammond, Saline (7 receptions, 1 TD)
109 - Gage Smith, Milan (6 receptions, 0 TD)
67 - Devere Pipkins, Willow Run (2 receptions, 0 TD)
66 - Zach Dunsmore, Manchester (2 receptions, 0 TD)
*Whitmore Lake, Ypsilanti, Lincoln stats not available.
Last year at this time, first year Saline head coach
Joe Palka
and his son
Tyler Palka
were preparing for playoff run with Toledo Whitmer that ended with a loss in the state championship game.
Both no doubt had their minds set on returning to the state championship game in Tyler's senior year, but both of their worlds were flipped upside down to an extent when Joe decided to take a job at Saline.
Joe was unsure if Tyler would join him or stay at Whitmer when he first took the job. Tyler, of course joined his father and has been he centerpiece to Saline's first league championship since 2006 with 1,488 yards and 13 touchdowns passing and 475 yards and five touchdowns rushing.
It made Friday all the more sweet for Joe who played the part of proud father and coach in the hallway of Skyline High School following the win.
"(Tyler) kind of made the ultimate sacrifice," Joe said. "To (move) in your senior year is extremely difficult. It's really gratifying for myself and for him to be surrounded by people and kids that care and to win this thing together with them. I couldn't be more happy right now."
Having accepting teammates was key to Saline's success. A new quarterback coming into town with his eyes on the starting job and with a dad as a head coach could have been met with great resistance. Saline's players are not far removed from the in-fighting and community resistance that accompanied the transfer of blue chip quarterback Joe Boisture to Saline in 2009.
According to Joe and Tyler, the team and community "bought in" and accepted them from day one, which made the transition smooth.
"It was extremely difficult," Tyler said of moving for his last year of high school, "but we made a transition pretty well. I wouldn't trade any of this for the world right now…It's unbelievable. We've got a great group of guys who all accepted me from day one."
Speaking of that first day, the Palkas said the first time they met their new team the first thing they discussed was winning a league title. As father and son they accomplished that on Friday and are now moving on to the next goal they set with their new team that day. The one they fell one win shy of at Whitmer last year: a state championship.
"We keep working hard, we believe the sky is the limit for this team," Tyler said.
Conference titles, playoff spots
Three more Washtenaw County teams moved closer to securing automatic playoff berths with wins last week. Pioneer, Chelsea and Lincoln all earned their fifth wins of the season, and can can earn automatic playoff bids with Week 9 wins.
Manchester, meanwhile, locked up an automatic playoff bid with its sixth win of the year. Three other teams -- Milan, Saline and Gabriel Richard -- have already locked up bids.
The playoff field will be announced at 7 p.m. Sunday on Fox Sports Detroit.
Five area teams also earned league titles last weekend. Pioneer and Saline split the SEC Red with 5-1 league records. Chelsea won its fifth straight game to earn a split of the SEC White title, along with Tecumseh.
The Flying Dutchmen's win over Michigan Center earned them a share of their first Cascades Conference title since 2009, and Milan won its first outright Huron League title since rejoining the league in 2000.
Father Gabriel Richard will go for the Catholic League AA title Saturday when it takes on Pontiac Notre Dame Prep Saturday, 1 p.m. at Ford Field.
Washtenaw County Power Rankings
Saline moved up into the top spot ahead of Pioneer in the power rankings last week despite the fact that that Pioneers defeated the the Hornets 7-6 when they met head-to-head. Ann Arbor Public Schools won't disclose how many players and coaches in addition to head coach Paul Test will be suspended for Friday night's brawl, but having Test gone helps solidify Saline at the top spot.
Rank, School (Record), Latest result (last week's rank)
Saline (7-1), def. Skyline, 53-13 (1)
Pioneer (5-3), def. Huron, 35-6 (2)
Chelsea (5-3), def. Dexter, 34-14 (3)
Milan (8-0), def. Carleton Airport, 41-0 (4)
Gabriel Richard (7-1), def. Allen Park Cabrini, 48-7 (5)
Lincoln (5-3), def. Ypsilanti, 26-14 (6)
Skyline (2-6), lost to Saline, 53-13 (7)
Manchester (6-2), def. Michigan Center, 21-12 (9)
Huron (0-8), lost to Pioneer, 35-6 (8)
Ypsilanti (1-7), lost to Lincoln, 26-14 (10)
Dexter (0-8), lost to Chelsea, 34-14 (11)
Whitmore Lake (2-6), def. Adrian Madison, 28-13 (13)
Willow Run (2-6), lost to Detroit Consortium, 53-3 (12)
Game of the Week
Fans have about 24 hours left to vote in our final regular-season Game of the Week poll. Milan vs. Lincoln is our early leader.
Kyle Austin covers sports for AnnArbor.com. He can be reached at kyleaustin@annarbor.com or 734-623-2535. Follow him on Twitter @KAustin_AA.