Posted on
Tue, Oct 23, 2012 : 5:55 a.m.
Manchester looking to reverse recent postseason history, playoffs times announced, plus Week 9 notes, rankings and leaders
By Kyle Austin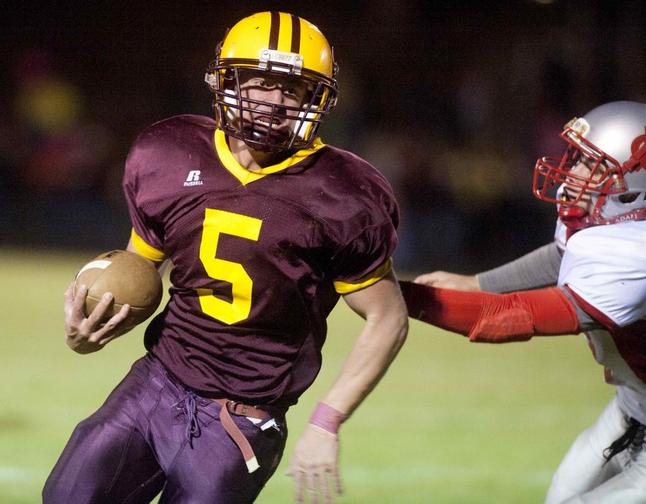 J. Scott Park | MLive.com
Manchester will try to exorcise some playoff demons Friday night.
FOOTBALL TOP PERFORMERS, OCT. 19, 20
RUSHING YARDS
256 - Robert Kanitz, Milan (23 rushes, 4 TD)
245 - Berkley Edwards, Chelsea (26 rushes, 4 TD)
156 - Arthur Dukes, Milan (22 rushes, 1 TD)
121 - Marquise Thomas, Pioneer (12 rushes, 2 TD)
109 - Marquis Smith, Willow Run (13 rushes, 0 TD)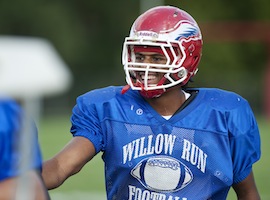 RECEIVING YARDS
161 - Devere Pipkins, Willow Run (9 receptions, 0 TD)
76 - Tyree Waller, Lincoln (5 receptions, 1 TD)
75 - Kesean Hugan, Pioneer (1 reception, 1 TD)
67 - Martez Freeman, Willow Run (3 receptions, 0 TD)
54 - Caleb Luckett, Saline (2 receptions, 0 TD)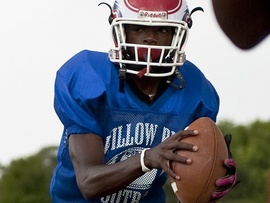 PASSING YARDS
261 - Marquis Smith, Willow Run (15-of-32, 0 TD)
155 - Brandon Bertoia, Pioneer (7-for-9, 1 TD)
151 - Javin Kilgo, Lincoln (11-for-30, 2 TD)
132 - Tyler Palka, Saline (7-for-8, 2 TD)
52 - Mason Sarosi, Gabriel Richard (5-for-10, 1 TD)
*Ypsilanti and Whitmore Lake stats not available.
And the Flying Dutchmen will look to do it against a very familiar opponent.
Manchester will open the playoffs Friday against Clinton, marking the 112th iteration of the matchup. According to the MHSAA record book, it will become the sixth-longest rivalry in the state this weekend, in terms of number of games played.
Yet this year will be only the third time the two teams have met in the playoffs.
Clinton won the 2012 regular-season matchup, 32-14 in Week 1, after jumping out to a 20-point halftime lead. That snapped a five-game Manchester win streak.
Manchester is making its fifth straight playoff appearance and ninth in the last 10 years. But the last two postseasons have been unkind.
Last year, the Flying Dutchmen gave up an 80-yard touchdown pass with 47 seconds left in a 34-32 loss to Leslie.
The year before, Manchester was five yards away from a go-ahead touchdown, before it threw an interception with 33 seconds left. Willow Run hung on to win, 28-26.
Manchester's last playoff win came in the 2009 district title game, 11-0. The Flying Dutchmen's opponent that night? Clinton.
Kickoff times
Of the six playoff games this weekend involving area teams, five will kick off at 7 p.m. Friday. The only exception is Dundee at Father Gabriel Richard, which will kick off at 1 p.m. Saturday.
Defense does it for FGR
Gabriel Richard may have snapped a three-game losing streak against Pontiac Notre Dame Prep Saturday afternoon in the Prep Bowl. But coach Brian Lemons wasn't taking much credit afterward.
Gabriel Richard shot out to a 17-point lead by halftime before holding on for a 17-12 win. The win was secured when the Irish recorded a fourth-down stop with 1:19 left.
"Despite my offensive play calling, our defense did a good job," Lemons said. "I was playing too conservative in the second half, (and) I put my defense in a rough spot. But they did a terrific job."
Lemons has been quick to give credit to his defensive coordinator, Mike Girskis, an eighth-year FGR assistant and 2010 MHSAA Assistant Coach of the Year. After some high-scoring early games this season, the Irish have given up less than 10 points a game in its current five-game win streak.
Reverse for the win
With 10 minutes left in a winless season, Dexter decided to try a new page out of the playbook.
And the decision helped get the Dreadnaughts off the schneid.
Tied at six in the fourth quarter against Jackson Northwest Friday night, Dreadnaughts coach Ryan Fisher called a reverse to receiver Matt Kasten, who scampered 31 yards up the left side for the score.
The play, an extension of the team's speed option, had been added earlier in the week, and worked to perfection the first time it was called.
"We wanted it for a rainy day, and it was raining," Fisher said. "So we ran it."
Washtenaw County leaders
After a dedicated offseason and a spot as the featured running back on an emergent team, Arthur Dukes produced the best regular season of any area rusher.
Dukes, the Milan senior running back, recorded 1,432 yards during the regular season, making him the area's leading rusher for the 2012 season.
He finished with just over 100 more yards than Chelsea's Berkley Edwards, who had 1,311 yards.
The area's leading passer and receiver both came from Willow Run. Freshman Marquis Smith, who just turned 14, threw for 261 yards Friday to bring his season total to 1,858 yards. He edged out Saline's Tyler Palka by just over 200 yards.
His favorite target was Devere Pipkins, who had a county-high 894 receiving yards.
Washtenaw County Power Rankings
The final power rankings of the year have one significant change: a drastic drop for Pioneer. Pioneer was at the top spot or most of the year, never fell below No. 2 and accounted for top-ranked Saline's only loss, but injuries and suspensions have the Pioneer's limping into the playoffs.
No one will tell us whether Pioneer's players suspended from the brawl are eligible for the opening round playoff game, but we do know several defensive starters and their starting quarterback, Aedan York, are out regardless.
Also, going undefeated has to count for something, so Milan has moved up to the No. 2 spot in the rankings. Chelsea may have a chance to re-establish dominance in the second round of the playoffs if both teams win this week.
Rank, School (Record), Latest result (last week's rank)
Saline (8-1), def. Novi, 42-7 (1)
Milan (9-0), def. Lincoln, 36-14 (4)
Chelsea (6-3), def. Haslett, 28-14 (3)
Pioneer (6-3), def. Livonia Franklin, 31-17 (2)
Gabriel Richard (8-1), def. Pontiac Notre Dame Prep, 17-12 (5)
Lincoln (5-4), lost to Milan, 36-14 (6)
Skyline (2-7), lost to Dearborn, 44-7 (7)
Manchester (6-3), lost to Fowler, 21-7 (8)
Huron (0-9), lost to John Glenn, 37-0 (9)
Ypsilanti (1-8), lost to Monroe SMCC, 49-6 (10)
Dexter (1-8), def. Jackson Northwest, 13-6 (11)
Whitmore Lake (2-7), lost to Petersburg Summerfield, 28-20 (12)
Willow Run (2-7), lost to Flat Rock, 60-14 (13)
Game of the Week
It's a shortened timeline for our playoff game of the week poll, so get your vote in now. Voting closes at 6 p.m. Tuesday, and Temperance Bedford at Saline is off to the early lead.