postseason preview:

What to watch for at girls golf state finals this weekend

Posted on Fri, Oct 19, 2012 : 1:15 p.m.
Chelsea will head to the state finals this week with a regional title in hand, but by the slimmest of margins.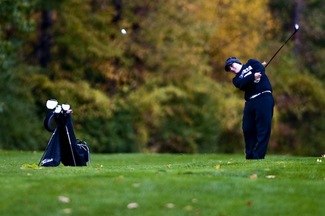 Joseph Tobianski | AnnArbor.com
The Bulldogs took first at last week's Division 3 regionals at Spring Meadows Country Club in Linden, finishing with a 373. That was one shot better than Jackson Northwest and two shots better than Tecumseh.
Now they head to the Division 3 state finals for the first time since 2009, when the Bulldogs finished fifth.
Senior Gabby Triveline, who went to the state meet in 2010, led the way with an 86, followed by Judy Kim and Elizabeth Stofflet with 95s. EJ Lin shot a 97.
DIVISION 1
AT FOREST AKERS EAST, EAST LANSING
Area Schools: Pioneer, Saline
Area Individuals: Madison Smith, Huron
Breakdown: Saline is making its fifth straight state finals appearance, after a runner-up finish at last week's regionals, and is aiming for a top-five finish for the fourth straight year.
Saline junior Emily White finished fifth at last year's state finals, and said "top two" is her goal this year.
DIVISION 2
AT THE MEADOWS, ALLENDALE
Area Schools: Dexter
Breakdown: After Mary So went as an individual last year, she will be joined this year by her Dexter teammates, after the Dreadnaughts finished second to South Lyon at regionals. So was regional runner-up with an 83.
DIVISION 3
AT BEDFORD VALLEY, BATTLE CREEK
Area Schools: Chelsea

DIVISION 4
AT FOREST AKERS WEST, EAST LANSING
Area Schools: Greenhills
Area Individuals: Samantha Marsh, Father Gabriel Richard
Breakdown: Senior Annie Aldrich, who finished 10th at state finals last year and was regional-runner up, leads a veteran Greenhills team back to state finals. Greenhills finished ninth last year.