postseason preview:

What to watch for when high school girls golf regionals get underway Wednesday

Posted on Wed, Oct 10, 2012 : 5:45 a.m.
Saline has been one of the top area girls golf teams in recent years, qualifying for the state finals for four straight years, and finishing in the top four in the last three: fourth in 2011, a state title in 2010 and a runner-up finish in 2009.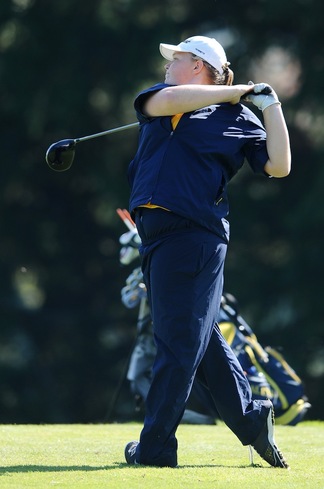 Melanie Maxwell | AnnArbor.com
But this is golf, so the Hornets aren't taking anything for granted with the state playoffs starting this week.
"We have the potential of playing really well," Hornets coach Betsy French said. "And we've also had some other scores."
Saline will hope for the former when it travels to Pine View Golf Club in Ypsilanti on Wednesday for a Division 1 Regional. There, it will compete against four other local teams: Huron, Lincoln, Pioneer, and Skyline, in a 9:30 a.m. shotgun start.
The top three teams will advance to the state finals, along with the top three individuals not on a qualifying team. Regionals take place Wednesday through Saturday, and the state finals at Michigan State's Forest Akers East Course Oct. 19-20.
Saline will be led by junior Emily White, who finished fifth in the state tournament last year.
"I think she's definitely one of the top players in the state," French said. "I hope that she can continue to play her game, and show that she's up there with that top tier of girls."
Past that, though, French said the Hornets are less experienced than in previous years.
"We have a lot of our varsity who it's their first year playing, and just learning to step up and have to keep your game going for 18 holes," French said. "They're doing well, they just need to do that on a consistent basis."
DIVISION 1
AT PINE VIEW GOLF CLUB
Tee time:Wed., Oct. 10, 9:30 a.m.
Area Schools: Huron, Lincoln, Pioneer, Saline, Skyline.
Breakdown: A strong field will take to the course, led by state title contender Plymouth. Lucky for Pioneer and Saline, who have gone back and forth in SEC play, three teams advance from regionals to state finals, so both should be able to advance without worrying about who's in second and who's in third.
White is the frontrunner to win an individual regional title, but will see competition from Plymouth's Sarah Thompson, a returning first-team All-Stater, Pioneer's Sloane Supica and Huron's Madison Smith, will look to qualify for a third straight year.
DIVISION 2
AT FARMINGTON HILLS GOLF CLUB
Tee time: Thurs., Oct. 11, noon.
Area Schools: Dexter, Ypsilanti.
Breakdown: Dexter came up one spot short of a state tournament berth last year. Junior Mary So will look to make a return trip to the finals.
DIVISION 3
AT WILLOW METROPARK GOLF CLUB
Tee time: Wed., Oct. 10, noon.
Area Schools: Milan.
Breakdown: The Big Reds finished ninth last year in regionals, but a move from Division 2 to Division 3 could provide a boost this year.
AT SPRING MEADOWS COUNTRY CLUB
Tee time: Thursday, Oct. 11, noon.
Area Schools: Chelsea.
Breakdown: Chelsea will look to improve on a fifth-place finished at least year's state finals, led by senior Gabby Triveline.
DIVISION 4
AT STONEY CREEK METRO PARK
Tee time: Wed., noon.
Area Schools: Greenhills, Father Gabriel Richard.
Breakdown: Both Greenhills and Father Gabriel Richard are looking to return to the state finals. Senior Annie Aldrich, who finished 10th in the state tournament last year, leads a Greenhills team ranked No. 10 in Division 4 in the MIGCA rankings.