Posted on
Tue, Dec 13, 2011 : 9:32 p.m.
Whitmore Lake wins first game in almost three years and more Tuesday results
By AnnArbor.com Staff
Tuesday wasn't the first time the Whitmore Lake girls basketball players left the court with tears in their eyes, but it was the first with tears of joy in quite some time.
For the first time in nearly three years, the Trojans (1-3) walked off the court winners after defeating Morenci 44-38 at home on Tuesday.
More coverage: Boxscore at MLive.com | Boys basketball roundup
"It feels good to finally get that win," head coach Jen Taylor said. "We've been trying to prove to people that we were working hard. Even though we see it, until we got that 'W' it didn't matter."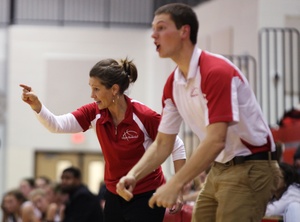 AnnArbor.com file photo
Whitmore Lake led 31-25 heading into the fourth quarter, but saw that lead slipping away late. Taylor called a timeout and asked her girls to play a 2-2-1 press defense they had only worked on for 15 minutes in practice.
It worked as the Trojans forced three consecutive turnovers and helped restore their lead.
"We don't have a ton of experience being in close games," Taylor said.
Myranda Owens had 11 points to lead the Trojans along with four rebounds and three steals. Owens hadn't won a game in high school on any level. Chloe Molitiesno had a team-high nine points for Morenci in the loss, all coming on 3-pointers.
Morenci used the 3-pointer as a way to stay close, knocking down eight baskets behind the arc. Whitmore Lake, which has struggled with turnovers this season, played an efficient game committing nine on the night.
Taylor described the feeling after the win as "pure excitement for the girls," but was surprised that the celebration wasn't as big as she expected.
That's because the seniors immediately focused on the next game and starting a winning streak on Friday. It's an approach Taylor is very happy with.
"Now that they know what that tastes like, hopefully they're going to be hungry for more," she said.

SKYLINE 65, DEARBORN HEIGHTS ROBICHAUD 28
Skyline jumped out to a 16-2 first quarter lead and eventually won its first home game in school history.
More coverage at MLive.com: Boxscore
"I'm ecstastic for the girls. They've been told every day in the hallways that they're no good," Skyline coach Keith Wade said. "We wanted to show their peers and their teachers that they can play and they played well."
The Eagles (2-2) recorded their first varsity win against Whitmore Lake but hadn't won at home after going 0-21 in their first varsity season last year.
"We're going to figure out what's next," Wade said. "There's a lot of nexts. We've never won a conference game."
Anita Vandermeulen led Skyline with 16 points and seven steals.
"She was pretty aggressive on offense tonight," Wade said. "She did a great job tonight of getting open."
BELLEVILLE 36, PIONEER 27
Inexperience and a lack of chemistry contributed to the Pioneers losing their fourth consecutive game to open the season Tuesday night.
More coverage at MLive.com: Boxscore
"We struggled with rebounding and with running our offense," Pioneer coach Crystal Westfield said. "Even though we have seniors on our team, we have some inexperience."
Pioneer held a 20-15 lead at the half, but managed just seven points in the second half in large part due to numerous turnovers on offense.
Jane Vilorio-Santos led the Pioneers with six points.

DEXTER 61, PINCKNEY 33
A 24-point third quarter helped push Dexter (4-0) past Pinckney to remain unbeaten on the year.
More coverage at MLive.com: Boxscore
"In the third quarter we were able to get our defense to force turnovers, get us out in transition and got some easy baskets," Dexter coach Mike Bavineau said.
Emma Kill had a game-high 15 points and Olivia Cares chipped in with 11. Morgan Belford led Pinckney with eight points. The Pirates scored most of their points from the free-throw line as they went 19-for-35 there.
Dexter led 23-15 at the half and pulled away with the dominant third quarter.

CHELSEA 52, FLAT ROCK 31
After allowing Flat Rock (1-1) to jump out to a 10-2 lead early, Chelsea (4-0) clamped down on defense.
More coverage at MLive.com: Boxscore
"They jumped on us 10-2 and we didn't get flustered," Chelsea coach Todd Blomquist said. "We have a pretty experienced team so when were down 10-2 we didn't get rattled."
Grace Sauers scored a game high 18 points to go along with four rebounds and three steals. Mackenzie Cole had 11 points and four steals.
After trailing early, Chelsea responded and took a 27-23 lead into halftime, and didn't let up on defense in the second half. The Bulldogs were able to use their defense to spark the offense with breakaway and transition baskets.
"Creating tempo is what our defense can do for us," Blomquist said.
Morgan Kaiser led Flat Rock with 13 points.

SALINE 56, MILAN 25
Eleven different players scored for Saline (1-2) as the Hornets got their first win on the season knocking off Milan (2-2) Tuesday night.
More coverage at MLive.com: Boxscore
Emily Reyst had a game-high 12 points off the bench. Saline coach Jeff Waltz said tonight was proof to him that the Hornets have 13 players that can contribute this season. Although they dominated Milan, Waltz thought the Big Reds competed all night.
"They didn't care, Milan, they scrapped all night," said Waltz.
Milan head coach Jeff Scott said his team lacked the confidence it showed earlier in the year.
"They played with a bit of poise and confidence against Tecumseh and you could see the young girls tonight struggled," he said.
Corinna Schnieder scored seven and pulled down 10 rebounds in the losing effort.

CALVARY CHRISTIAN ACADEMY 37, RUDOLF STEINER 31
Whistles forced Ypsilanti Calvary (1-1) to finish the game with four players on the court, but they were able to hold off Rudolf Steiner (1-2) Tuesday night.
"Its always a physical battle when we play," Calvary coach Tim Howell said. "It's really quite a defensive battle."
More coverage at MLive.com: Boxscore
With six girls on the team to start the game, two players fouled out and with a minute and a half left in the game, Steiner went on the power play. Thankfully for the Cougars, they had a 10-point lead and were able to withstand the disadvantage.
"They play very tough basketball. You have to have your head in the game," Steiner head coach Jim Belanger said.
Courtney Bryant led the way for Calvary Christian with 13 points and Liz Caudill added 10.

FRANKLIN ROAD CHRISTIAN 47, GREENHILLS 33
Sometimes things other than basketball are on a players' mind, and for Greenhills, Tuesday was one of those nights.
More coverage at MLive.com: Boxscore
"We just mentally didn't show up tonight," Greenhills coach Lisa Mack said. "We had a hard time on offense. We weren't clicking and our level of aggressiveness was way down."
A slow start had the Gryphons trailing by 13 at the break and they couldn't put together a run to get themselves back in the game.
"There's a lot going on for them. But they've got to be better than that," said Mack.
Greenhills had no answer for Kristen Massey, who had 27 points for Novi. Marissa Thompson led the way for Greenhills with 13 points, seven rebounds and four steals.

DETROIT ALLEN 42, WILLOW RUN 28
Delana Cook scored nine of her team's 28 points in a losing effort as Willow Run lost its third straight to open the season, falling to Detroit Allen Academy.
More coverage at MLive.com: Boxscore
"We're just young and we're getting back to the basics," said head coach Kevin Van Riper.
The Flyers (0-3) have five freshmen and three sophomores on the team.
Keya Lawson had eight points and China McGee pulled down 12 rebounds in the loss.
WASHTENAW CHRISTIAN 40, HOWELL ATHLETIC ASSOCIATION OF CHRISTIAN HOMESCHOOLERS 31
Rachel Ballantyne had 14 points and 13 rebounds to lead the Wildcats (2-1), who went 10-for-14 from the free-throw line in the fourth quarter.
More coverage at MLive.com: Boxscore
Washtenaw Christian was 15-for-22 from the line in the game, compared to HAACH's 1-for-7. The Wildcats held just a one point lead after the third quarter, but outscored HAACH 18-10 in the fourth.
"I always preach about poise and presence," Washtenaw Christian coach Bob Trevino said. "I'm really proud of the girls for being able to do that."
Becca Hughes, after having minor surgery on her mouth Friday, scored four points. She told Trevino pre-game she would try to give him a couple minutes and ended up playing a majority of the game.
"It tells you the type of kid she is," Trevino said. "She's a competitor."
-- Compiled by Jason Idalski, Matt Durr and Pete Cunningham.