Posted on
Tue, Feb 7, 2012 : 7:03 p.m.
Willow Run basketball coach George Woods upset by mid-season firing
By Pete Cunningham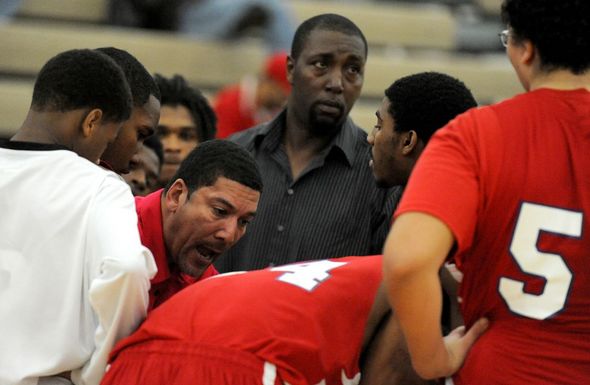 Angela J. Cesere | AnnArbor.com
George Woods was fired from his position as the Willow Run High School boys basketball coach and he's still not sure why. Especially confusing to Woods is why action was taken in the middle of the season.
"To do it in the middle of the season was disappointing and hurtful," said Woods, who was fired shortly after the team's loss to Ecorse on Jan. 20. "I thought I had taken the program in a different direction…it's hurtful."
Willow Run athletic director Von Acker said the team wasn't going "in a positive direction."
"He didn't mesh with this group of kids," Acker said. "It was in the better interest of the team overall."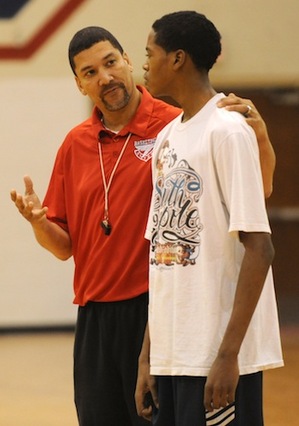 Melanie Maxwell | AnnArbor.com
Acker said Woods' full-time job with the U.S. Department of Defense contributed to his firing. Acker wanted the team to be able to practice immediately after school and not hanging around school for hours until practice began at 5 p.m.
"We needed to make some changes and he wasn't available during times when he needed to be," Acker said. "That's part of it and because the kids were hanging out and different issues would arise."
Acker also claims Woods didn't get along well with the players and the community.
"It was an accumulation of things we needed to change and he couldn't make those changes," Acker said. "It's one of those funny situations. I would give him a reference if he asked for it."
Woods said practicing at a different time was never brought up to him. He doesn't think any change could have been possible because the girls teams practices in Willow Run's lone gymnasium immediately after school, and he wouldn't want their practices ending after dark.
"I would never put the young ladies in a late practice," Woods said. "The practice times, that's just bogus. It makes no sense whatsoever."
Woods said if practice time was an issue it's something that should have been addressed at the beginning of the season.
"If that would have been identified to me at the beginning of the season, I would have made arrangements, or I would have stepped away and given the opportunity to someone else to take the position," Woods said.
Woods's former assistant, Anthony Davis, took over for Woods and practice has remained from 5-7 p.m.
Woods was also irked by the implication that he didn't mesh with the community and players, saying his methods have helped improve a community with a poor reputation.
Willow Run was given a top 100 sportsmanship award by the Basketball Coaches Association of Michigan prior to the season.
In his first season on the job (2009-10), all eight seniors on the team graduated and enrolled in college or prep school. That same year, the district was reported to have a 46.7-percent graduation rate.
Woods was 19-24 in his first two years at Willow Run and the team was 4-7 at the time of his release.
"It all comes down to how it will affect the kids? When your job is to prepare them to go out into the community, our job is to train, mentor and teach them the right way," Woods said. "If they know you can get released and be fired for something -- and I still don't know what I did, it doesn't substantiate a firing -- what message does that send?"
Contact Pete Cunningham at petercunningham@annarbor.com or by phone at 734-623-2561. Follow him on Twitter @petcunningham.