Posted on
Sun, May 19, 2013 : 5:30 a.m.
Year after falling six stories from dorm window, Greenhills tennis alum helping team
By Kyle Austin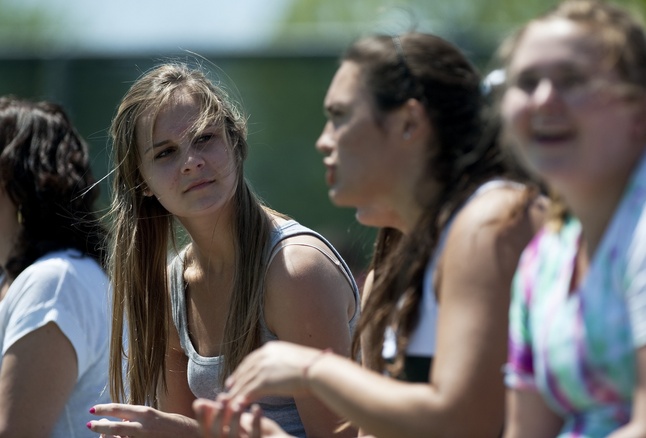 Daniel Brenner | AnnArbor.com
Lexi Pew spent Thursday at the
Greenhills girls tennis regional,
making up for lost time.
The 19-year-old Greenhills graduate started last season as a Gryphons doubles player and team captain, looking forward to leading her teammates to another state finals appearance.
But instead of spending the month of April on the tennis courts, she spent it in the hospital.
In the early hours of March 25, 2012, Pew was visiting friends in a dorm lounge at Michigan State University when she fell backwards through a window.
She fell six stories and landed in a courtyard, suffering a broken femur, a broken and fractured pelvis, a fractured sacrum, broken and fractured ribs, two collapsed lungs and a fractured face, plus cuts from broken glass.
It was a freak accident. But Pew also knows she's lucky.
"They definitely said I was very lucky to be alive," Pew said. "It happened that I landed the right way. I'm still very surprised I didn't have any spinal damage or any brain damage. That was very lucky I guess."
Pew spent this season cheering on her teammates whenever possible, doing so with a titanium rod in her right femur and screws holding her pelvis and sacrum together. Not exactly how she envisioned spending her senior season.
She doesn't complain about her injuries. Only about the missed an opportunity to captain the Gryphons.
"It was unfortunate that I couldn't play last year, but I tried to be around as much as I could, which wasn't that much," Pew said. "But I'm trying to make up for it now I guess, to be here for the team this year."
Daniel Brenner | AnnArbor.cocm
The arrangement is mutually beneficial. Pew gets to feel like she's on a team again, a feeling she sorely missed during her recovery.
And members of the Gryphons tennis team get constant reminders of how lucky they are to have Pew around.
"It is a feeling of cosmic relief, I guess is what I would call it because of what could have been," Greenhills coach Mark Randolph said. "Every time I see her I see this little penumbra around her, of grace, and that's why she's so special."
Pew spent last spring coming to Greenhills matches when she could, first in a wheelchair and then on crutches. Greenhills excused her from her final quarter of coursework, allowing her to focus on her recovery.
By the end of the summer, Pew was playing tennis again, and she enrolled at the University of Michigan as a freshman this past fall.
Yet while her recovery progressed faster than she anticipated, it still took time to build up the muscle she lost in the aftermath of the accident and get back to the active lifestyle she was used to.
"I would constantly be going to the gym and playing tennis and doing yoga and whatever," Pew said. "I'm trying to get back into that now and I'm starting to feel like myself again, being able to do all of the activities that I used to do."
In the last few months, Pew said her tennis game has gotten close to where it was before the accident. Recently, she's talked to members of the Michigan club tennis team and plans on trying out in the fall.
"My lateral movement is still improving slowly, but other than that I've really made a lot of improvement," Pew said. "I'm pretty surprised with where I'm at right now."
But before she joins her new tennis team at the University of Michigan, she got to make up for her lost season as the Greenhills captain.
"I still feel like I'm kind of a captain figure to the girls, I still feel like I'm there for them if they need any advice about how they're playing," Pew said. "I will give them tips sometimes. I just feel very welcome. This is an outlet I can go to if I need any of them ever."
Kyle Austin covers sports for AnnArbor.com. He can be reached at kyleaustin@annarbor.com or 734-623-2535. Follow him on Twitter @KAustin_AA.