Posted on
Sat, Jan 19, 2013 : 9:50 p.m.
Ypsilanti boys fall on late jumper and more Saturday results
By Kyle Austin
This file will be updated throughout the night
AnnArbor.com Washtenaw County Scoreboard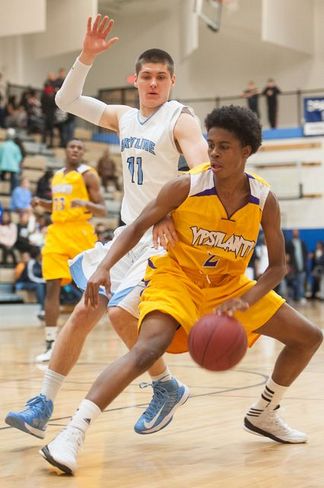 Courtney Sacco | AnnArbor.com file photo
Boys Basketball
Detroit East English Village 75, Ypsilanti 73
Story | Boxscore
Detroit East English Village's Marquell Jackson hit a pull-up jumper with 1.5 seconds left to cap off a big fourth quarter comeback for East English Village. Jackson finished with a game high 27 points.
East English Village trailed by 12 points entering the fourth quarter, before outscoring Ypsilanti 28-14.
Justin Bernard led Ypsilanti (7-2, 3-0 SEC Red) with 24 points. Lavonte Davis scored six points and grabbed 18 rebounds. Davis also finished with seven blocked shots.
Detroit Renaissance 82, Huron 66
Story | Boxscore
Clark Bishop led Detroit Renaissance with 29 points, and Corey Wheeler added 14.
Huron's Xavier Cochran scored 16, while Brian Walker added 15 points and Thomas Logue recorded 14 points.
Renaissance trailed 22-18 after the first quarter, but outscored Huron (4-4, 2-1 SEC Red) in all remaining quarters.
Girls Basketball
Arbor Prep 59, Benton Harbor 53
Story | Boxscore
Ypsilanti Arbor Preparatory trailed 16-5 after the first-quarter and overcame an eight-point halftime deficit en route to the win.
Sophomore point guard Zakiya Wells led Arbor Prep scoring 18 points and was 8 for 10 from the free-throw line.
"Zakiya ran the offense, penetrated well, and really took charge tonight," Arbor Prep coach Rod Wells said. "She was focused tonight on playing a good game and kept everyone involved."
Amakya Chikwe contributed 14 points for Arbor Prep, including two 3-pointers, while Karlee Morris led the team with 11 rebounds as well as nine points.