Posted on
Thu, Feb 28, 2013 : 5:59 a.m.
Ypsilanti brothers Kyle and Zaid Abdellatif eye wrestling state titles 125 pounds apart
By Pete Cunningham
There's a vague resemblance between Kyle and Zaid Abdellatif, but without knowing their common last name, it'd be difficult to guess that they're brothers.
Once finding out the Ypsilanti High School wrestlers are in fact siblings, it's their vast differences that stick out. Well, actually, more like their one big difference.
A 125-pound difference to be exact.
Older brother Zaid, a senior, wrestles in the heavyweight division. The maximum for the weight class is 285 pounds, but Zaid weighs in at a svelte 250. Kyle, a junior, wrestles in the 125 lbs. weight class, making him exactly half the size of his older brother.
Despite their size difference, Ypsilanti coach Claudell Ruffin said the two have similar styles.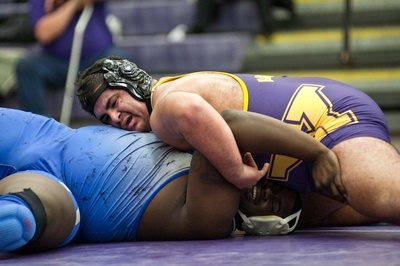 Joseph Tobianski | AnnArbor.com file photo
"Zaid is quick for a heavyweight, Kyle quick for a lightweight, so I'd say they're comparable in style," Ruffin said. "They're both quick."
The Abdellatif brothers are two of the 19 wrestlers from Washtenaw County who will compete at the MHSAA Individual Wrestling state championships Thursday-Saturday at the Palace of Auburn Hills.
For Kyle, it will be his second trip to the Division 2 championships, and for Zaid his first.
"It's going to be a great experience," Kyle said.
"We've both been working hard since sixth grade for this," Zaid said.
For as long as they've been wrestling, their size difference has made it impossible for them to be practice partners. Zaid said he weighed 150 lbs. in third grade, putting his elementary school self still five weight classes above his eleventh-grade brother.
But even though they can't be practice partners, the two say they still help each other out.
Joseph Tobianski | AnnArbor.com file photo
"Always before a match we start shaking hands, clapping, getting ready, motivating each other," Zaid said. "I'll motivate him mentally (as opposed to) physically."
The brothers still do drills together before and after practice and at home. They said it's probably a blessing in disguise that they can't actually wrestle together. Without being opponents of each other daily, the two have a healthy separation on the mat.
"There'd be a lot of competition," Zaid said. "There's a lot of competition now, like who has the best record, best ranked, stuff like that. We're always competitive, so it's probably a good thing we're not always going against each other."
They are each other's biggest supporters during matches. Kyle qualified for his second state championship by winning his first two matches at regionals. Zaid's high school career came down to the so-called "blood round" at regionals, where the winner advances to states and the loser hands in his singlet.
Zaid pulled out a 5-4 decision in triple overtime, with his father crying in the stands and his little brother cheering in his corner.
"I wanted to see him go with me this year, so it was like I was wrestling with him," Kyle said. "It's going to be a great experience, going to states with him."
"That was huge for both of them to obtain their goals, and to make it to the state meet together. That's special," Ruffin said. "I'm proud of both of the guys, it's a huge feeling, to be a part of this."
Both brothers have their eyes on placing in the top eight of their respective 16-man classes. They want to earn All-State distinction, but also want bragging rights.
"We're not satisfied that we're going," Kyle said.
"We've got work to do there," Zaid interjected.
They'll be working together.
2013 MHSAA Individual Wrestling state championships Washtenaw County qualifiers
Washtenaw County has 19 wrestlers competing at this weekend's state finals, including a pair of undefeated Chelsea wrestlers Michael Hovater, and Steven Bleise, who placed fourth and fifth respectively last season and have legitimate shots at state titles.
Lincoln's Jordan Markey, who took fifth last season, is the only other returning state placer while Dexter's Zeke Breuninger, Saline's Nate O'Sullivan, Ypsilanti's Kyle Abdellatif and Manchester's Eric Covall are making returning trips to the finals looking to collect a medal this time around.
Check out every wrestler's bracket and keep up with the action by following the MLive.com links below. Every matche from all three days can be seen live at MHSAA.tv.
Division 1
103
Billy Cobb-Gulley, Pioneer (sr., 48-5)
112
Taylor Ticknor, Saline (sr., 50-4)
130
Jordan Markey, Lincoln (jr., 46-3)
135
Nate O'Sullivan, Saline (sr., 47-5)
152
Alex Cornelius, Saline (sr., 38-8)
215
Jahi Hilliard, Pioneer (sr., 44-4)

Division 2
112
Zeke Breuninger, Dexter (jr., 39-2)
125
Kyle Abdellatif, Ypsilanti (jr., 47-5)
135
Steven Bleis, Chelsea (jr., 42-0)
145
Avery Osentoski, Chelsea (sr. 35-7)
171
Ben Fick, Milan (sr., 36-9)
189
Michael Hovater, Chelsea (sr., 39-0)
285
Zaid Abdellatif, Ypsilanti (sr., 47-7)

Division 3
103
Brendan Abrigo, Manchester (so., 38-11)
112
Charlie Steffens, Manchester (so., 41-12)
135
Ben Heuser, Manchester (sr., 36-9)
145
Eric Coval, Manchester (jr., 44-7)
160
Michael Golding, Manchester (jr., 29-15)
285
Brian Robert, Manchester (sr., 36-7)

Pete Cunningham covers sports for AnnArbor.com. He can be reached at petercunningham@annarbor.com. Follow him on Twitter @petcunningham.