Posted on
Sat, Feb 2, 2013 : 12:04 a.m.
Ypsilanti comes back to top Chelsea, Skyline earns first-ever SEC win and more Friday night results
By Kyle Austin
This file will be updated throughout the night
AnnArbor.com Washtenaw County Scoreboard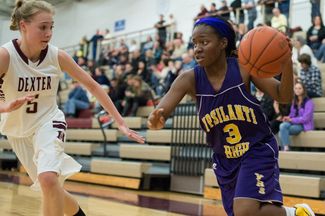 Courtney Sacco | AnnArbor.com
Ypsilanti 46, Chelsea 40
Story | Boxscore
Jasmine Jones and Cara Easley scored 14 and 12 points, respectively, to lead Ypsilanti's (9-5, 4-4 SEC White) comeback victory. Chelsea led 29-21 through three quarters and was led by Grace Sauers' 20 points.
"We didn't close the game out," Chelsea coach Todd Blomquist said. "We were really lackadaisical with the ball and committed a lot of turnovers."
Chelsea (9-5, 6-2 SEC White) committed 25 turnovers, however, the team was 13 of 17 from the free-throw line.
"Even when we got good looks at the basket, we were missing them," Blomquist said.
Saline 41, Pioneer 35
Story | Boxscore
Saline (9-6, 5-3 SEC Red) played a strong second quarter, outscoring Pioneer (8-6, 3-5 SEC Red) 12-7 to earn a seven point lead at halftime, led by senior Caitlin Ellis with a career-high 21 points and 19 rebounds.
"Ellis was a force at both ends and on the boards," Saline coach Jeff Waltz said. "She played really hard and it was a delight to watch."
Senior Jennifer Fichera led Pioneer with 18 points, and Brianna Worthing added 10 points for the Pioneers.
Fichera got into foul trouble early in the game, which resulted in a 20-9 lead by Saline in the second quarter.
The Pioneer offense came alive in the third quarter, outscoring Saline 15-8.
Saline will face Ypsilanti Lincoln on Tuesday.
Huron 46, Temperance Bedford 36
Story | Boxscore
Huron relied on a strong first half to grab the win and improve to 9-4 overall, 7-1 in the SEC Red.
Huron led 27-11 at the half and never looked back as Ariel Bethea and Bianca Williams led with nine points apiece. Micah Robinson added six points, seven rebounds and five steals.
Skyline 43, Monroe 31
Story | Boxscore
Skyline started the game out strong, with a 10-3 lead after the first quarter, led by Anita Vandermuelen's 13 points, and Mai Morris scored 10 points for Skyline.
With the win, Skyline (6-9, 1-7 SEC Red) claimed its first conference win in school history.
In the fourth quarter, Monroe made a comeback to cut the Skyline lead to five or six points, but Skyline was able to hold off the attack with a strong presence from the free-throw line, going 12-of-14 in the fourth, according to Skyline coach Keith Wade.
"We went for a spread offense and tried to run out the clock, so it forced Monroe to have to foul us down the stretch," Wade said. "The girls did a great job controlling the ball and making free throws."
Dexter 46, Adrian 10
Story | Boxscore
Riley McDonald and Taylor Olson scored 18 and 11 points, respectively, to lead Dexter's stifling defense.Kim Buie led Adrian with four points.
"We have a pretty balance scoring team," Dexter coach Mike Bavineau said. "It's usually six to eight points apiece, but today was above average."
Dexter (14-1, 8-0 SEC White) plays on the road against Ann Arbor Huron on Tuesday, Feb. 5.
Lincoln 43, Tecumseh 36
Story | Boxscore
Dominique Foley led Lincoln with 13 points, and Arie Cargor and Katelyn Morris both finished with 11 as Lincoln improved to 11-4 on the year, 5-3 in the SEC White.
Jaslynn Rollins scored six points and grabbed a team-high 14 rebounds for Lincoln. Rollins added eight blocked shots.
"We became lethargic and very complacent after the first quarter," said Lincoln coach Mike Foley. "We took control in the first, but this turned into one of our slower games. There were a ton of calls and no flow to the game."
Willow Run 46, Detroit University Prep 39
Story | Boxscore
Tied 20-20 at the end of the first half, Willow Run (6-7, 3-2 Michigan Metro Athletic Conference North) outscored Detroit University Prep 26-19 in the second behind the offense of Samaria Canada and Sarah Tubbs and the defense of China McGee.
"I think we did a better job of addressing Gyanni Townsend," Ypsilanti Willow Run coach Cliff Russell said. "We switched China onto her defensively, and she made her take tougher shots. We got more steals and a lot of fast-break baskets in the fourth."
Townsend led Detroit University Prep with 27 points.
Missing two starters, Willow Run's remaining players had to fill in the holes. Canada led with 17 points, including three 3-pointers, followed by Tubbs with 15 and McGee with 10.
Greenhills 42, Newport Lutheran South 28
Story | Boxscore
Jackie Oestreich led Greenhills (8-6, 7-2 MIAC) with 23 points, 10 rebounds and four steals, as the Gryphons lead 15-7 after the first quarter.
"Oestreich had a solid game inside," Greenhill's coach Rachel Cortis said. "Even if she missed her first shot inside, she was doing a good job following it up and getting second chance points."
Rudolf Steiner 36, Hillsdale Will Carleton 15
Story | Boxscore
Rudolf Steiner (9-2, 5-0 Mid-South) scored 11 in the first quarter, keeping Hillsdale Will Carleton scoreless, led by Tessa Belanger with 12 points. Abby Andrews added five steals.
Rudolf Steiner had 31 rebounds and 18 steals. They play at Lansing Christian on Monday.
Clinton 60, Whitmore Lake 32
Details not available