Posted on
Sat, Dec 29, 2012 : 10:19 p.m.
Ypsilanti graduate Derrick Richardson shines for CMU in loss to No. 2 Michigan
By Pete Cunningham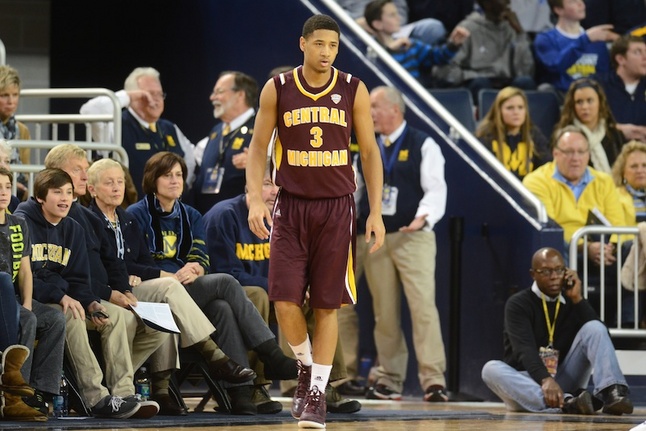 Courtney Sacco | AnnArbor.com
Ypsilanti High School
basketball coach Steve Brooks' day started with his team getting a 57-40 win over Toledo (OH) Scott at a holiday tournament. It was a big win for his young team, but he didn't waste much time celebrating.
Brooks, his entire coaching staff and five players hustled their way to the Crisler Center to see former player Derrick Richardson play for Central Michigan against the No. 2 Michigan Wolverines.
Though Central lost 88-73, Richardson, a freshman guard, did not disappoint.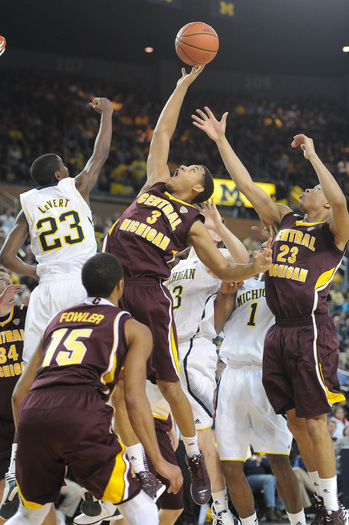 Courtney Sacco | AnnArbor.com
Richardson scored 11 points and was a perfect 5-for-5 with a 3-pointer from the field in 18 minutes off the bench. Richardson scored all of his points in the second half. He also grabbed six rebounds, five of which came in the second half.
"Derrick is another young man that has an incredible upside for our team, you watch him and you'll see a play each and every day and you'll say 'wow, that was a big time play for a freshman to be able to make," said Central Michigan coach Keno Davis after the game.
Richardson didn't make all of his shots. He missed a free throw, but he grabbed the rebound and made a layup off of the miss.
The Big Ten conference is though by many to be the best in the country this year, but it seems to bring out the best in Richardson. Saturday was his second best scoring night on the year behind the 14 points he put up against Iowa in his first game as a collegian. The six rebounds was a season-high for Richardson.
"That's a sign of things to come. It's going to be a good thing for our program," Davis said. "He not only is an offensive threat, I think he has a chance in the future to be one of the best defensive players in our league.
"When you put an offensive threat together with one of the best defensive players then you have a truly special talent on your team."
Pete Cunningham covers sports for AnnArbor.com. He can be reached at petercunningham@annarbor.com. Follow him on Twitter @petcunningham.