Posted on
Mon, Mar 4, 2013 : 11:59 p.m.
Ypsilanti eliminates Pioneer from playoffs with 66-43 win, Huron tops Pinckney
By Kyle Austin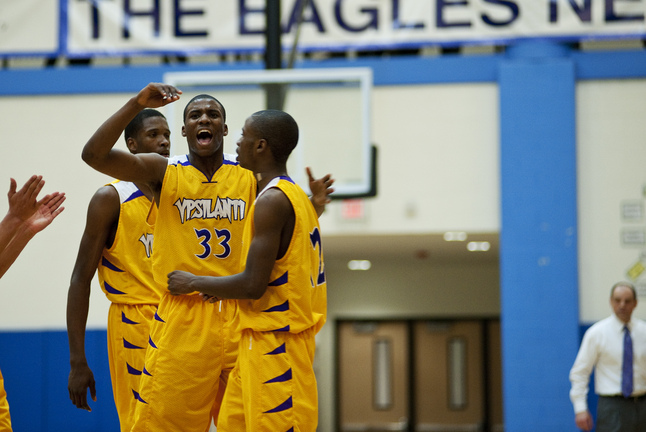 Daniel Brenner | AnnArbor.com
Steve Brooks may have a young team in Ypsilanti this year, with only three seniors.
But at halftime of its playoff opener, down one to Pioneer, he didn't have to tell them much to get them going.
"They came in and really kind ran the halftime themselves," Brooks said. "We just kind of listened to them, let them talk, and they went out there and got it done."
Ypsilanti came out of the break and held Pioneer to only 16 second-half points, while scoring 37 themselves, in a 66-43 district quarterfinal win Monday night at Skyline High School. The Phoenix advance to play Skyline at 7:30 p.m. Wednesday in a district semifinal.
More Coverage: Boxscore | Photo Gallery | District bracket | Monday district roundup
Starting with a bucket from freshman Corey Allen on their first possession, the Phoenix started the second half on a 10-2 run, and were up by 10 late in the third. They solidified the win with a 13-5 run to start the fourth quarter.
And more than its offense, the Ypsilanti defense took Pioneer (15-5) out of its offense and held the Pioneers to their lowest point total of the season.
"Second half we turned it up," Phoenix forward Jaylen Johnson said. "We realized we had to win, so we came together as a team and played defense like we're supposed to."
Johnson led Ypsilanti (16-4) with 20 points, including going 6-for-6 at the foul line. Allen added 17, while Janeau Joubert had 10.
Ethan Spencer and Jibreel Hussein had 13 points apiece for a Pioneer team that struggled to create open looks and struggled to hit shots when it did.
"They took us out of our offense the whole game," Pioneer coach Rex Stanczak said. "We hung in there the first half, we got a couple of turnovers, got some baskets in transition the first half, the second half we just didn't score."
Pioneer struggled all game to contain Johnson, the 6-foot-9 junior who added seven boards and three blocked shots to his 20 points. Between him and 6-foot-7 Lavonte Davis, who had six points, eight rebounds and two blocks, the Phoenix posed a difficult matchup.
"You looked at them, they look like a college team," Stanczak said.
Pioneer was able to take the regular-season matchup at Ypsilanti between the two teams, one in which Ypsilanti was missing Joubert and junior Jalen Harmon, who scored eight points on Monday.
Monday, they ran into a team that had both those players back, but also has improved "tremendously" throughout the course of the season, Brooks said, largely due to its youth.
"They trust each other, they're really brothers," Brooks said. "They spend the night at one another's house, eat everybody's food, so it's a really close group.
It's probably the best group I've had since '06," Brooks said, in reference to the regional finalist squad.
Pioneer, on the other hand, has a roster with 10 seniors, and the emotion was palpable on its bench in the waning minutes.
"It's incredibly disappointing, especially with 10 seniors," Stanczak said.
"We're playing to get to the Breslin every year. Unfortunately this was a year we thought we could do it because of the senior leadership. But we ran into a buzzsaw."
Huron pulls away from Pinckney
In Monday's other quarterfinal at Skyline, Huron started the fourth-quarter of a back-and-forth game against Pinckney up by one.
Four minutes later, the River Rats were up 20. And Pinckney hadn't scored yet in the frame.
Huron (14-6) scored the first 19 points of the fourth quarter as it pulled away from Pinckney in a 55-41 district quarterfinal win Monday at Skyline. The River Rats move on to play Dexter, 5:30 p.m. Wednesday in a semifinal game.
More Coverage: Boxscore | Photo Gallery | District bracket | Monday district roundup
"I don't think we came out mentally ready," Huron guard Antonio Henry said. "This is districts so we've got to come out ready to play."
Huron's run started with two steals and two buckets by Henry, who finished with 12 points as the only Huron player in double figures. The River Rats forced turnovers on five of Pinckney's first seven possessions of the fourth quarter, and forced 30 for the game.
"We turned it up defensively and that's the only reason we're standing here right now," Huron coach Waleed Samaha said.
Huron started the game on a 10-0 run behind a pair of 3-pointers. But from there it slowed down, scoring only 13 points the rest of the half as the Pirates climbed back.
"I think we kind of overlooked them," Henry said. "It's not disrespect to them or anything. We were thinking more ahead."
Kyle Austin covers sports for AnnArbor.com. He can be reached at kyleaustin@annarbor.com or 734-623-2535. Follow him on Twitter @KAustin_AA.