Ypsilanti native Tiffany Porter hurdles to Olympic semifinal in London
Posted on Mon, Aug 6, 2012 : 9 a.m.
David J. Phillip | Associated Press

Ypsilanti native Tiffany (Ofili) Porter took a step closer to her Olympic dream early Monday morning and put to rest some questions about her health.

Competing in the first heat of the women's 100-meter hurdles preliminaries, Porter took third place with a time of 12.79 seconds and secured a spot in Tuesday's semifinal.

Porter -- a citizen of both Great Britain and the United States who competes for the country of her mother's birth rather than her own -- received a rousing ovatation from the partisan home crowd at London's Olympic Stadium prior to her heat. If any host country supporters had lingering animosity for Porter, who prior to the games was vilified in the British tabloids for not being a 'True Brit', it was heavily drowned out by fans in her corner.

Porter started out of the blocks strong and led for most of the race before being caught at the end by Belarusian Alina Talay and Canadian Jessica Zelinka.
LOCAL OLYMPIANS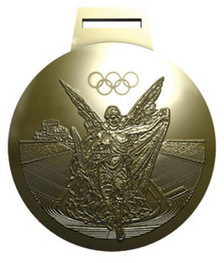 Visit the AnnArbor.com
Olympics page
for stories on Olympians with Ann Arbor-area ties. Follow along with Michigan athletes at
MLive.com/Olympics
.
Porter pulled up injured last month in her final warm-up race before the Olympic games, but told
The Independent
that the back injury that limited her in July felt fine on Monday.
"It's fine, I'm very confident and I will go out there and do my very best," Porter said of the injury to The Independent.
"It was very comfortable. The objective was just to qualify and get through to the next round and I did that," Porter said. "I have been very anxious and nervous but I am fine and very confident for the rest of the competition."
Porter -- who won seven state championships in her high school career at Ypsilanti High School and five NCAA titles in her college career at the University of Michigan from 2006-10 -- will compete in the semifinals at 2:15 p.m. on Tuesday with the top eight finishers advancing to a 4 p.m. final. Porter had the eighth fastest qualifying time in preliminaries.
Americans Lolo Jones, Kellie Wells and defending Olympic champion, Dawn Harper all advanced to the semifinals as well with Jones and Wells each winning their respective heats. Australian Sally Pearson, the defending world champion and medal favorite, had the fastest qualifying time in preliminary history, clocking a 12.57.
Porter's husband Jeff Porter -- also a former national champion at Michigan, who competes in the 110-meter hurdles for the United States -- will compete in his first preliminary race on Tuesday at 5:10 a.m.