Posted on
Tue, Oct 25, 2011 : 8:40 p.m.
Ypsilanti's first trip to soccer regional tournament ends on bus ride to game
By Jason Idalski
While still on the road to Bloomfield Hills for an MHSAA regional semifinal game on Tuesday, the Ypsilanti High School boys soccer team's historic season came to an end.
The Phoenix learned on the bus ride to Andover High School that they were forfeiting their Division 2 playoff game because an ineligible player was used when they won the school's first district tournament title on Saturday.
Assistant coach Alex Montano has acted as head coach while head coach Terry Collins has been away due to family matters. Montano confirmed that the team was about halfway to Bloomfield Hills when basketball coach Steve Brooks, who has also been helping with the team, received the call that the game had been forfeited.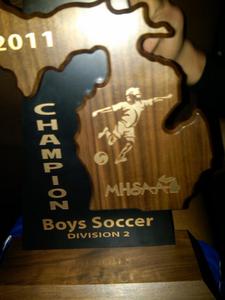 As far as specifics, Montano deferred to athletic director
Scott Johnson
and Brooks.
"I don't feel like it's my position to talk about it," Montano said. "They're probably in a better position to answer questions."
Johnson and Brooks could not be immediately reached for comment.
Ypsilanti school district spokeswoman Emma Jackson said school officials learned of the ineligible player after students had been dismissed for the day and the soccer team's bus had already left for Bloomfield Hills.
"We've taken the appropriate action and the game was forfeited," Jackson said. "The athletic director is still sorting through the specifics."
The Phoenix were scheduled to play St. Clair Shores Lake Shore at 5 p.m. A post on the team's Facebook page says the bus was leaving "no later than 3:30" p.m.
The MHSAA has awarded the Shorians a 1-0 victory. They'll play the winner of tonight's Trenton-Andover game in a regional final on Friday.
The Phoenix won their first ever district title on Saturday, beating New Boston Huron 3-2 in overtime, but will now have to forfeit that title.
Collins has been away from the team since Oct. 17 attending the funeral of his father in California. When contacted by AnnArbor.com, he did not know about the forfeiture.
"That's too bad," he said. "That's disappointing."
Collins said he had no knowledge of any eligibility issues with his players.
"I have no idea what the reason could be," he said.
The Macomb Daily reported that Lake Shore also learned of the forfeit on its bus trip to the game.
"The kids are kind of disappointed," Lake Shore coach David Lount told the newspaper. "They were hyped up to play the game. They're glad they're in the championship game, but it's kind of a letdown."
Jason Idalski covers sports for AnnArbor.com. He can be reached at jasonidalski@annarbor.com.