high school football:

Dexter erases 22-point second half deficit, shocks Ypsilanti

Posted on Fri, Oct 7, 2011 : 11:22 p.m.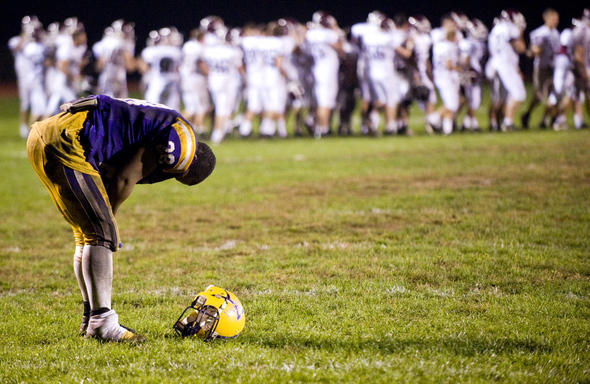 Michael Mioduszewski ran 10 yards into the end zone at Ypsilanti's Shadford Field on his team's first offensive play of overtime and the comeback was complete.
The 22-point deficit the Dexter High School football team faced at halftime was a distant memory. Mioduszewski's touchdown was the Dreadnaughts' 28th unanswered point and capped a 34-28 Southeastern Conference White Division win.
More coverage: Boxscore at MLive.com | Photo Gallery
Mioduszewski finished the game 20-of-36 passing for 241 yards and three touchdowns. He also rushed for 67 yards and two touchdowns on 21 carries.
"Mike's been a tremendous athlete," said Dexter head coach Brian Baird.
A majority of those passing yards went to wide receiver Jay Lewis, who finished with eight receptions for 147 yards and two touchdowns.
Joseph Tobianski | AnnArbor.com
"We were a carpet mat the first half," Baird said of his team's early struggles. "I told them either get on the bus or come out and play."
Dexter, obviously, chose the latter.
Ypsilanti jumped out to an early lead by running the football, with Devon Thompson scoring three times. Thompson finished with 87 yards rushing on 16 carries, but in the second half was held to negative-3 yards.
Ypsilanti coach Jason Malloy knew exactly why his team coughed up the lead.
"We didn't execute again. It became the fourth quarter and the Dexter kids continued to execute," Malloy said. "We didn't make plays when we had to make plays"
Dexter's Jacob Van Hoof scored on 16-yard pass from Mioduszewski to make it 28-14 with 7:19 left in the third quarter and the Phoenix lost a fumble on the ensuing drive.
The Dreadnaughts scored on a 6-yard Mioduszewski rush soon after and suddenly Ypsilanti's lead was down to one score. A 19-play, 99-yard drive in the fourth quarter tied the game for Dexter with 2:44 remaining.
Ypsilanti fumbled the snap on its second play of overtime and the Dreadnaughts recovered, leaving the game in the hands of their offense. Mioduszewski scored on the very next play.
With a 3-4 record, Baird and the Dreadnaughts are clinging to their outside chances of making the playoffs as a 5-4 at-large team.
"It's out of our hands, we gave it up when we lost to Ypsi (Lincoln). We've got to count on other powers in the high school sports realm." Baird said. "Every game we play is a playoff game."