Posted on
Fri, Oct 5, 2012 : 10:44 p.m.
Daouda Sylla's punt, pick six prove deciding points in Ypsilanti's 13-7 win over Dexter
By Kyle Austin
On a night when Ypsilanti ran the ball 52 times for 258 yards, its biggest sequence came on a punt and an opposing pass.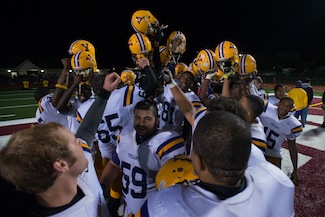 Courtney Sacco | AnnArbor.com
And both plays were made by the same player.
In the closing minutes of the first half, an Ypsilanti drive stalled at the Dexter 39-yard-line. On fourth down, Daouda Sylla launched a high punt that died at the Dexter 2.
Instead of head to the locker room, the Dreadnaughts opted to try and drive the field. They brought the ball out to the 25 in four plays, before quarterback Andy McWilliams dropped back to pass on the fifth play of the drive.
When he took a shot over the middle, Sylla was there to make a break on the ball, intercept it and carry it all the way to the end zone.
"I saw they lined up with tight ends, so I just dropped and tried to cover, and when I saw him throw it I just went for it," Sylla said. "Just did what we've been practicing all week."
Sylla came on for the extra point, and had it blocked. But that turned out to be inconsequential, as the Phoenix gave up only one touchdown, and Sylla's stood up as the game-winner in Ypsilanti's 13-7 win.
The play reversed what had been the script of Ypsilanti's season. The Phoenix offense had been good for a few touchdowns per game, but had always given up big plays on defense in its six losses.
Friday night, they didn't give up any big plays on defense, and instead it was Ypsilanti's defense that made the biggest play of the game.
"They've been working hard, we've just been coming up short, giving up big plays," Ypsilanti coach Ra-Mon Watkins said. "We didn't give up no big plays on defense."
Before the Dexter offense even took the field in the second half, the Dreadnaughts nearly returned the pick six favor. Dexter's Cole Rize notched an interception deep in his own end on the first play of the second half, and ran it all the way down to the Ypsilanti 9.
Dexter scored on the next play.
"Cole made a nice break on that ball, it kind of jumpstarted us," Dexter coach Ryan Fischer said.
But in the end, it was Ypsilanti's defense that notched the big play to earn the Phoenix its first win of the year.
"We had to come out and defend and get the first win," Sylla said.
Kyle Austin covers sports for AnnArbor.com.