Posted on
Sat, Dec 1, 2012 : 8 a.m.
The joys of hockey without the NHL
By Richard Retyi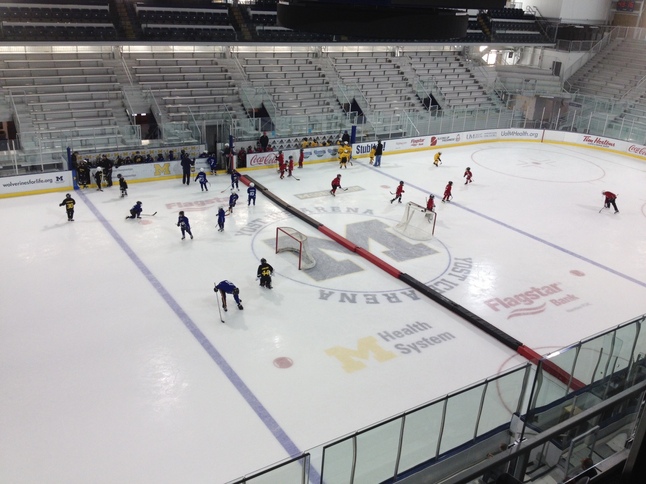 When the NHL canceled the 2013 Winter Classic
scheduled to be played at
Michigan Stadium
, not only did the Ann Arbor area lose out on an estimated $15 million in visitor spending, but it was a major indicator that the puck might never drop on the 2012/13 NHL season.
The news struck Canadians hard. Without the NHL, Canadian hockey fans are packing minor, junior and university-league arenas, but there's not enough painted white ice for these puckheads. Canadians are turning to other sports leagues, like the Canadian Football League, Canadian University football (how about them Laval Rouge et Or!?) and attending a lot more curling briers than is healthy.
Canadians are too far gone for me to be of any assistance. It's gotten so bad that the beat writer for the Montreal Canadiens is writing real recaps of simulated Habs games being played on EA Sports' NHL 13. The recaps are complete with fake quotes and everything. I can't help my countrymen, but I'm here to help Ann Arbor hockey fans find their fix.
Those with Red Wings money have already snapped up all the University of Michigan hockey tickets to Yost. The smartest ones ponied up for unlimited terrible hot dogs and popped maize too. Fans willing to drive a little bit for their hockey are attending Plymouth Whalers and Saginaw Spirit games, while others are taking advantage of the USA Hockey National Team Development Program in our own backyard, watching talented teenagers skate against teams from Dubuque, Sioux Falls and Muskegon.
But these rinks are filling up fast. Yost was packed with 5,800 against Michigan State, and the Whalers are announcing multiple sellouts at Compuware Arena.
All is not lost. Yet. Before you feel the need to start following Michigan wrestling (technically worse than curling) or actually spending time with your families, I have a solution for you: theAnn Arbor Amateur Hockey Association. I've done the research. Hear me out. You might not see any "Hockey Night in Canada"-worthy highlights, but the NHL will be back one day. We think.
Ain't No jamboree like a pee wee hockey jamboree
My alarm goes off at 6:40 a.m. and I try to think of a million excuses not to get out of bed to watch pee wee hockey on a Sunday morning in November. But when will I get a chance to witness a hockey jamboree again? Answer: hopefully never.
I get coffee and drive into the red-sky dawn, past the remnants of Saturday night college football house parties and a mangy stray black lab trotting down State Street. When I arrive at Yost Ice Arena, lots of little people are skating counter-clockwise around the ice dressed in red, black, blue and yellow jerseys. Parents, relatives and hockey degenerates like me cluster on the west side of the stands and I'm shocked by the lack of coffee drinkers. Maybe 10 percent of the crowd is drinking coffee. Tim Horton is rolling in his grave.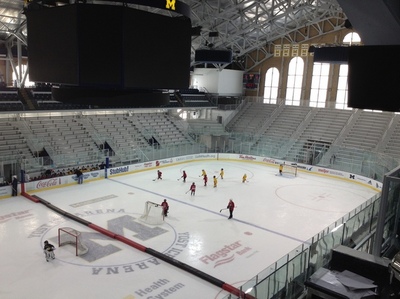 When the games start—two separate contests taking place on a half-sheet of the ice—the little tykes buzz around the rink, clustering around the puck and tapping their little sticks to call for passes. The action is the perfect pace for beginner hockey fans and the hung over. Every few minutes a buzzer sounds and the lines change, fresh tiny skaters pouring through the doors of the puck-pocked boards. Some skate fast, some skate-run. It's adorable and entertaining and HOCKEY!
There isn't much cheering at Yost. One dad has a camcorder. One mom takes pictures with her iPad. Somebody pulls out a sugar-free Red Bull. There's a rumor that former Tigers third-baseman Brandon Inge's kid is among the little skaters down below, and that rumor is confirmed when Mr. Inge walks into Yost and joins his wife in Section 2. I'd score an exclusive interview if I didn't look like and smell like a homeless person. It's been a long week; cut me some slack.
The joy of pee wee hockey
This brand of hockey is just fun. Sure, there's a good amount of slapping the puck five feet one way and seven feet the other, and playmaking passes are more incidental than intentional, but the payoff is worth it. Goalies wearing 60 pounds of equipment flop on the ice with each shot. Random backhand slappers go five-hole or a puck caroms off a defender's skate into the net, and everyone celebrates like they just beat the Mike Bossy Islanders. A 2-on-0 flop save is followed by a near-miraculous stacking-of-the-pads save on the rebound and it takes the goalie 15 seconds to stand up again, squirming like a turtle on its back. Who needs the NHL when you've got the jamboree in your own backyard?
The sun properly rises, light streaming through the pretty new windows at Yost. Brendan Morrison played here. Marty Turco played here. Cazzie Russell played here. A different sport, yes, but ghosts are ghosts. The parents and grandparents look bored, their minds already on that big brunch they're looking forward to at the Gandy Dancer, but my Canadian blood is humming.
I'm not a bettor, but I know that it's part of the joy of hockey for some. For wagering purposes, pee wee hockey is a bit of a crapshoot. It takes a few shifts to gauge the talent level of each team, but the players do have their names on the backs of their sweaters so individual prop bets are in play. Quick tip: The kids wearing No. 99 are actually slightly better than the rest of the pack. I think you have to be a pretty cocky little kid to pick No. 99. Or maybe just entitled.
I stick around for two sets of games before my caffeine buzz wears off and the siren call of bed overwhelms the joy of the sound of little skates scratching the painted ice. I walk through the concourse past two kids playing bubble hockey near the concession stands, a pair of diehards if I've ever seen them. It's not Joe Louis Arena and it's not the Red Wings vs. the Maple Leafs, but it's hockey and it counts.
Richard Retyi returns to AnnArbor.com bigger, better and bigger (he gained a little weight this fall) with his new column Hidden Ann Arbor. Rich will write about the hidden side of Ann Arbor and the things locals take for granted. In his day job, Rich is a social media director for a digital marketing agency in Ann Arbor. Read more of his stuff at RichRetyi.com, follow him on Twitter or if you have a Hidden Ann Arbor story you'd like him to write about, email him at richretyi@gmail.com.