Posted on
Thu, Dec 15, 2011 : 5:57 a.m.
Holiday break comes at just the right and wrong time for Michigan hockey team
By Pete Cunningham
Because of exams and the upcoming holiday season, Michigan hockey players and coaches won't be on the ice together until the day after Christmas.
Coach Red Berenson sees the break, which started after a Tuesday practice session, as a potential negative and positive for his team.
From a glass half-empty perspective, it's terrible timing. The Wolverines finally broke a seven-game winless streak with a 1-0 win over Alaska Fairbanks two weekends ago and are coming off of a four-point weekend against Michigan State.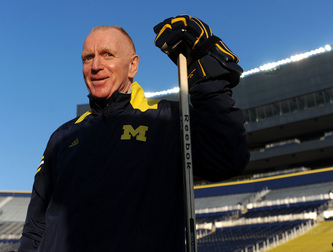 AnnArbor.com file photo
"More (important) than the four points, our team just looks like we have life again and that was really encouraging to me," added senior captain
Luke Glendening
.
Michigan beat MSU 4-3 on Friday and tied the Spartans 3-3 on Saturday, loosing a shootout. It was the team's first time garnering points in both games of a weekend series since late October.
"I mean, you just about wish the break weren't right now because we were starting to getting a little traction," Berenson said. "But we're going into (the break) with a little more positive attitude."
Following the break, Michigan plays in the Great Lakes Invitational at Joe Louis Arena. The Wolverines face Boston College in a semifinal on Dec. 29. Michigan State and Michigan Tech play in the other semifinal.
Only Michigan Tech, which plays at Northern Michigan on Friday, will have played a game in the 19 days leading up to the GLI.
"The break kind of did come at a little bit of a bad time, but at the same time I think we can carry (the momentum) over," said freshman forward Alex Guptill, who had a goal and two assists in the Michigan State series to earn CCHA rookie of the week honors.
Guptill and fellow freshman Phil Di Giuseppe are currently No. 1 and No. 2 on the team in goals with nine and eight, respectively. Which is another positive laced with negativity from Berenson's perspective.
"It's good to have a young player that shows that he can contribute right away, and it's not so good when you look at some of your upperclassmen who should be leading the way," Berenson said.
With a small senior class -- the Wolverines have just four seniors on the roster -- Berenson said the juniors need to step up.
"They have to start playing like they're important. And I think they are. You saw Kevin Lynch play his best two games (against Michigan State) and you saw (Chris Brown) starting to come out of his scoring (slump) and AJ (Treias), he's the next one. He's been OK, but he's got to be better," Berenson said.
Because the month of November was so rough -- Michigan was 1-6-1 -- Berenson sees how the mid-December break could be a positive for his team, as well.
"I think our team could use a breather physically and mentally and they'll come back ready to go," he said. "And I think it'll be good for our freshmen to get refreshed and then comeback and let's see what we've got."

The Red Berenson penalty shot strategy

Discussing the difficulty of penalty shots and shootouts on Tuesday, Berenson reminisced about the only penalty shot he remembers taking in his 17 years in the NHL and three years at Michigan.
As he remembers it, it was a battle of wits between he and former New York Rangers teammate Cesar Maniago.
"I played with Cesar in New York, so he knew I like to come in, fake the shot, and go to my backhand and roof it. And, of course I knew that he knew that," Berenson said.
This is where it gets complicated.
"I'm thinking 'Cesar knows I'm going to do this, so he knows I won't do it. So if he knows I won't do it, then I'm going to do it,'" Berenson said.
Huh?
"So when I did it (faked the shot, went backhand and roofed it) and I beat him, he guessed that I wouldn't do it. He was on the other side of the net and it was an easy goal. And afterward someone asked me why I did it and I said, 'Because he knew I would do it, but he knew I was smarter than that, so he guessed that I wouldn't do it.'"
Gotcha, coach.
Pete Cunningham covers sports for AnnArbor.com. He can be reached at petercunningham@annarbor.com or by phone at 734-623-2561. Follow him on Twitter @petcunningham.