Posted on
Wed, Feb 27, 2013 : 5:45 a.m.
How much of an impact has Chris Brown's departure had on the Michigan hockey team?
By Pete Cunningham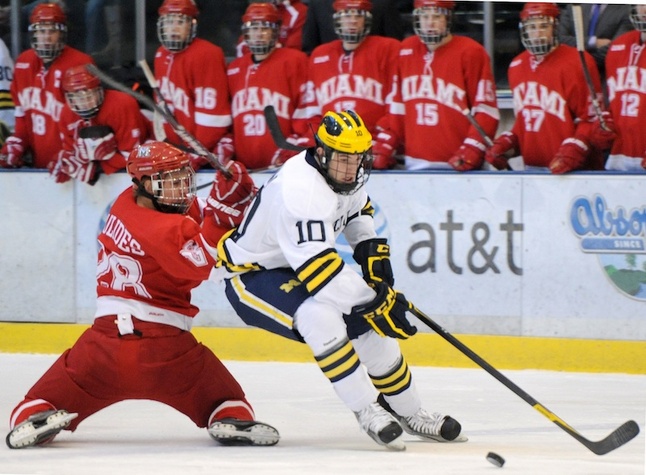 Angela J. Cesere | AnnArbor.com file photo
When forward
Chris Brown
decided to forgo his senior season with the Michigan hockey team and begin his professional playing career, it was impossible to quantify the impact it would have on the team.
With nearly 11 months and close to a full season in the rearview mirror since Brown's decision, that picture is not exactly any clearer. How this year's team has performed in his absence, however, is.
And it hasn't been pretty.
Michigan will play in its final home series of the year this weekend against Ferris State on Friday (7:35 p.m. CBS College Sports Network) and Saturday (7:35 p.m., Fox Sports Detroit) and is still looking for its first home-sweep. With a 9-15-2-2 CCHA record (12-8-2 overall) the Wolverines are in ninth place in the league.
It's almost unfathomable given the team's success over the under coach Red Berenson.
Saturday, the Yost faithful will bid adieu to the Michigan's five remaining seniors - A.J. Treais, Lee Moffie, Kevin Lynch, Jeff Rohrkemper and Lindsay Sparks - on senior night. But would the team also be possibly waving goodbye to its 22-year NCAA tournament streak, or facing the possibility of finishing below .500 for the first time since the 1986-87 season if it was still a six-member senior class?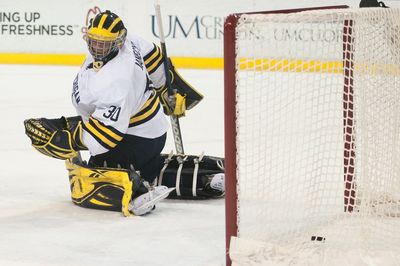 Courtney Sacco | AnnArbor.com file photo
"You never know going into a season how a player's absence will affect your team, you really don't, but there's no question, in my mind (Brown) would have been our leading goal scorer. He would have been our most physical forward, and he gives us the size and some of the grit that we could use," Berenson said.
"Being a senior and being one of the leaders on the team, I think he would have made everybody better around him."
Senior forward Kevin Lynch, who also played with the United States Development Program, agreed that Brown would have helped the Wolverines.
"Obviously Chris had a great career here at Michigan and everybody knows that and obviously we would have loved to have him this year," Lynch said. "I think he would have done a lot of things for us, but, of course, you know, he left."
Senior defenseman Lee Moffie agreed that Brown could have helped the team, but losing players to the next level is just something that needs to be dealt with at a place like Michigan.
"Chris is a great player. He scored goals for us, brought a physicality to the game, but that's the way it is at Michigan. You're always losing guys," Moffie said.
"We brought in some great freshmen and they've done a great job I think," Moffie added. "I can't tell you how much of a difference it would make if (Brown) were here, I'm not sure."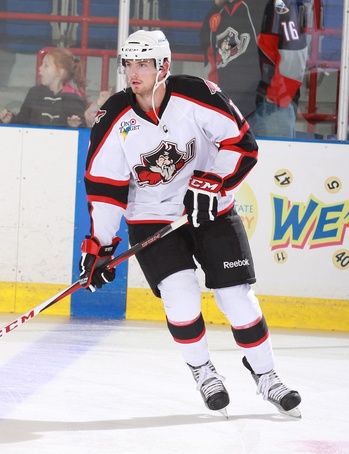 Photo courtesy of Ron Morin | Portland Pirates
When Brown first announced he was leaving,
Berenson said he was "disappointed"
in the decision. But in hindsight it'd be hard to argue Brown made the wrong call given his success with the Portland Pirates, the Phoenix Coyotes' American Hockey League affiliate
He's played in more games (50) than anyone on the Pirates roster, is second on the team in goals (16) and has 11 assists as well.
"It's been really good. I'm enjoying it. It's everything I wanted it to be and more," said Brown in a phone interview. "I've been putting up some numbers, which is always a positive, team's doing well and we're on our way to the playoffs."
Brown said he keeps in touch with his former Michigan teammates here and there, but that the conversations usually don't focus primarily on hockey.
"They have been struggling a little bit. It's kind of nice when that's happening to talk not about hockey," Brown said. "This week I'll probably give a couple of them a call, tell 'em, you know, to look forward to senior night."
Brown had 12 goals and 17 assists in his junior season with the Wolverines and had 12 game winning goals in career with the Wolverines. It will never be known what exactly he would have done in his senior season with the Wolverines, or if him staying would have changed the Wolverines' fortune.
It's fair to say most would have liked to find out, though.
"He's missed. I've always said you're as good as your senior class and he would have made this senior that much better," Berenson said. "But he's not here."
Pete Cunningham covers sports for AnnArbor.com. He can be reached at petercunningham@annarbor.com. Follow him on Twitter @petcunningham.