Posted on
Tue, Apr 9, 2013 : 6:47 p.m.
Michigan basketball team receives champion's welcome from charities, fans, Red Berenson and more
By Kyle Austin
Just before midnight on Monday, more than 11,000 fans left the Crisler Center in a stunned silence after watching Michigan fall to Louisville, 82-76 in the national title game.
About 15 hours later, there was once again a line outside Michigan's basketball arena. Many of those same fans were back once again. But this time, the mood was different.
Despite the team's run ending with a loss, Wolverines fans came out to show their support for Michigan's first final four team in 20 years in Tuesday afternoon ceremony.
The Wolverines' team bus pulled up a little after 3 p.m. When players and coaches entered the arena, they found a gathering of a few hundred fans filling most of three sections in the south end of the Crisler Center, cheering them on as if they were national champions.
"We just want to thank you guys," point guard Trey Burke told the crowd. "This team's been through a lot this year. We were doubted, and toward the middle of the year we faced a lot of adversity that we overcame. Unfortunately, we didn't get the win yesterday but we've got a lot to be proud of."
Daniel Brenner | AnnArbor.com
With his team in folding chairs around him on the floor, Wolverines coach John Beilein took to the microphone and thanked the fans for coming out. He said he had heard about the Monday night gathering at Crisler when the arena was nearly filled to capacity, and called it "tremendous."
The microphone was then passed to every assistant coach and player, each of whom thanked the fans for taking time out to show their support.
Stars like Burke and Tim Hardaway Jr. received the expected hearty receptions when it was their turn to speak. But the loudest cheer of the day went up for the last speaker: freshman point guard Spike Albrecht.
After averaging less than two points per game during the regular season, Albrecht exploded for 17 in the first half Monday night.
The performance instantly made Albrecht a national phenomenon. So much so that he took to Twitter Tuesday morning to send a message to Sports Illustrated swimsuit model Kate Upton, thanking her for attending the game and saying he hopes to see her again.
"What you don't know is that Spike is so big right now that Kate Upton asked him out for a date and he said he's too busy," Beilein said.
After all the thank yous, the ceremony ended with the final singing of The Victors for the 2012-13 team.
"It's very emotional," Hardaway Jr. said after the ceremony. "We love our fans to death, it was great to see them come out here and support us like they did. They took time out of their day to come out and support us."
Hardaway Jr. is one of several Wolverines players who could have made their last Crisler appearance Tuesday. Hardaway, Burke, Glenn Robinson III and Mitch McGary could all declare for the NBA draft after the season. Hardaway, Burke and McGary each said they had yet to come to a decision.
"It'll be something that I'll be talking over with my coaching staff and parents over the next week or two," Burke said. "I haven't set a timeline on my future."
A wide range of fans took time to greet the Wolverines in a short-notice ceremony. Right at 3 p.m., Michigan hockey coach Red Berenson was at the Crisler Center door alongside the throng of fans. He found a seat in the bleachers alongside assistant coach Billy Powers to take in the event.
"I just wanted to show my support, and it's hard to contact Beilein," Berenson said. "I want them to know that everyone in the athletic department is behind them."
While Berenson made the short walk across the parking lot from Yost Ice Arena, others traveled much farther to make it to the event. Also among the early arrivers were freshmen Kevin Conn and Gabe Gelbart, who both attended Monday night's game in Atlanta.
Both made quick trips back to Ann Arbor, Conn arriving by car at around 12:30 p.m. and Gelbart by plane at 1 p.m. After stops at their dorms, both were in their seats at Crisler to see this Wolverines team one final time.
Gelbart called watching the Wolverines in the final four a "life-changing experience."
"Now every championship game I watch I'll have been there," Gelbart said.
Conn said fans' attachment to this Wolverines team goes beyond the players' successes.
"You can go up and talk to them and they'll actually talk to you and have a conversation," Conn said. "I feel like people sense that and they feel like they're a part of it all."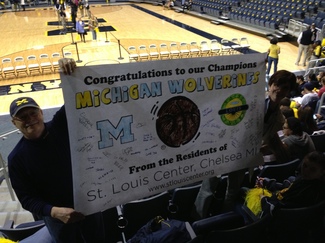 Kyle Austin | AnnArbor.com
One section over, Peggy Cole and Bob Trudell sat holding a large white banner congratulating "our champions," from the residents of the St. Louis Center in Chelsea.
The St. Louis Center, a residential community for people with developmental disabilities, was chosen this year by Beilein as his charity of choice. Beilein took his players to St. Louis twice this year, where they played basketball with residents and gave them tickets to a game.
"He's not only taught these guys how to play an incredible game and develop their skills, but he's also teaching them how to be charitable, which lasts forever," Cole, St. Louis's development director, said of Beilein. "So he's taught them really great lessons."
Cole had the banner made Monday before the game, and had it signed by the St. Louis residents. She dropped it off at Crisler Monday morning, hoping it could be displayed for the players when they returned. But when she heard there would be a welcome home ceremony for the team, she came back and held it herself.
"It's our way of saying thank you," Cole said.
Kyle Austin covers sports for AnnArbor.com. He can be reached at kyleaustin@annarbor.com or 734-623-2535. Follow him on Twitter @KAustin_AA.