Posted on
Sun, Dec 6, 2009 : 12:33 p.m.
Huron's Anna DeMonte is Washtenaw County Swimmer of the Year
By Rich Rezler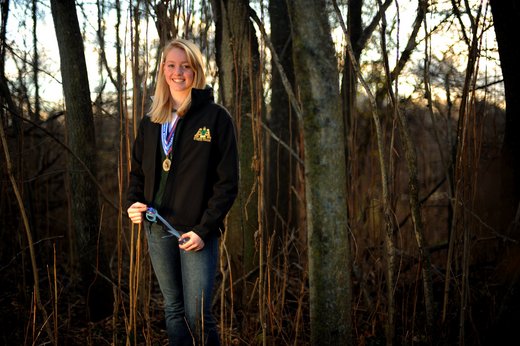 Who knew that spending an extra 30 minutes with a 7-year-old swimmer would turn out to be one of Jenni Wilkening's best high school coaching moves.
Huron High School sophomore Anna DeMonte says those 30 minutes, when Wilkening hopped in the Racquet Club of Ann Arbor pool for some extra summer league instruction, is what triggered her passion for the sport.
"I always like swimming, but after that day of swimming one-on-one with her, I realized it was something I wanted to pursue," says DeMonte. "I was only 7, but it really made an impact on me."
From that day, swimming became a year-round pursuit for DeMonte. That includes a spot on Wilkening's River Rat squad, where she won a pair of individual state titles this season and was named to the Michigan Interscholastic Swim Coaches Association Dream Team and the state's Division 1 Swimmer of the Year.
She is also the AnnArbor.com Washtenaw County Swimmer of the Year.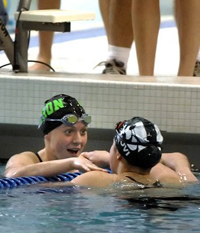 Wilkening says DeMonte is the most competitive and hard-working swimmer she's ever been around. Fittingly, DeMonte said her main goal entering the 2009 high school season was to train hard and be swimming her best at the end of the season.
She was.
DeMonte won both the 200 individual medley and the 100 butterfly at the Division 1 state finals, setting a new D1 state meet record of 2:00.72 in the 200 IM. Her times in both events were the fastest in the state, regardless of division, and easily exceeded the automatic All-American standard.
Beyond being a high school star, DeMonte is a national-level swimmer. The 15-year-old will represent Club Wolverine as the No. 2 seed in the 200 IM and the No. 3 seed in the 400 IM at the 2009 Speedo Short Course Junior Nationals, scheduled for Dec. 10-12 in Columbus, Ohio.
Now back in the more individually-focused club season, DeMonte relishes her time with the River Rat team.
"One of the big reasons I was successful is because of my team," DeMonte says. "The encouragement and working together thing is something I really love. There's a team there to support you in your goals and congratulate you when you meet them, and I get to do the same thing for my teammates.
"When something good happens to any of us, it's like a reward for all of us."
Committing full-time to a single sport can be taxing for a young athlete. DeMonte says she misses playing field hockey, a sport she was previously involved in, and says it's sometimes hard to find enough time in the day to spend with her friends and family. But there's something that keeps drawing her back.
"Sure, there are those practices that you just want to be done and get out of the pool," DeMonte says. "But when you have a successful meet, it makes you want to swim more. And when you have a bad meet, it makes you want to swim more to redeem yourself."
Yes, DeMonte is in the pool for the long-haul now. It'll likely earn her a college scholarship, and she hopes to continue "even farther" than NCAA competition.
"I want to go as far as I can go with it, I just don't know where," she says. "I definitely would like to go to the Olympics one day, but for that to happen things have to really fall in place. You need a little bit of luck.
"I'm just going to keep working really hard. That's all you can do. Hopefully it pays off."
So far, it has.
Rich Rezler covers sports for AnnArbor.com. Contact him at 734-623-2553 or richrezler@annarbor.com.