In brief: Huron's Taylor Standiford an All-American, local lacrosse teams honored for sportsmanship and more community sports news
Posted on Thu, Jun 14, 2012 : 7:28 p.m.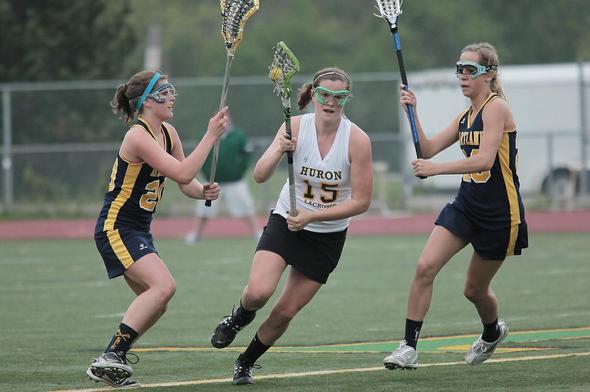 Chris Asadian | AnnArbor.com
Huron High School senior Taylor Standiford was named an honorable mention All-American by U.S. Lacrosse.
Standiford, who led the River Rats' girls lacrosse team with 67 goals and 17 assists, is one of 10 players from the state of Michigan to earn honorable mention status.
Just two in-state players (Colleen Jacoby from Bloomfield Hills Cranbrook-Kingswood and Lauren Hooker from East Grand Rapids) earned first-team honors.
Standiford, also a standout field hockey player, will attend Cornell in the fall.

Skyline, Saline boys lacrosse win sportsmanship awards
The boys lacrosse programs at Skyline and Saline high schools were recently presented with 2012 Michigan Lacrosse Official's Association Sportsmanship Awards.
This award is voted on by lacrosse officials from throughout the state and presented to five teams across the state that represent sportsmanship of the highest level.

Huron Basketball/Volleyball Camp
The Huron High School girls basketball and volleyball programs will put on a combination camp from June 18-21 at the school's gymnasium. The four-day camp will be split between basketball (9 a.m. to noon) and volleyball (1 to 4 p.m.) with a one-hour lunch and open gym time in between. The cost is $225 for Ann Arbor students. A half-day price of $125 is available if students choose one sport. Registration is available on the Ann Arbor Rec & Ed website.

Father Gabriel Richard girls basketball camp
The tenth annual Father Gabriel Richard Women's Summer Basketball Camp runs from June 17-21 at the school's gymnasium. Campers should be entering sixth through ninth grades in the 2012-13 school year. The cost is $130 if registered before June 1, $140 after. Contact Katie Battle at battlema@msu.edu for information.

Arbor Prep Girls Basketball Camp
Arbor Prep High School is holding a girls basketball camp for fourth through eighth graders on June 25-28 at the school, 6800 Hitchingham in Ypsilanti. The camp runs from 9 a.m. to 2 p.m. each day and includes hot dogs, ice cream, performance training speakers and former college players. All skill levels are welcome. A camp meet-and-greet will be held from 6:30 to 8:30 p.m. on June 24. For more information, contact Rod Wells at 734-262-1196 or dewrod99@comcast.net or Scott Stine at 231-638-7116 or stine@arborprep.com. Only the first 40 will be accepted.
To have your community sports news included, email sports@annarbor.com.