Posted on
Mon, Aug 13, 2012 : 8:52 a.m.
In case of lockout, NHL can cancel Winter Classic up to day of game
By Cindy Heflin
The National Hockey League can cancel the Winter Classic at Michigan Stadium as late as Jan 1., the day of the game, in the event of player lockout, The New York Times reports.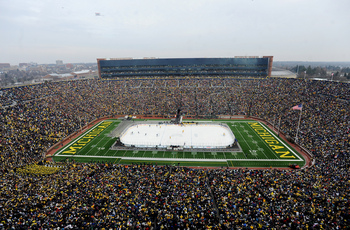 Melanie Maxwell I AnnArbor.com
The agreement between the league and the University of Michigan allows for last-minute cancellation of the game in the event of a work stoppage stemming from lack of a contract, the newspaper reports.
Should such a cancellation occur, the University of Michigan would have to refund all but $100,000 of the $3 million rental fee the league is paying, according to the article.
The current contract between the league and players expires Sept. 15.
The Winter Classic is scheduled to feature the Detroit Red Wings and Toronto Maple Leafs in a game the NHL hopes will break the world record for hockey attendance, which was set at the Big Chill in 2010 when U-M faced Michigan State University at Michigan Stadium to a crowd of 104,173. The league hopes to pack the Big House with about 115,000 spectators.