Posted on
Wed, Jun 23, 2010 : 12:22 p.m.
Incoming Michigan hockey player Jon Merrill focused more on the future than NHL Draft
By Jeff Arnold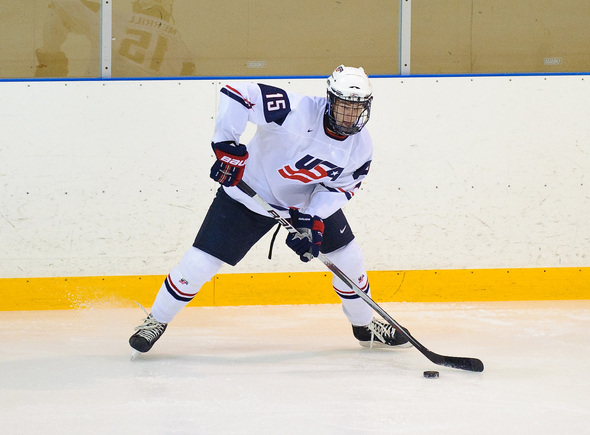 Jon Merrill has been committed to the Michigan hockey team too long to allow the events of one week to sway his attention.
Never mind that by Friday night, the incoming defenseman's long-term future will have been determined. Merrill is expected to be taken in the first round of the NHL Draft in Los Angeles.
But the Brighton native has never put too much stock in the draft. After giving Michigan a verbal commitment at age 14, Merrill insists his value will be determined after he's selected and not by the opinions of scouts and NHL executives that pegged him into any number of mock drafts.
Rather than get wrapped up in the events of Friday night, Merrill will spend his team with his family in a beach house on Venice Beach, relishing the calm before the storm of attention that will come later in the week.
"I honestly want to get drafted, but it's not that big of a deal," Merrill said in a phone interview Tuesday. "It's tough not to hear about (mock drafts) or see things, but I really don't care that much about it.
"First pick or the last pick, you have the same opportunity to play in the NHL."
Merrill has spent the past two years with the U.S. National Team Developmental Program in Ann Arbor, building a reputation as a solid defender that can also be opportunistic when given the chance offensively.
This past season, he played 22 games for the NTDP's under-18 team, scoring one goal and adding eight assists in addition to his showing defensively. Merrill was suspended earlier this year for a violation of team rules, but scouts don't expect that to impact his draft status.
He is ranked as the 21st overall North American skater by the NHL Central Scouting Bureau, which had Merrill as the seventh-ranked defenseman in the draft. At 6-foot-3, 198 pounds, Merrill's size makes him impressive while his thinking-man's approach to the game has drawn comparisons to Niklas Lidstrom.
Merrill has interviewed with every NHL team except Philadelphia, performing at the combine before sitting down with team executives for one-on-one interviews. It's been a grueling process, providing him a glance inside the minds of potential bosses that pepper him with questions - some of which Merrill can't figure out how they relate to his hockey future.
"Sometimes, it goes really well and sometimes, you walk out and you think, 'Man, now they're never going to draft me,'" Merrill said. "But that's just how it goes."
Michigan coach Red Berenson shares Merrill's beliefs about the draft, wary of the attention that is cast on young players before their game has really developed. As much attention as Merrill will grab this week, Berenson doesn't worry about his incoming freshman being overwhelmed with the process.
"That should help him get through the draft without getting blown away because they can try and blow you away," Berenson said Tuesday. "Everyone's making such a big deal about putting on the jersey. But I think he'll be fine."
Merrill's focus remains on beginning at Michigan and playing for Berenson, who agreed to a three-year contract extension earlier this month. He hopes to make an immediate impact for the Wolverines, fitting into a veteran defensive corps that will allow the freshman to be paired with an upperclassmen to aid in his maturation.
As much as he's tried to ignore the built up to Friday night's entry draft until now, Merrill will soon find himself in the thick of it. Following his team interviews Thursday, he will attend a NHL Player's Association breakfast Friday before spending Friday night at the draft when he's slated to be picked anywhere between the 15th and 21st overall selection.
For Merrill, the idea of stepping to center stage and slipping an NHL sweater over his head is still a bit too much to conceptualize - at least right now.
"I've never really thought of this as a reality, I've known for the past year that I would probably be attending the draft, but it hasn't really even sunk in yet," Merrill said. "It's kind of crazy. But I know it's going to be great."
Jeff Arnold covers Michigan hockey for AnnArbor.com. He can be reached at jeffarnold@annarbor.com or 734-623-2554. Follow him at Twitter @jeffreyparnold.