Posted on
Mon, Sep 24, 2012 : 8:21 p.m.
International Gymnastics Federation names move after Michigan Olympian Sam Mikulak
By Pete Cunningham
Sam Mikulak's performance on the pommel horse didn't earn him a medal at the 2012 London Olympics, but his routine ensured his name will resonate across the sport for years to come.
Literally.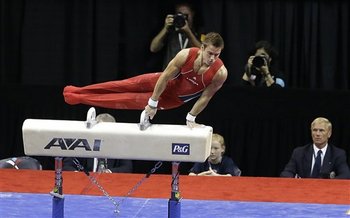 Associated Press
The International Gymnastics Federation (FIG) recently approved naming a pommel horse skill after the Michigan junior who became the first gymnast to execute the move at an official FIG competition. He performed the "Mikulak" during the men's qualification round in London. The skill was included in the FIG's 2013-16 "Code of Points" for Men's Artistic Gymnastics, published on Sept. 14.
"The pommel horse skill was something where I just pushed an old skill to the limits, and just made it more exciting and a little bit more interesting," Mikulak said in a press release. "Having that skill, the Mikulak, in the books forever is something that I can look back on and say that I made a difference in the world of gymnastics. This is one of my biggest honors and it just makes me happy to be a part of (the Code)."
The "Mikulak" is defined as a double scissor with a hop from one end of the horse to the other. The skill begins with forward leg swings and half turn of the body, but ends with backward leg swings. A typical scissor on the pommel horse is a skill where the gymnast performs a pendulum swing with both legs individually, changing sides of the horse at its peak.
Here is a video of Mikulak performing the "Mikulak":
The "Mikulak" is valued as a D skill on a scale from A to F, with F being the most difficult. The 2013-16 "Code of Points" has three scissor skills for pommel horse bearing individual gymnast's names, all with a D value, and it does not have any other single leg scissor skills that have greater than a D value.
Mikulak is the second U-M gymnast in program history to have a skill with their namesake, as Wayne Miller (1966-68) had a skill named after him on trampoline, which is a double back somersault with one and a half twists in the first and one and a half twists in the second.
Pete Cunningham covers sports for AnnArbor.com. He can be reached at petercunningham@annarbor.com or by phone at 734-623-2561. Follow him on Twitter @petcunningham.