Posted on
Tue, Oct 2, 2012 : 2 p.m.
Jon Merrill is Michigan hockey's lone preseason All-CCHA selection
By Pete Cunningham
Michigan hockey defenseman Jon Merrill was named to the All-CCHA Preseason First Team the league announced on Tuesday. Merrill, a junior, is Michigan's lone first team selection for the second year in a row.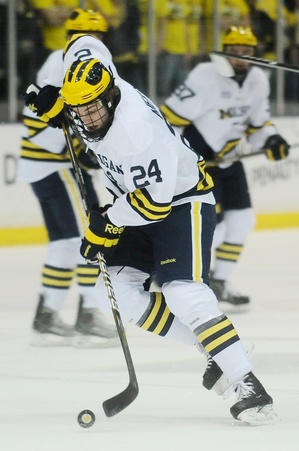 AnnArbor.com file photo
Merrill, a Brighton native, was also a preseason first team selection as a sophomore, but
shortly after was suspended for an unspecified violation of team rules.
Merrill missed the team's first 22 games and had 11 points (two goals, nine assists) in 19 games played.
Merrill had seven goals and 18 assists in his freshman season and was named to the All-U.S. College Hockey Online and CCHA second team, and the Inside College Hockey All-Freshman Team. Merrill was a CCHA All-Rookie team selection as well.
Sophomore forward Alex Guptill and senior defenseman Lee Moffie are preseason second-team selections and senior forward A.J. Treais is honorable mention.
Guptill tied for the team lead with 16 goals and 33 points and was named CCHA Rookie of the Year last season. Moffie, an alternate captain, recorded 32 points (7 goals, 25 assists) as a junior while team captain Treais also had 32 points with 15 goals and 17 assists.
The Michigan hockey team hosts the Rochester Institute of Technology in its regular season opener on Thursday, Oct. 11.
2012-13 CCHA Preseason All-Conference Teams
PRESEASON FIRST-TEAM
Position Name, Year, School First Totals
Forward T.J. Tynan, JR, Notre Dame 9 48
Forward Anders Lee, JR, Notre Dame 7 42
Forward Chase Balisy, JR, Western Michigan 5 40
Defense Dan DeKeyser, JR, Western Michigan 8 44
Defense Jon Merrill, JR, Michigan 8 44
Goaltender Frank Slubowski, SO, Western Michigan 6 40
PRESEASON SECOND-TEAM
Position Name, Year, School First Totals
Forward Austin Czarnik, SO, Miami 3 31
Forward Alex Guptill, SO, Michigan 4 28
Forward Cody Kunyk, JR, Alaska 2 22
Defense Lee Moffie, SR, Michigan 3 34
Defense Kyle Follmer, SR, Northern Michigan 1 22
Goaltender Will Yanakeff, JR, Michigan State 2 17

Vote Values: 1st place = 5, 2nd place = 3, 3rd place = 1

Honorable Mention (next six highest point totals, regardless of position with first-team votes in parentheses): Scott Czarnowczan, JR, D, Ferris State, (2) 19; A.J. Treais, SR, F, Michigan, (1) 18; Kyle Bonis, SR, F, Ferris State, (1) 16; Kevin Kapalka, JR, G, Lake Superior, (2) 15; Andrew Hammond, SR, G, Bowling Green, (1) 15; Sam Calabrese, SR, D, Notre Dame (0) 12.
Pete Cunningham covers sports for AnnArbor.com. He can be reached at petercunningham@annarbor.com. Follow him on Twitter @petcunningham.