Posted on
Sat, Nov 28, 2009 : 3 p.m.
Michigan basketball freshman Josh Bartelstein: 'I came here to play'
By Michael Rothstein
Josh Bartelstein walks into his home and opens the door to his room. It's been this way for years, going into his room and staring back at him would be the same sight, memories of the past.
The wall.
This isn't just any wall. It's filled with photographs. Bartelstein's father, Mark, is a successful NBA and NFL player agent, so the wall has pictures of Josh, now a freshman walk-on basketball player at Michigan, as a child with famous athletes or at different sporting events.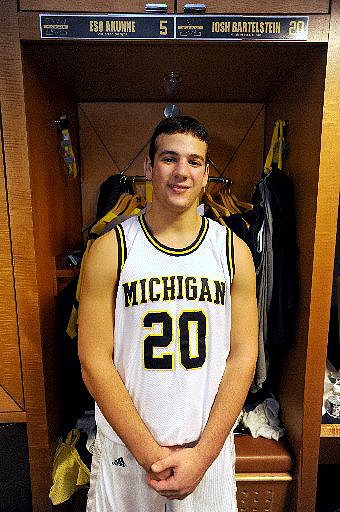 One photo stands out. It's the first one he put on the wall, and it's of the first adult other than his family members Josh built a relationship with.
Bobby Phills went undrafted out of college, wanted to be a veterinarian after he was done playing professional basketball and become one of the most versatile guards in the NBA.
Bobby and Josh spoke by phone and on the wall holds a picture of Bobby, full of life, holding Josh.
In January 2000, Josh was on his way to a basketball game in elementary school, a local youth league in Highland Park when his mother called him. Sheri Bartelstein was crying. All she said was, "Bobby is dead."
It took a minute for it to register for Josh.
"I'll never forget," Josh said of hearing about the automobile accident in Charlotte, N.C. "When I heard about that I was supposed to play in a basketball game that night. I was so sad, I couldn't play in the game. I've never missed a game except for that.
"I felt like Bobby was a second father to me."
Phills' death affected everyone in Bartelstein's life. His father, Mark, had to break the news to his clients and to people in his office. Even now, Mark said Phills' death was hard on Josh.
Josh Bartelstein is a hoops junkie, so there are reminders of Bobby. He'll turn on a Hornets game - the team Bobby was playing for when he died - and invariably there will be a mention about the former guard.
Mark likes to try and keep his family and professional lives separate; yet being the son of an agent has helped Josh. It allowed him to work out with college and NBA players from a young age when they'd come through Chicago.
By seeing those players and watching how hard they worked, it forced him to become better. If he didn't, he couldn't continue to work out with them. Josh has worked out with Mo Williams, who he said, "taught me a lot of things."
Other point guards, like Bobby Simmons and Kirk Hinrich, have welcomed Josh into workout sessions.
All of the work, though, almost became for naught.
Josh was always a small kid, growing 6 to 7 inches in high school. As he grew, Mark said, Josh had an awkward stage as he grew into his body and his game. Yet others could see the talent was there.
As a sophomore, he was tabbed to start for Highland Park (Ill.) High School, when he broke his right ankle. Two screws were put in and he missed his entire sophomore year.
"That was a big step back," Mark said. "He was all set to be a starter as a sophomore in high school and had a lot of accolades and had to sit out the whole year. He's had some setbacks. He's been banged up, had some injuries.
"He's always persevered, always found a way to accomplish what he wants to accomplish. I never put anything past him. He's a guy that works for it."
In the world of being an agent, part of the job is trying to look for other avenues when one option isn't working out - something Josh had to learn early.
When he hurt his ankle, it altered the cycle of his recruitment. He missed his entire sophomore season and by the time he returned for his AAU year, he wasn't the same player.
The ankle injury had required surgery in Indianapolis and he had thought he'd return sooner. But the date kept being pushed back and pushed back.
"He was so depressed," Bartelstein's mother, Sheri, said. "There were nights in my house, and Mark would live and breathe with this stuff, it was really sad, really depressing.
"If someone can tell you, in hindsight, a year later that everything is going to be fine that's great. But when you're living it, you don't know that. How do you ever know you're going to be the same player you were?"
He didn't - and for a while it looked like Josh would never get that shot. Going through high school, he was about ready to leave with only offers from Division III schools. Then, his high school played a prep school.
After the game, the coach talked with the Bartelsteins. He put another idea in their head - prep school. Being from the Midwest, neither Mark nor Sheri knew much about the idea as it is largely a northeastern phenomenon. But they did research and looked for a place that worked with basketball and would challenge Josh academically.
They found it in perhaps the most famous prep school of all, Phillips Exeter in New Hampshire. It is a school that has had Presidents, CEOs and noted authors such as George Plimpton among its alumni.
"It was a situations where he could get more of his potential discovered," said Exeter basketball coach Jay Tilton.
So he did. Josh ended up in the starting lineup and set records at Exeter. He scored 21 points in a half against New Hampton and made 52 three-pointers in the season, both school records while averaging 15.5 points a game.
His decision also had intended results. Ivy League schools tracked him. Sheri Bartelstein thought her son would end up at Penn because coaches from there watched Josh multiple times. Scholarship offers came in from Wagner and San Diego.
And Josh was close to taking the scholarship to San Diego, but something bothered him. He wanted to be closer to home, wanted to be near his three sisters - including his youngest, Kirby, who once painted his fingernails hot pink while he slept.
It's why when Michigan and Northwestern called, offering the chance to walk-on, he had to consider giving up scholarship offers.
"I had nine Division I scholarship offers, but I'm lucky to be in a place where I can go where a scholarship wasn't necessary," Josh said. "I know I can play at this level and prove myself. I didn't come here just to be a walk-on. I came here to play basketball."
Josh has been around basketball his entire life. It weaved into every portion of his life, even though Mark never pushed it.
So he arrived at Michigan, knowing all he'd have is an opportunity. He'd be on the team, but playing time was unlikely - especially early.
And the experiences he had from his youth, being around guys who have been through college before, helped. Current Miami Heat and former Notre Dame guard Chris Quinn sent him a text message when he started, saying 'The first week's kind of hard, but it gets easier and easier. Keep your head up.' Former Michigan State standout Shannon Brown did the same thing.
"It is a little weird but I try to realize how blessed I am, to be this lucky, have all these opportunities," Josh said. " When I talk to people, I never bring up my dad's job. I'm not like that.
"It's part of my life."
It isn't, though, his whole life. He doesn't live with what his father does looming over him. He's always been out to prove he's his own person. Being at Michigan is one way to do that. This is something he accomplished through his own work.
"He's a hard worker," Michigan junior guard Manny Harris said. "He knows how to play the game. It's not like he's a bad basketball player. He'll eventually see some time on the court."
While it may not be this year, the culmination of his work came before the season when he walked into the locker room, saw his locker and his No. 20 jersey hanging in it with "Bartelstein" stitched onto the back.
He took a picture. It's something he sees every time he looks at his phone. It's his screen saver. It's Sheri's screen saver, too.
"I sent it to my mom, and she called me and was crying," Josh said. "And she sent it to my aunt. My aunt, because I'm pretty close with my cousins, they were crying.
"This is what it means to them, too. You work this hard to have your number and name on the back. It means something. It's a very cool moment to know that, I don't want to say I made it, but I've gotten to this point."
Michael Rothstein covers University of Michigan basketball for AnnArbor.com. He can be reached at (734) 623-2558, by e-mail at michaelrothstein@annarbor.com or follow along on Twitter @mikerothstein.